How to warm up your bedroom décor
| Bedroom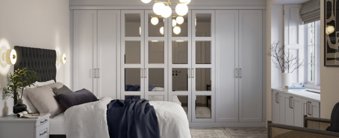 How to warm up a bedroom décor
Turning up the central heating isn't the only way to warm up your bedroom this winter. Making subtle adjustments to your bedroom décor can also help to make the space cosier and more comfortable to relax in during the colder months.
Here we look at the different ways in which you can keep out the cold and create a bedroom that is both warm and inviting.
Use warm materials
Natural materials tend to give off more warmth and comfort than synthetic plastics and metals do. Therefore, look to incorporate wood, linen and wool wherever possible to enhance the natural vibe of your room.
Wood has a traditional charm that is synonymous with cosy log cabins and winter wonderlands, so think about wooden bedroom furniture in the form of fitted wardrobes, bedside tables and console tables. Not only will these pieces warm up your bedroom decor, but they will also offer invaluable space to store all your bedroom essentials.
Fill the space
If you have a large bedroom, you will know that it's easy for the space to feel empty and cold. Therefore, plan your furniture choices accordingly, so that the space is filled to the right proportions.
A small wardrobe will seem lonely and out of place on a wide wall, whereas a generous fitted wardrobe will take away some the emptiness, replacing it with a handsome looking storage feature. Fitted storage maximises every inch of space, leaving no drafty gaps between units.
Wall décor can also make a big difference in a large room, therefore consider large pieces of artwork, large mirrors or collages to ensure the space is filled.
Use warm colours
It's amazing how much colour can transform a large, cold room into a warm, cosy retreat. For those wondering how to warm up their bedroom décor with minimum effort, then this is really the easiest place to start.
If you are looking for warmth, then veer towards shades of gold, chestnut, powder pink and terracotta. Choose softer shades for the walls, and then embellish with darker tones for rugs, bed linen, blinds and soft furnishings such as frames, cushions and throws.
Add soft lighting
As a space to relax and escape, it's rare that you ever need bright overhead lighting in your bedroom sanctuary. Therefore, look for other ways to brighten different areas of your bedroom to set the mood and warm the space.
Bedside lamps create an inviting glow for bedtime reading or night meditations, whereas pendant lights can focus the light on a particular area that you want to highlight. Additional mood lighting in the way of twinkling fairy lights or shimmering candles can also add to the warming mood you are trying to create.
Layer textures
Winter is a time to layer up not only your clothes but your room accessories too. Multiple rugs arranged on the floor will ensure comfort underfoot, while sheepskin or faux fur rugs draped over armchairs add extra snuggle-factor as you sit down with your favourite book or magazine. 
Choose a chunky throw or blanket for the end of your bed and add more pillows and cushions to make your bed a dream to get into each night. Don't be afraid to mix up different textures together as this will only add to the eclectic, cosy feel you are trying to create.
Add some emotion
We all know that warm, fuzzy feeling we get inside of us when we feel happy and content. Therefore, consider adding small, familiar details to your bedroom that will help to increase these positive emotions.
Family photographs, small mementoes from special places, your favourite crystals and aromatherapy-scented diffusers can all add the most personal touches to your bedroom, helping you to build a positive attachment to this place of rest.
Choose Hammonds for the bedroom of your dreams
We have been creating warm, cosy bedrooms for many years and know all there is to know about organising your bedroom furniture to get the most out of the space, as well as the designs that will work best to enhance your rooms natural glory.
We would love to offer you our ideas, so please book a free design visit to make the first step in warming up your bedroom décor this winter. 
You bring the space, we bring the inspiration
Whether you have an exact vision in tow, or are just at the beginning stage of your home renovation, we have heaps of inspiration for you to get stuck into. 
Find a wealth of design tips, trends and inspiration in the pages of our brochure, magazine and on our blog. Our experts are always ready to help you create dream home, pop in store or book your free design visit for experts to help on bringing your vision to life.