How to zone a living room
| Living Room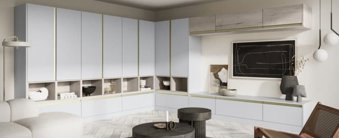 Living room 'zoning': what is it and why you should do it?
Open-plan living has been a popular trend in contemporary homes for many years now. And while there are many benefits, including creating a more sociable and nurturing living environment, sometimes boundaries are needed.
There are often certain criteria that your living room should meet to make the space work for your family's needs. You might need an area to work, for example, plus a space to play, another for entertaining, and one to relax in.
If this is the case, living room zones are going to work wonders for you. We will share plenty of ideas and inspiration on how to zone your living room and the benefits you should achieve in doing so.
What is zoning?
In its simplest definition, zoning means separating different areas in a space according to their function. Using clever interior strategies and designs, zoning can help you maintain a sensible flow and structure to your open-plan living room, while still having the illusion of space and freedom.
What are the benefits of zoning?
Whether you live in a roomy townhouse or small studio flat, zoning allows you to get the most out of your space by increasing its functionality. By creating different zones for different functions, you're able to get the very best out of your living spaces, making them flexible and comfortable simultaneously.
What different zones can I create?
A great advantage of living room zoning is that it can be designed to fit your exact needs. Zoning can be very personal to your household to ensure that everything you want from the space is being considered.
For example, if you work from home, creating a working zone is crucial if you're going to maximise productivity during the day. However, if you also have small children then you are going to need a way to separate their playtime items from your workday equipment. Similarly, if you enjoy entertaining, a hosting zone can be created to section off space while another is used for more private tasks such as reading, yoga or meditation. 
How to create different zones
There are many ways to create zones in your living space without the need for physical walls. With some careful crafting and strategically placed furniture, there is no need for a single builder!
Well-placed rugs
One of the easiest ways to zone a room is using rugs. You can separate floor space in your living room simply by placing a rug to determine the function of that area. For example, a large rug under the dining table and chairs immediately marks that area as the eating zone, while a different type of rug placed under your desk and office chair signals your working zone.
You can even go so far as to let the textile and colour of the rug help determine what zone the space is signalling. You could use a cosy, white woollen rug in the relaxation area and a colourful, patterned rug for a kid's play space. 
Add strategically placed furniture 
Carefully curating furniture items in your open-plan living room can also help define your zones. Storage features such as open shelving, cupboards and fitted living room cabinets can help separate different functional areas, as well as provide much-needed housing for all your family essentials. Sofas and chaise longue seating are also able to mark out areas for seating and socialising, away from work-related items.
Matching furniture colours throughout the different zones will create a visual link and define the character of each place. For example, you could opt for a pale blue sofa in the calm zone to promote relaxation and then some yellow bar stools along an island unit to encourage happiness and social interaction during breakfast or lunch. 
Use lighting
Good lighting can also help with your living room zones. You can direct lighting using pendant lights and standard lamps into certain areas to create subtle focal points in the room.
Bear in mind that different zones will require different types of lighting. Your work zone will be bright and may require spotlights, whereas your relaxation zone might benefit from some softer illumination such as fairy lights and large pillar candles.
Let Hammonds help define your living room zones
If zoning your living room sounds like it could make your family life much easier, we are here to help. Hammonds' interior experts will come to your home for a free design visit and can recommend the best ways to design a perfectly zoned living room with maximum storage space included.
You bring the space, we bring the inspiration
Whether you have an exact vision in tow, or are just at the beginning stage of your home renovation, we have heaps of inspiration for you to get stuck into. 
Find a wealth of design tips, trends and inspiration in the pages of our brochure, magazine and on our blog. Our experts are always ready to help you create dream home, pop in store or book your free design visit for experts to help on bringing your vision to life.