Hybrid working: Loft conversion office ideas
| Office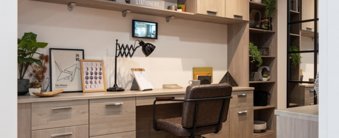 Hybrid working: Loft conversion office ideas
If you've had enough of working from home in your kitchen or living room, why not make use of that extra space in the loft? Away from the hustle and bustle of the busiest parts of the house, attic rooms make for an excellent space for concentration and productivity. In this guide, we'll suggest the best ways to create a bright, stylish and practical loft office space.
Brighten up your loft office with a skylight
Fantastic for saving space, a skylight will also allow plenty of daylight to filter into and fill your new office space. Even though its benefits are often overlooked, natural light is crucial for both physical and mental wellbeing, invaluable to our daily and working lives thanks to its ability to promote a healthy sleep cycle.
As well as aiding concentration, a skylight window could help you to save electricity and look great on those conference calls, too. Plus, throughout the warmer summer months, simply pop it open to feel a cooling breeze and quickly adjust the temperature of your loft office. Gable-end windows could offer more headroom but, when it comes to natural daylight, skylight windows are a clear winner.
Install smart storage for a tidy loft office
Work around the sloped shape of your top floor with some fitted wardrobes and bespoke shelving to maximise the space in your new loft conversion office. Purpose-built office storage solutions including cupboards and cabinets are available in a wide range of different colours and styles and can be made using custom materials to complement your interior design visions.
The beauty of professional, fitted storage is that it can be adapted for awkward spaces including attic rooms. Whether you prefer a contemporary or minimalist approach, there will be tailored office storage solutions to suit your requirements to create an authentic, effective loft office space.
Choose a neutral colour scheme
Unless you're lucky enough to be working with a huge loft space, it's likely that dark colours could make it look smaller. Use bright and neutral colours if you're redecorating your new office and try to think about the effect of the colours of your furniture against the walls.
For instance, if your loft space boasts dark wooden beams, painting your floorboards white and finishing the look with cabinets in neutral colours could give a perfect, rustic feel. If you would like to create more light, why not use mirrors to create the illusion of more space in your loft conversion office?
Use books for a multipurpose loft office space
Install built-in shelves to add a feature wall filled with your favourite novels or reference texts. If you're working with a triangular room shape, bookshelves will take pride of place and make sure that your notes are never more than an arm's length away.
Furthermore, an organised, tidy bookshelf makes for a great background for your colleagues to admire on video conference calls. The benefits of having your own private loft office extend further than just pairing it as a library, too. With a dedicated space separate from the rest of the household, you'll be able to have everything you need in an undisturbed zone.
Think of comfortable loft office ideas
While you want to create a space that fosters productivity, it's still incredibly important to take regular breaks throughout the working day. Boost your work ethic with a cosy corner in your loft office, using either a comfortable armchair or a cosy seating area to spend some time away from the desk.
If you have enough room for a small coffee station, saving the trip downstairs to pop the kettle on could be much more convenient, especially with pressing deadlines or back-to-back team meetings. Think about the things that motivate you and try to incorporate them into your design.
Double up and work together
Working from home with a partner? If you'd like to create space for more than one of you, installing either desks on opposite sides of the room or a central table could not only look impressive but help to promote a collaborative environment.
Discussing loft office ideas with your partner could also make for a more functional office space with more attention to detail in design. Whether it's multiple monitors, an extended desk space or a busy workshop you have in mind, using custom-fitted furniture could ensure that you'll produce only your best work.
Transform your loft into the perfect home office with Hammonds
If a trendy loft conversion office space is on your radar this year, why not consult a professional to help bring to life your visions? Share your plans with an expert by booking a free design visit online today to harness the potential of a bespoke and practical loft office space.
You bring the space, we bring the inspiration
Whether you have an exact vision in tow, or are just at the beginning stage of your home renovation, we have heaps of inspiration for you to get stuck into. 
Find a wealth of design tips, trends and inspiration in the pages of our brochure, magazine and on our blog. Our experts are always ready to help you create dream home, pop in store or book your free design visit for experts to help on bringing your vision to life.