Ideas to help you create your country cottage bedroom
| Bedroom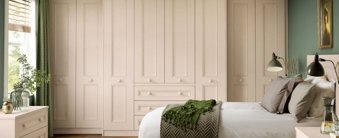 Ideas to help you create your country cottage bedroom
The country cottage theme is a true 'best of British' design. Encapsulating a mix of rustic nature and cosy living in a period-yet-timeless style, the relaxing, rural aesthetic is a hit for virtually any bedroom. And it doesn't matter whether you're a part of country life or living among a busy urban sprawl.
That's right – you don't need a country cottage to evoke the design ideas that come with it. No matter where you're based, no matter the type or style of your property, you can inject English country cottage bedroom ideas into your home design.
It's all about muted colours
The English country cottage look centres around neutral colours. Typically employing a pale palette alongside woody tones and materials, it's easy to achieve a cottage design theme with a simple, light base colour.
Off-white or grey will work brilliantly as your leading tone. Pair this with wooden or wood-effect flooring and furniture like our traditional wardrobes, and you immediately have an authentic heritage feel to build your design on.
Another crucial feature of the traditional cottage theme is utilising plenty of natural light (which your choice of light colours will enhance), so incorporate it where you can.
Florals and tweeds
While muted colours are the foundation of your cottage look, that doesn't mean you have to steer clear from colour. Authenticity is the key in this instance, so when it comes to country cottage bedroom ideas, your weapons of choice should be florals and tweeds – both of which are staples of the typical country home.
Bring in cosy colour patterns via your accessories – think rugs, bedding, cushions, and blankets. All the above will work alongside a pale, woody colour palette and offer an opportunity for you to inject your personality into your design.
Accessorise with natural materials
If you're looking for further accessory installation ideas, stick to natural materials. Wood, ceramic, stone, and even reclaimed timber are all great ideas for a cottage-themed bedroom and hark back to a time when country dwellers had to use the materials around them to decorate their homes.
If you have a passion for arts and crafts, this is an opportunity to introduce your own handcrafted accessories into the mix, adding to the authenticity factor of your cottage aesthetic.
Make it personal
Even if you aren't into crafting yourself, English country cottage bedroom ideas thrive off personal effects. So, if you're someone who enjoys collecting small curiosities from antique stores, hunting for hidden treasures from bric-a-brac shops, or seeking bargains at thrifty boutiques, you're in luck.
Don't be afraid to fill the space with personal objects you love. It'll give your bedroom character and a unique sense of identity that you might not otherwise achieve with a traditional cottage design.
Use baskets as storage
Naturally, we'll always recommend that getting on top of your storage is one of the first steps to creating your dream bedroom design – cottage themed or otherwise. However, if you are implementing country cottage bedroom ideas in your home, it does open the door for additional storage options.
Should you be running low on space in your wardrobes and drawers, you can bring in baskets as an additional storage accessory. Traditional wicker baskets are an easy storage win in a cottage theme as they add to the design's authenticity. Consider them both a boost to the rural aesthetic of your design and of practical assistance in keeping your space clean and tidy.
Make your English country cottage bedroom ideas a reality with our help
We love helping our customers make their design dreams a reality, and our storage solutions are the perfect complement to all sorts of bedroom aesthetics, not just traditional, rural cottage themes.
If you'd like to see how we can help with your bedroom design, why not book a free design visit with one of our experts? We can show you how smarter storage can help enhance the rest of your design, so you have more space to install your favourite country cottage bedroom ideas.
You bring the space, we bring the inspiration
Whether you have an exact vision in tow, or are just at the beginning stage of your home renovation, we have heaps of inspiration for you to get stuck into. 
Find a wealth of design tips, trends and inspiration in the pages of our brochure, magazine and on our blog. Our experts are always ready to help you create dream home, pop in store or book your free design visit for experts to help on bringing your vision to life.