Illuminating ideas to brighten up a bedroom
| Inspiration, Bedroom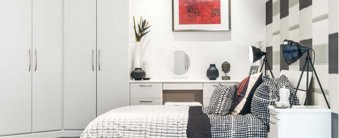 Illuminating ideas to brighten up a bedroom
Looking for help transitioning your bedroom from night time cocoon to daylight workspace? Here are our top tips on how to brighten a bedroom.
Illuminating ideas to brighten up a bedroom
While a dark bedroom can be great when you're trying to get to sleep, it can become a stifling, moody and uninviting space at other times if the décor is too dimly lit. Lighting up a space isn't a difficult task when you know how to brighten a bedroom with a few clever tips and tricks. We've detailed some of these below so you can make your bedroom a more enlightening space to enjoy.
Choose light colours
Selecting the right colour palette for your room is crucial – it's an expression of your personality but it also needs to be decorated in a way which creates the ideal bedroom environment.
Light or neutral-coloured walls are best at reflecting any natural light present within a room, giving you a suitable canvas to apply some personal touches on. Splashes of your preferred colours can be brough through via prints, bedding and other soft furnishings to add some decorative flair.
Feature walls can be a suitable middle ground if you want to make a bold statement – but avoid this being too dark a shade as it could cancel out the present light.
Maximise natural light
Making the most effective use of your windows can go a long way to improving light levels in your bedroom. If you've got good-sized windows, try to avoid positioning any furniture or decorative items that would block natural light from flowing into your room.
Although this can be difficult if you have limited space, even small alterations can show you how to brighten a small bedroom and improve the amount of light entering your room. Push back those curtains as far as possible when not in use, and make sure to open up any blinds you may have to allow the maximum amount of light through.
Load up on artificial lighting
When natural light isn't available, consider the next best thing – lightbulbs which mimic natural light. Adding in pendant lighting fitted with daylight bulbs can give you an easy source of comfortable light levels for your bedroom.
Floor and bedside lamps can offer your even more light sources to tailor the luminescence to whatever you prefer within your bedroom. Ceiling lights can offer overall brightness, while lamps can give you softer lighting options for when you're starting to wind down for the evening.
Choose furniture wisely
Bulky furniture and pieces in darker colours can make rooms feel more cramped. If you have a bigger wardrobe next to your windows, it could potentially interfere with the amount of light that's able to make its way into the room.
Keep your bigger furniture items nestled against walls or consider having fitted wardrobes installed with extra storage solutions so they're neatly tucked away. This means they won't obstruct light sources. Not only can this make a room brighter, but it will also give you the maximum floorspace possible.
Install light-coloured flooring
Darker carpet colours and dark wood flooring run the risk of sucking the light out of a room like a sponge, similarly to how darker shades of paint work with the walls. If you're looking to make bigger alterations to your bedroom so it feels brighter, opting for lighter flooring colours can have the desired impact.
Lighter coloured carpets or wooden flooring can lift an entire room, giving an entirely different level of contrast against the rest of your bedroom's décor. White floorboards are a particularly striking option that can greatly increase how light your bedroom looks if you're in need of a quicker fix.
Make use of mirrors
Including a variety of strategically placed bedroom mirrors can help bounce light around your room while making it seem bigger than it is. You can use any combination of wall mirrors, full-length freestanding mirrors and table mirrors to suit your style, but two or three will provide you with the desired effect.
The optical illusion that mirrors can create makes it feel like your room is extending further than it is. Bigger mirrors are better at doing this but smaller mirrors will provide a helpful touch. Using mirrors won't give you any extra space in your room to utilise, but it can trick your brain into feeling like the space is lighter and airier than it is.
Tackling a dark room alone can be challenging, especially if you're not sure what sort of style you'd prefer. Although these tips can give you some useful tools for redecorating, visualising how you want it to look is usually the first step. That's where we come in – a design visit from one of our interior experts can help you to assess the room and select an option that our design team will mock-up for you.
You bring the space, we bring the inspiration
Whether you have an exact vision in tow, or are just at the beginning stage of your home renovation, we have heaps of inspiration for you to get stuck into. 
Find a wealth of design tips, trends and inspiration in the pages of our brochure, magazine and on our blog. Our experts are always ready to help you create dream home, pop in store or book your free design visit for experts to help on bringing your vision to life.