INSIDE THE HOME OF A FAMOUS INSTABLOGGER
| Bedroom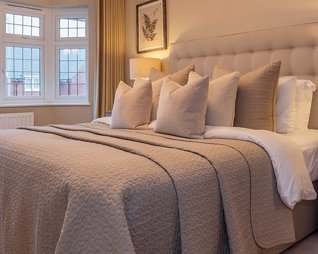 Inside the home of a famous instablogger
Now with over 193k followers on instagram @myfirsthomebyclaire is a thriving inspirational social hub going from strength to strength, showcasing her home interior décor. Within her master bedroom she has the fitted sliding wardrobes in the Vigo collection in the Mid Walnut finish, with matching bedside cabinets and a five drawer chest. In her guest bedroom she chose painted Harpsden in White with two bedside cabinets and a five drawer chest. Each room has a very different look yet both resonate the same classic feel with a welcoming and neutral base. We were welcomed in to see the furniture within her instafamous home and asked her some questions about the ranges she has and how she has styled alongside them.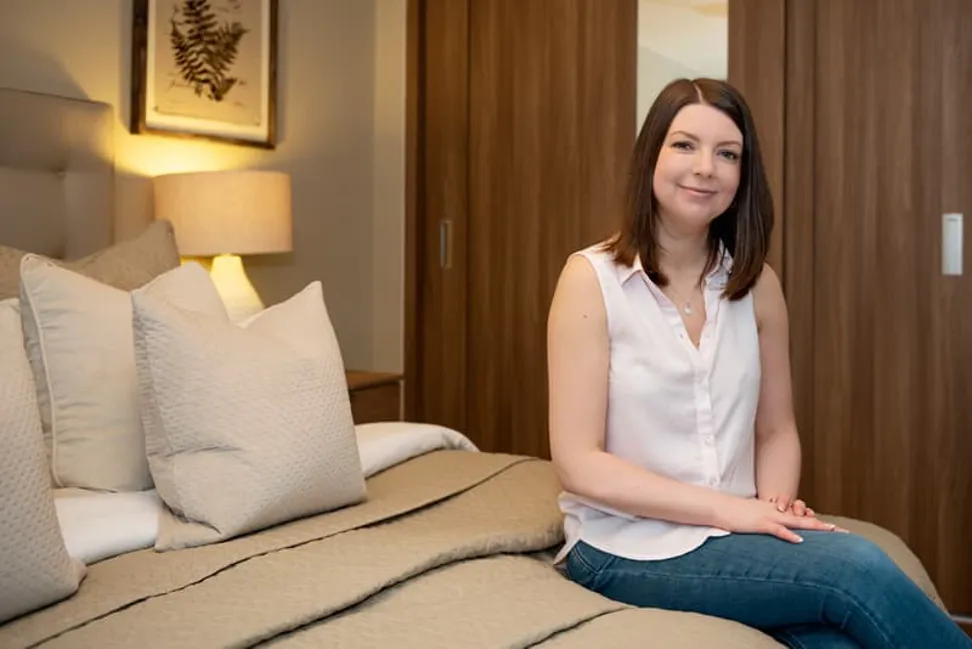 Can you tell me what you love about the Vigo range in Mid Walnut in your master bedroom and how you've styled this?
"I like that it is traditional and classic. I really liked that tone, we seemed to see lots of dark woods but this is a bit different and lighter. I've styled it with natural tones, so I have beige and stone colours. I believe it's warming but also light and airy, it's very calming as a bedroom."
What do you like about the sliding wardrobes?
"I find the sliding doors easier because you can get things in and out better as the doors glide out of the way. Also as the doors don't open out you can have other furniture closer to it. With floor to ceiling fitted wardrobes I find there's loads of storage, we have a top shelf which is great for bulkier items and a longer hanging rail for everyday items."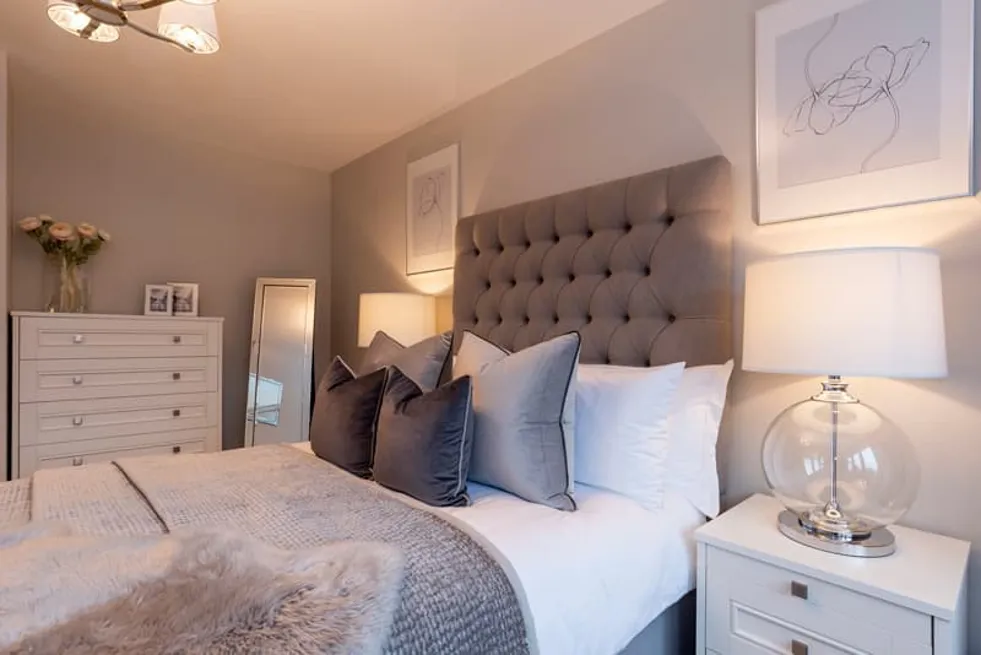 Can you tell me why you chose the Harpsden range for your guest bedroom and how you have styled this room?
"I began with a grey theme in the room so I wanted something to contrast in there which is why I went for White. With the Harpsden grain of the wood it looks timeless, classic and something a bit different to what we have in the other room. With this grey neutral palette and white furniture I can change the colour quite easily and adapt it, right now I have splashes of pink in there. It's a bit more modern in the guest room, a bit more glam but still inviting. I really like the tea trays; they're handy, not just for a cup of tea but also jewellery on there ready for the next morning."
For more furniture and décor inspiration like this, request a free brochure filled with more information from our collections. What's more, with every brochure requested get a complimentary copy of our 25 beautiful rooms magazine, the very best from our real customer's Hammonds rooms. Or, if you'd like to meet face to face with a Hammonds designer and discuss your storage requirements, book a free, no obligation visit.
You bring the space, we bring the inspiration
Whether you have an exact vision in tow, or are just at the beginning stage of your home renovation, we have heaps of inspiration for you to get stuck into. 
Find a wealth of design tips, trends and inspiration in the pages of our brochure, magazine and on our blog. Our experts are always ready to help you create dream home, pop in store or book your free design visit for experts to help on bringing your vision to life.