Inspiration for rustic country living room
| Living Room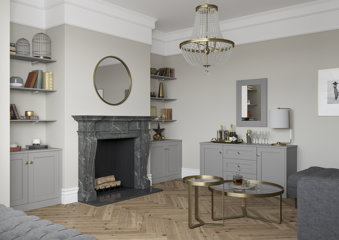 Ideas for a rustic country living room
The living room is the heart of your home, so it needs to reflect your tastes. If you've been inspired by cosy country homes, it could be time to give it a new lease of life.
With just a few steps, you can create a beautiful space with a rustic country lounge design. Whether you opt for traditional styles or trendy farmhouse chic, it's surprisingly simple to rework your living room with a gentle rural aesthetic and a timeless look.
How to create a

country

-

style living room
Showcase the stonework
Exposed stonework makes a striking feature in any authentic cottage or farmhouse.
There are plenty of spaces that naturally provide an opportunity for this type of project, including the fireplace in your rustic country-style living room. Plus, enhancing the architectural detail of your home is guaranteed to exude country style.
To expose natural stonework safely, it's always best to consult a professional. The task involves stripping back the plaster to expose the bricks and it's likely to be a messy job. Once the stones are exposed, they might also need treating, repointing and brightening up. But the final result is hard to replicate: natural stone creates a sense of rural calm in any home.
Add texture
Using a variety of different material and surface types within your interior adds effortless rustic charm. From woven carpets to coordinating patterned wallpapers and tactile rugs, texture involves incorporating variety from the floor to the ceiling.
The best country style ideas for living rooms add depth, too. You can create this effect by using distinct furnishings, accessories and features with different textures. A combination of neutral blankets and sofa covers, for example, could contrast delightfully with colourful cushions and the warm ambient glow from the fireplace.
On the walls and floors, look to add natural wood or stone. Replacing carpets with long, wide wood flooring could be a stylish yet practical choice for those busy family homes with children and pets running around.
Use built-in storage
Country-style living-room décor demands character and texture but it's still important to keep your home clutter-free. Opt for sleek wooden built-in cabinets to keep your living room clear and organised while also sticking to your interior theme.
Choosing bespoke fitted living-room furniture means that you'll be able to bring your best country style ideas to life – without compromising on practicality.
No matter the style, designing a living room means you'll need to create a space that your family and friends can enjoy for years to come. That's why, along with all the thoughtful touches, it's important to add some functionality as well.
Try vintage furniture
If your sofa doesn't look quite right within your space, why not try a vintage armchair?
Whether you've found a hidden gem in an antiques shop or you've been storing some special pieces, it could be time to dust it off and give it pride of place to define your new interior. Plus, leaning how to upcycle furniture is always a rewarding process!
Country-style living-room décor is all about the charm and quirks, so you should liberally furnish the room. Go for antiques and versatile touches, as long as the room will still be fit for purpose. Think deep and sumptuous leather armchairs or perhaps a natural oak coffee table.
Put thought into the lighting
Make the room cosy and comfortable by layering the lighting. This is a foolproof technique that involves using a combination of different lighting types – for example, table lamps, wall lights and ceiling fittings – to add more texture. Layering lighting effectively could help you to style designer light fittings in an authentic and creative way.
Try to choose warm white bulbs instead of anything harsh and bright. In any rustic country-style living room, you should aim to give a gentle glow, creating an atmospheric and inviting space that's perfect for relaxing and unwinding.
Create your dream

country

-

style living room

with Hammonds
At Hammonds, we know just how to inspire our customers with country style ideas for living rooms. Whether you're starting from scratch or giving a new lease of life to an older space, we can help you bring your ideas to life.
Simply book a free design visit to discuss your vision for a cosy, rustic living room – and we'll help you design a space that you'll love.
You bring the space, we bring the inspiration
Whether you have an exact vision in tow, or are just at the beginning stage of your home renovation, we have heaps of inspiration for you to get stuck into. 
Find a wealth of design tips, trends and inspiration in the pages of our brochure, magazine and on our blog. Our experts are always ready to help you create dream home, pop in store or book your free design visit for experts to help on bringing your vision to life.