Inspiring Wallpaper and fitted furniture combinations
|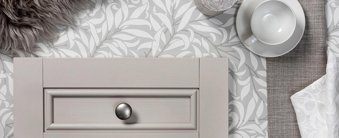 How your wallpaper can improve your bedroom's interior design
Transform your bedroom into a sanctuary by finding the perfect interior design wallpaper and fitted furniture combination. Find a refreshing look that welcomes you in, setting you up for the day ahead, yet elegant and understated enough to create a calm atmosphere to relax into. The right wallpaper can take a room to the next level of interior design, match with key elements like fitted furniture to your style and create a room you'll love spending time in; improving your well-being. Uncover Hammonds fitted furniture paired with inspiring interior wallpapers from high quality brands to create the perfect combinations.
Classic wallpaper
This beautifully detailed interior design wallpaper pattern is aptly named Pure Willow Bough from Morris & Co as it resembles the curled and long entwined leaves from the thin branches of the Willow tree. This design in a Dove/Ivory tone has been beautifully paired with our Harpsden fitted furniture in Light Praline and Hammonds Vienna Dove fabric. This ensemble creates a classic, sophisticated look in a muted, modern palette. Accessorise on top of this to create layers of texture, whether that is a chunky knit throw, a faux fur rug or a crisp white teacup on the humble teatray.

Light wallpaper
Borastapeter's unique collection of Linen wallpapers adds a luxurious muted texture to the surface of the wall; the natural palette creates the perfect backdrop to a light bedroom. Borastapeter's Forest Green Linen has been perfectly matched to the traditional Willesley range with a routed door design in a soft wood grain Odessa Oak finish. This pairing is complemented with Hammonds cool Vienna Bone fabric and a brushed metal handle. Accessorise to bring out the raw natural colours of the oak and the forest green such as faux foliage. This combination encompasses a calm and natural serenity, inspired by traditional furniture and enveloped with a touch of modern class from exquisite materials, creating a relaxing aesthetic.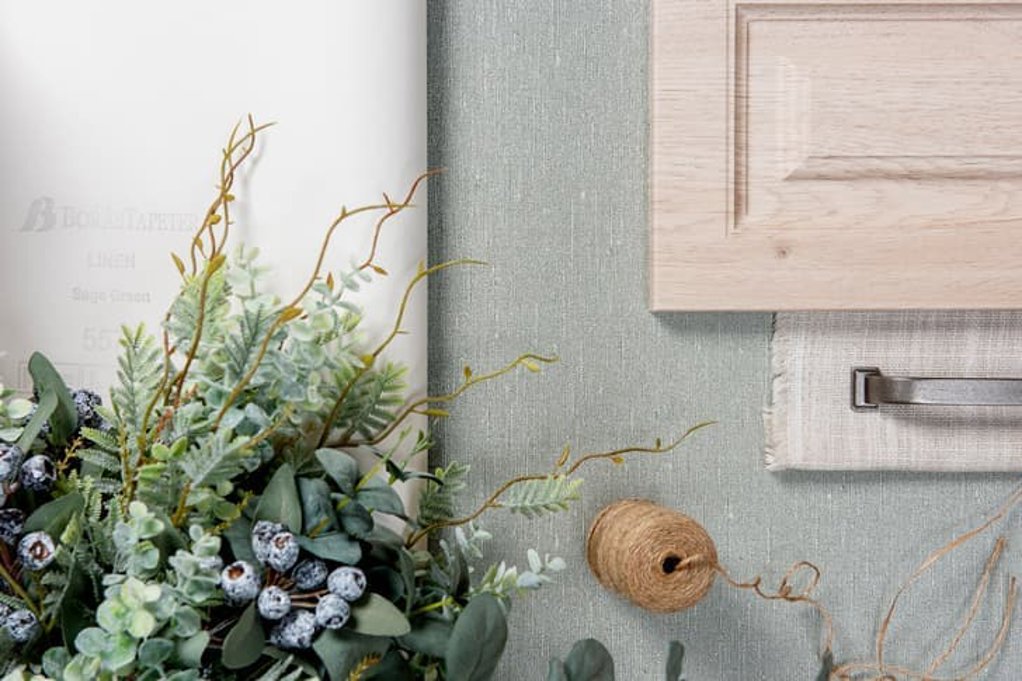 Modern wallpaper
Knit wallpaper by Engblad & Co has a natural backdrop with a freehand rippled design effect, creating a cosy atmosphere with a modern touch. This modern design wallpaper has been married with our contemporary, smooth slab door range, the Radley in Avola White. Together, they bring out the grey tones which can be accentuated by the course texture of Hammonds Vienna Ash fabric. Accents of sage and terracotta give this modern wallpaper and furniture combination earthy notes; eye-catching and unique. Overall, this trendy combination has a natural feel throughout; perfect to create a relaxed, revitalised look in a modern home.  

Interior design wallpaper
Wallpaper can bring out the best from your newly decorated room, a welcoming, comforting design in a matching colour palette you love will improve your well-being while you relax in your sanctuary. To see more fitted furniture and how this has been expertly styled alongside interior design wallpapers, paint colours and soft furnishings request a brochure today.
You bring the space, we bring the inspiration
Whether you have an exact vision in tow, or are just at the beginning stage of your home renovation, we have heaps of inspiration for you to get stuck into. 
Find a wealth of design tips, trends and inspiration in the pages of our brochure, magazine and on our blog. Our experts are always ready to help you create dream home, pop in store or book your free design visit for experts to help on bringing your vision to life.