Japandi interior design
|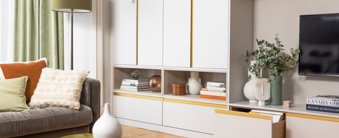 Japandi Style: What it is and how to incorporate it into your home 
Those of us who love a clean, minimalist design in our homes are sure to be big fans of the Japandi interior styling trend that has been gaining popularity in recent years. Rooted in simplicity and nature, Japandi offers our homes a breath of fresh air and can help to create a peaceful and relaxing space with huge benefits for our mental health.
Interested in finding out how to incorporate this trend into your home interior? Read on…
What is Japandi interior design?
Japandi interior design is a carefully crafted fusion of Scandinavian and Japanese interior design principles. Its minimalist philosophies combine the sophisticated, functional elegance of Japanese attitudes with the smooth, contemporary lines of Scandi style. The result is a no-fuss interior that is beautiful while remaining practical.
How to take inspiration from Japandi principles at home
If you're interested in bringing Japandi-inspired ideas into your own home, we have plenty of suggestions for you to consider. Firstly, it all starts with the colour scheme…
Choose a neutral colour palette
A neutral colour palette should form the base of your Japandi home. Natural colours such as beige, soft brown and oatmeal help to create those subtle associations with the outside world, providing warmth within. If you're opting for a white backdrop then choose a white that errs on the warmer side, such as one with a slightly yellow or orange undertone. These soft, neutral colours will let the light reflect around the room and nurture a calming atmosphere.
Choose your furniture wisely
As well as keeping your colour palette muted, your furniture should reflect the same rules. Natural materials such as wood, jute or stone provide the perfect flooring options, and wooden furniture reflects a respect for the outside world as well as high-quality craftsmanship. Consider bamboo, cedar and cherry wood as choices for your main pieces of furniture. When it comes to individual pieces, you can be as creative as you like!
Even though Japandi interior design is sophisticated, it's underpinned by an emphasis on practicality. Fitted living room furniture works well with this theme, as the ample storage ensures that the room is kept free of clutter and mess, thereby enhancing the understated aesthetic.
Remember that less is more
It's important to keep reminding yourself that both Scandinavian and Japanese styles are rooted in minimalism. Therefore, less is certainly more when it comes to the finer details of your space. Shelves should remain uncluttered and expertly curated so that everything on show is justifiably so. A good declutter is essential to remove any items that don't fill you with joy when you look at them, and anything synthetic or bright should be replaced with something artisanal and earthy.
Don't try to strive for perfection
Although the overall outcome of this theme should be curated and thoughtful, Japandi interior style doesn't means perfection. In fact, imperfections are celebrated for their natural beauty and charm. Selecting furniture that honours different types wood and techniques shows you're whole-heartedly embracing nature.
Choosing handmade accessories crafted out of ceramic, clay or stained glass celebrate craftmanship at its best. Soft furnishings such as organic linen throws and silk cushions will also begin to gracefully show their imperfections over time, further adding to the Japandi charm of your interior.  
Keep things bright and airy
Both Scandinavian and Japanese interiors embrace natural light as much as possible. Therefore, large windows and plenty of glass will really help you to triumph in this trend. When it comes to window coverings, transparent voiles or wooden blinds work best and will prevent the room feeling dark or oppressive.
Where natural light is limited in your home, you can use strategically placed floor lamps, pendants and mirrors to help direct the light where you need it.
Embrace the Japandi interior style with Hammonds
We could certainly all benefit from some minimalist Japandi interior living space in our homes, and our team at Hammonds are big fans of the trend. If you're keen to explore how to design a Japandi living room with plenty of sleek storage space, book a design visit today to start your new interior journey.
You bring the space, we bring the inspiration
Whether you have an exact vision in tow, or are just at the beginning stage of your home renovation, we have heaps of inspiration for you to get stuck into. 
Find a wealth of design tips, trends and inspiration in the pages of our brochure, magazine and on our blog. Our experts are always ready to help you create dream home, pop in store or book your free design visit for experts to help on bringing your vision to life.