Mediterranean style bedroom ideas
| Bedroom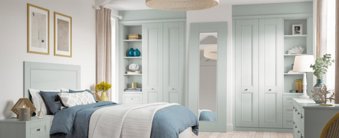 Mediterranean style bedroom ideas for a relaxing retreat 
We know Mediterranean food – fresh pasta, juicy tomatoes, zingy lemons. We know the sandy beaches and the turquoise seas. We probably have an instinct for Mediterranean interior décor too. But try to put together a Mediterranean-style bedroom in your own home and it can suddenly feel slightly harder to put your finger on.
When you don't have the sea views and the neighbouring olive groves what can you do to make it feel like you have? Here are a few ideas to ensure you feel like you're living la vida loca and la dolce vita at home…
What is Mediterranean interior design? 
It's more of an atmosphere than specific features. You are channelling warm nights and carefree days, long unfussy lunches and the luxury of time and rest. So, what gets you there?
The best Mediterranean master bedroom ideas include some luxury in the fabrics; think light linens, cotton and soft wools, some flashes of warm colours like oranges and azure blue, and just a hint of rustic Italian farmhouse (maybe with tiled floors or natural wood finishes). You will want to combine both the modern and traditional elements from primary regions of Greece, Italy and Spain, so there is plenty of scope for inspiration.
How to recreate it: A neutral colour foundation
Inspired by the weather and the natural environment, the style of the Mediterranean typically involves light and neutral colours such as white, terracotta and cream. These can be used as a base to then be accessorised with bright artwork and soft furnishings to bring in pops of green and sea-inspired hues.
Orange is another classic Mediterranean colour (to remind you of citrus groves and the sun) and it also works as a great accent against neutral walls. Think about a throw for the bed or cushions and pillowcases to bring in colour.
Lots of light 
Mediterranean countries are spoilt when it comes to sunlight and many homes will have shutters or drapes to shut out the glare. That's not such a problem for us in the UK, but there are plenty of tricks that you can use to make your Mediterranean style bedroom feel as light and airy as possible.
Your aim is to let in as much natural light as possible, so make sure nothing is blocking your windows. Dress them with light, floaty curtains (and imagine a cool evening breeze passing through) and use mirrors or glossy surfaces to reflect and bounce light around your room.
In the evenings you could add a table lamp or wall sconces to create a warm, cosy feeling, and include a scented candle or two for some gorgeous moving light.
Wooden furniture
The deep and earthy tones of natural wooden furniture look perfect against a clean white wall. The natural grain of wood can add softness and soul to a room, and it is easily paired with pale and deep blues to create a coastal vibe. Our fitted wardrobes are available in a variety of styles and finishes, from warm oak and lighter ash wood to something darker like our graphite finish.
Mediterranean design is soft and natural, but with bold touches, and if you book one of our design visits we can create 3D drawings to help you visualise your room with confidence. The other great thing about our fitted furniture is that it gives you a whole world of new storage, helping you to create the clean, fuss-free aspect of Mediterranean style.
Open layout
Another way to create a spacious, coastal feel is through an open layout with a bare floor and relatively minimal furnishings. Mediterranean floors can range from natural wood to patterned tiles, which are cool and easy to clean. Rattan-style rugs are the perfect accessory and woven or flat-weave rugs in earthy reds and terracotta tones would also look great.
Optional extras
The Mediterranean region is broad and varied, so when it comes to accessories there are plenty to choose from. You could channel some Italian grandeur with chandeliers and lace and gorgeous fresh cut roses.
If you want to go more Spanish-style, then incorporate some terracotta pots with red geraniums (these have the added benefit of making your room smell gorgeous). Sunburst rattan mirrors are easily available now, and you could scour some local flea markets for some vintage furniture – think antique mirrors and carved wood. One of the other key Mediterranean design features is about bringing the outdoors in, so think about using a couple of large house plants to add structure and drama. 
Something
For help creating your own Mediterranean style bedroom why not book a Hammonds design visit. One of our experts will create the perfect storage solution for you in a classic wooden finish to compliment your style. We can create 3D visuals of your room, so you have complete confidence.
You bring the space, we bring the inspiration
Whether you have an exact vision in tow, or are just at the beginning stage of your home renovation, we have heaps of inspiration for you to get stuck into. 
Find a wealth of design tips, trends and inspiration in the pages of our brochure, magazine and on our blog. Our experts are always ready to help you create dream home, pop in store or book your free design visit for experts to help on bringing your vision to life.