Minimalist bedroom ideas
| Inspiration, Bedroom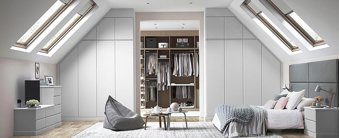 Create a simple, beautifully organised bedroom with our guide to minimalist bedroom design ideas.
How to create a minimalist bedroom
Do you long for a bedroom that's clear of clutter? Maybe you've been meaning to update the space and want to do away with some of the things you've been holding onto.
One way to introduce order and organisation is to create a minimalist bedroom. Based on the premise that less is more, this design style allows you to focus on the key elements in your bedroom and remove the things you no longer need.
If you've been thinking of ways to refresh your space and want to know how to create a minimalist bedroom, read on for design ideas and inspiration.
What is minimalist interior design?
Minimalism is the idea of keeping a space simple, free of any unnecessary clutter and stripped back to the essentials. It blends unfettered designs and functional living to create a clean and clear room. However, this simplicity is designed to create an inviting, soothing space.
It usually keeps everything open, with space being a priority. This is done through creating open floor plans and removing anything that's unnecessary in the room, leaving functional furniture and allowing a lot of light.
While minimalist design has its origins in the 1800s, it was the 1980s when this style became popular in architecture and interior design. By the 2000s, minimalism was mainstream, filtering into design trends throughout the home.
Today, minimalist design continues to be desirable. This is largely thanks to the uncomplicated palette and simple design that can be introduced into rooms of any size. Therefore, if you're trying to come up with minimalist bedroom ideas for the master room or the box room, you can easily adopt this stripped-back style.
Neutral colours
Minimalist bedroom décor begins with the palette. The colour scheme with any minimalist space tends to stick to neutral, monochromatic shades. These tones are ideal for a bedroom as they create a soft, soothing energy that focuses on natural light and promotes calmness.  
However, minimalism does allow for hints of colour. A splash of blue or green can be used to pick out and highlight certain parts of the room, while textures and patterns can be introduced to add layers to the overall look.
Tasteful décor
While minimalism is about clearing space and keeping things simple, it does allow for pops of character. As well as adding textures and patterns to accentuate a part of the room that you want to highlight, hanging one piece of artwork that you love can be the perfect feature on one of the walls. Try to stick to one piece, though, to avoid the walls looking cluttered.
As with artwork, including one plant can be a simple way to add some personality to the space. The type you choose will depend on the size of the room, but a cheese or rubber plant will work well in most spaces.
Simple and efficient furniture
The furniture you include continues the simple yet functional theme. This is key to ensuring optimal minimalist bedroom organisation, so aim to include the least amount of furniture possible and think carefully about the storage you do introduce.
When looking at furniture, begin with the bed. This is the natural focus of the bedroom and can be the grounding point in the minimal design of the room. Consider a frameless bed with no headboard or opt for a headboard made from natural materials such as wood to complement the minimal colour scheme.
From there, you can consider the essential pieces you'll need to ensure the space is functional. If you have an alcove, consider building a fitted wardrobe into the recess so that you're using what's there without taking up precious floorspace.  
Smart storage for decluttering
Once you have your minimal design in place, you'll need to think about how you'll keep everything clutter-free. Decluttering not only keeps everything neat, but it helps to keep our minds tidy too.
In a 2011 study, researchers at Princeton University found that a cluttered environment makes it more difficult to focus on a specific task. This is because clutter leads to a person's visual cortex being overwhelmed by all the objects in the room that aren't relevant to the task at hand.
Therefore, when considering minimalist bedroom design ideas, we need to remember that clutter-free spaces allow us to settle our minds, so it's worth spending some time thinking about storage.
Clear out the things you no longer need and look at ways to store the things you want to keep. For instance, see if there are storage options to add to your wardrobe. Fitted furniture can integrate with your current room seamlessly and you can choose different slots and sections to store your belongings.
If you're thinking of introducing fitted furniture into your new-look bedroom, speak to the Hammonds team today. Book a free design visit and we'll show you clever ways to remove clutter and store it in a beautifully designed, custom-made piece of furniture.
You can also find further guides on the Hammonds blog. 
You bring the space, we bring the inspiration
Whether you have an exact vision in tow, or are just at the beginning stage of your home renovation, we have heaps of inspiration for you to get stuck into. 
Find a wealth of design tips, trends and inspiration in the pages of our brochure, magazine and on our blog. Our experts are always ready to help you create dream home, pop in store or book your free design visit for experts to help on bringing your vision to life.