Modern bedroom decorating tips for a sleek sleep space
| Bedroom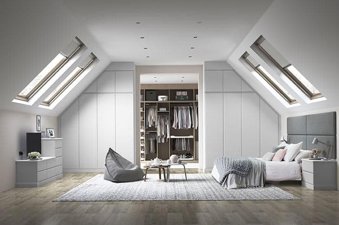 How to decorate a modern bedroom. Decorating tips for creating a sleek sleep space in a modern home.
When we picture a modern bedroom, we think of a blank canvas. The decorative details of a period property are often missing. There's no ornate cornicing, and there's certainly no intricate ceiling rose. Often, they're seen as cold, impersonal, and almost clinical looking. But there are ways you can turn your modern bedroom into a coveted and sleek sleep space that offers plenty of comfort.
We've pulled together some of our favourite modern bedroom decorating tips to help you create that sleek and serene sleep space you've always dreamed of.
What is modern bedroom design?
Father of modernism, Louis Sullivan, coined the famous motto "form follows function", and it's this ethos that has greatly influenced the modern home of today. Minimalism is becoming the new norm, especially amongst millennials who are looking to create a sleek clutter-free space – but one that still sparks joy.
Emerging in the 1920s, modernist architecture was about breaking traditional moulds, and shaking off the shadow of war. Gone were the fussy features of Victorian and Edwardian buildings, replaced with clean lines and geometric shapes that emphasised function and simplicity.
And the beauty of modern bedroom design is that it can be transformed into a space that suits its master.
Bright neutral shades – with pops of colour
Step into any modern showroom and the predominant colour scheme will feature bright whites and soft greys. Whilst these colour combinations help to create a bright and airy feel, they can be cooling. To counteract the clinical cold feel, add a pop of colour.
This can be a subtle pop like a dusty pink that adds warmth, or it could be something more vibrant like an azure blue. But remember, in order for it to look sleek you should use colour sparingly. Think a chair or chaise longue, a bed spread or bed linen. Scatter cushions are great at tying a scheme together and can be changed throughout the year to reflect the seasons.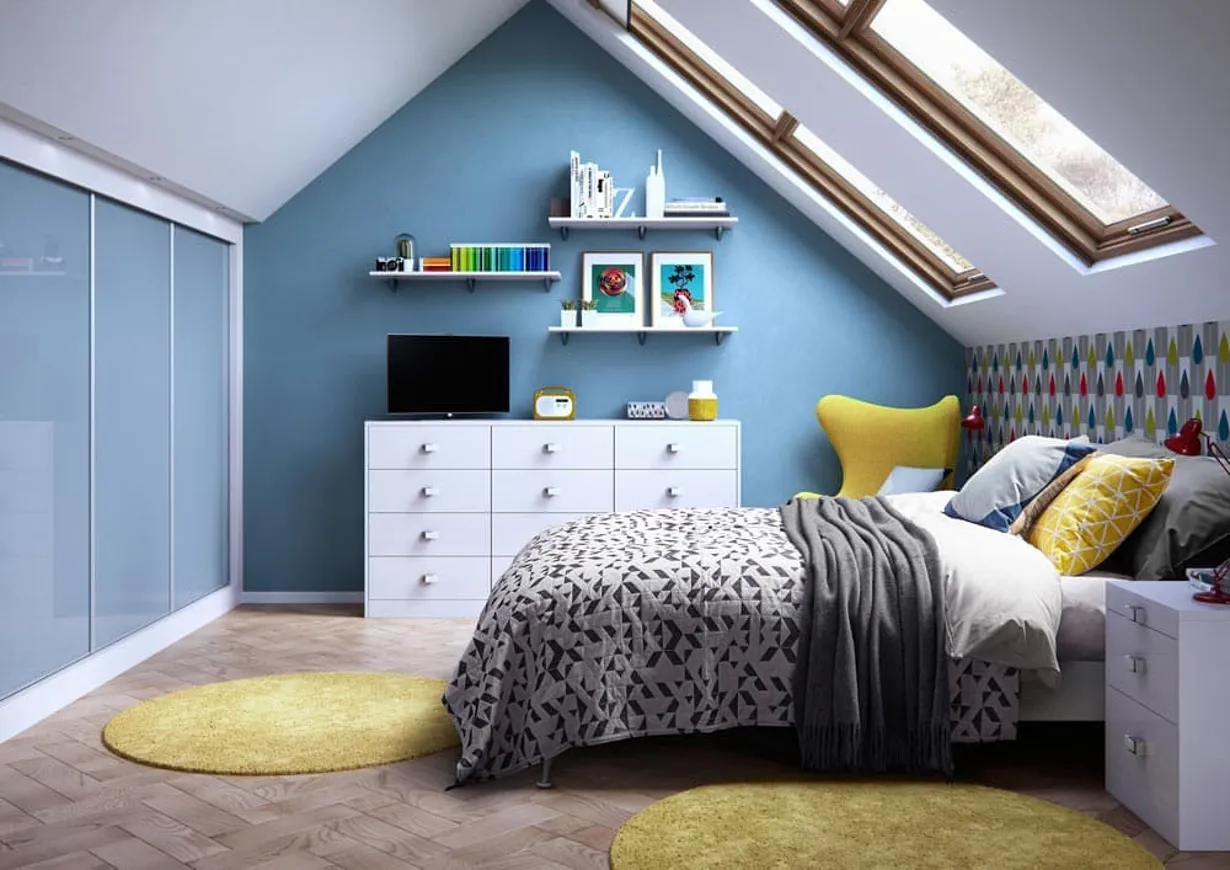 Modern bedroom furniture
Modern bedroom furniture is all about clean lines and functionality. Fitted furniture offers a seamless experience and optimises every available inch, which leaves plenty of floor space. This helps create the illusion of a larger, sleeker room, whilst an oversized headboard adds a touch of opulence.
Ideally, bedroom furniture should be kept to a minimum. Sleek bedrooms are about form and functionality and using the space cleverly. Ottoman beds are a great way to add more storage, and reduce clutter, whilst recessed lighting around the bed creates a sophisticated alternative to traditional bedside lights.  
Mix patterns, prints, and textures
Layering has long been a popular modern trend, with Scandi interiors leading the way. When you mix patterns, prints and textures that are tonally the same, you create a cohesive visual and sensory experience that is calming and helps create a cocoon of relaxation.
Neutral colour palettes are instantly elevated by the addition of sheepskin rugs, chunky knit throws, and textured oversized artwork. Mirrored wardrobes create the illusion of a larger and brighter room and, when paired with a high-gloss surround, add to the sleek aesthetic.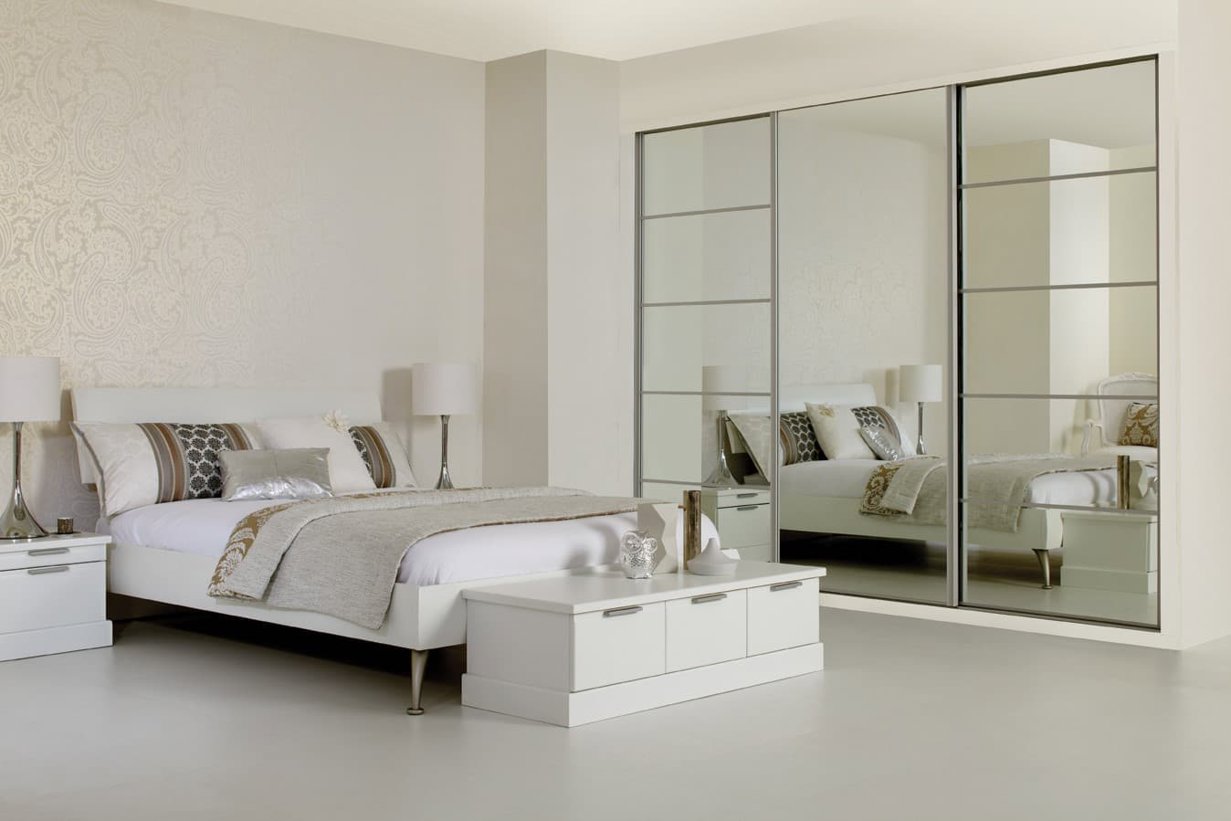 Keep it clean and clutter-free
Minimalist design principles leave no room for clutter, but that doesn't mean the space has to be impersonal. A carefully curated picture wall of all your favourite photos is an easy and effective way to inject the personal touch. For a sleek and sophisticated look, ensure that you choose images that have a similar colour palette. This could mean only using black and white images, choosing prints that are tonally similar, or photos that feature blue skies.
If you find it hard to shake the clutter, think about using clever storage solutions. Vacuum-packed storage bags are great for seasonal wardrobes and mean that items which are only really worn in one season can be neatly stowed away under beds or in lofts.
Bring in nature
Often when we think of a modern sleek bedroom, we picture a white box with utilitarian furniture, but this doesn't have to be the case. Modern living goes hand in hand with eco living, and you only have to scroll through Pinterest to see modern lofts and Scandi lodges alike awash with houseplants, artfully displayed in large planters on bare wood floorboards.
In the west we're now realising the healing power of nature, from gong baths under the moon, to salt baths surrounded by candles. And introducing houseplants into the bedroom will not only have a calming effect, they will also help you breathe in cleaner air, ensuring you wake up feeling refreshed and revitalised.
So, there you have it, some simple modern bedroom decorating tips that you can pick and choose to help create that dream sleep space in your modern home. If you're still looking for inspiration, why not get in touch with our designers for a free design visit. You'll get to discover which colours work best, create clever storage solutions, and see you your scheme come together before your eyes.
You bring the space, we bring the inspiration
Whether you have an exact vision in tow, or are just at the beginning stage of your home renovation, we have heaps of inspiration for you to get stuck into. 
Find a wealth of design tips, trends and inspiration in the pages of our brochure, magazine and on our blog. Our experts are always ready to help you create dream home, pop in store or book your free design visit for experts to help on bringing your vision to life.