Modern bedroom ideas to inspire your decorating
| Inspiration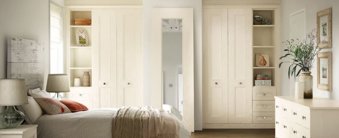 5 modern bedroom ideas to inspire your decorating
Whether you love the boho look or Scandi chic, vintage-inspired or ultra-slick, some modern bedroom ideas can cover them all. Here's our guide on how to decorate a modern bedroom, whatever your style.

Decorate your ceiling
As with all modern design, it generally comes with a bit of history attached – the current trend for painted ceilings is exactly that. We're not suggesting you paint the Sistine Chapel in your bedroom, but a bit of interest can lift your design concept.
If you want to keep things clean and simple, you can just take your wall paint right the way up onto the ceiling. It's best to keep colours light if this is your plan, otherwise it can end up feeling like a bit of a box. Light pinks, greens and teal tones can look really effective.
The other way to approach this trend is to add a few details. You could go geometric and use masking tape to mark out some shapes. Otherwise, a popular trend right now is for folk art and florals; if you're handy with a brush, you could try decorating the corners or just one area. Look to Charleston and the Bloomsbury set for some inspiration.
Use coherent layers
If you divide your bedroom into its different elements – for example, the walls, the lighting, the floor, and the soft furnishings – you have what designers often refer to as 'layers'.
The art to creating a successful modern bedroom scheme lies in your ability to build layers that work together. They can contrast – a natural wooden floor with a slick, glossy wardrobe, for example, or a plain white wall with brightly coloured abstract fabrics – but they still need to make sense altogether.
There are no hard and fast rules to this and it's often about personal taste, but follow your gut when it comes to choosing each element and think about how they will work as a whole. A design mood board, or a Pinterest board, is a good way to help you visualise your scheme.

Let in more natural light
Working out how to maximise the natural light, especially in the winter months, is key when you're planning how to design a modern bedroom. There are some classic hacks to make the most of any window that you have, such as positioning a mirror opposite it to bounce the light around and keeping any curtains or blinds simple and unobtrusive so they don't cover the glass.

Add a natural touch
Nature is really having its time in the fashion spotlight right now and the trend for houseplants, floral prints and natural fabrics isn't going anywhere. Large architectural houseplants suit any modern bedroom décor scheme and can add a statement without you having to spend too much.
Monsteras (or Swiss cheese plants) are as popular as ever, while a pink anthurium can add a splash of floral colour. When it comes to the décor, though, you could go bold with some patterned wallpaper or curtain fabric, or use some graphic plant prints in simple wooden frames to furnish the walls of a more minimal space.

Keep it simple
Although not all modern designs embrace the principles of minimalism, they can all learn something from this popular style. Bedrooms should be uncluttered, stress-free places, so don't add in extra furniture that you don't need.
Cramming in multiple chests of drawers for your clothes can also end up looking messy, so think about some built-in storage. Our Elkin range has simple lines that can add to a crisp, clear aesthetic.

Modern bedroom décor with Hammonds
For help planning how to make your bedroom look modern, book a design visit with one of our experts. We can advise you on the best way to achieve the look you want and create a storage scheme that helps you feel organised and calm.
You bring the space, we bring the inspiration
Whether you have an exact vision in tow, or are just at the beginning stage of your home renovation, we have heaps of inspiration for you to get stuck into. 
Find a wealth of design tips, trends and inspiration in the pages of our brochure, magazine and on our blog. Our experts are always ready to help you create dream home, pop in store or book your free design visit for experts to help on bringing your vision to life.