Modern heritage décor bedroom
| Bedroom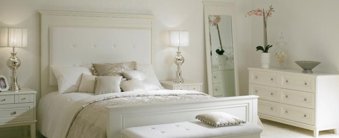 How to incorporate modern heritage décor into your bedroom
The modern heritage design trend is an eclectic mix of design influences. There is the usability and clean lines of contemporary décor, and the soul and history of vintage. Choose the right pieces and they can fit together beautifully, creating an aesthetic that is about quality and craft, with all the modern comforts.
Here are our tips to help you achieve the modern heritage interior design trend.
Incorporate patterns
When the walls are kept simple and the furniture is all fairly classic, pattern can be the perfect vehicle to add your personality to the room. Modern vintage style bedrooms look great with botanical prints, or design classics like stripes and checks.
Patterns themselves come with their own long history. Liberty prints and William Morris-style arts and crafts vibes are often decorative and floral, while simple checks and gingham can feel a bit Little House on the Prairie (in the best possible way).
Traditional patchwork bedspreads are a great way to introduce pattern, especially if they are complemented by modern bedside lighting. Lampshades and cushions also do the job beautifully.
Choose a classic bedframe
Modern vintage décor often has a hint of the colonial about it, so when you are choosing your bed, try harnessing those long, hot nights with some classic and spacious furniture. A four-poster bed with canopy curtains will fit this style perfectly, and if you want to add a modern touch you can twist some fairy lights around it. Simple iron headboards also contrast gorgeously with some homemade quilts and throws.
Use colour sparingly
Heritage style feels quite pared back and relaxed, and a simple colour palette can help build the aesthetic. White or cream walls always look fresh and can bring out the details of your accessories.
If you want something a bit warmer though, you could try soft greens or mustards. A number of paint companies have heritage ranges now, which feature original colours that date back as far as the Georgian period. So, get researching. The trick is to choose a few complementary tones and stick to them.
Swap blinds for curtains
Curtains add a luxurious feel to any space and manage to bridge the gap between heritage and modern. Depending on your style, and the quirks of your room, you will need to choose fabric carefully. Thin, floaty curtains are perfect for creating a sense of softness and summer and can evoke the heritage feeling perfectly. But come winter they do little to block out the cold and the light.
If your windows are on the drafty side, you could opt for thicker cotton fabrics that will keep you cosy all year. Black-out lining is also useful if you want to keep the early morning sun out.
Think about storage
Keeping your modern vintage bedroom free from clutter will help you get the most out of your space – whatever your style. If you are going for a heritage feel it's even more important to stay tidy, as modern-day bits and bobs like hair straighteners and those tangles of wires that we all have can really ruin the mood.
Storage is key to keeping the clutter at bay, and fitted wardrobes can help to maximise your space and style. Our classic Willesley range is a great option for this style, as is Hatton, which exudes timeless elegance. Both come in a range of muted colours to adapt to any home and colourway. Our wardrobes are designed bespoke, but we think that a section for drawers is always useful, as it offers plenty of space to hide away the small things.
Add accessories
Accessorising your space with vintage pieces will help pull the whole heritage look together. eBay, Gumtree, flea markets and charity shops are all treasure troves when it comes to vintage styling. Stock can change quickly, so it is always worth a look if you are passing.
Reclaimed or wooden ornaments will create a timeless finish, while vintage glass perfume bottles or cosmetic jars will also fit the theme and add a glamourous touch. Lampshades can also be lovely vintage finds, especially if they are glass or made from original fabrics. Then there is the classic old chest. Whether it is wood, metal, or an olden-days suitcase, every bedroom needs one and they make brilliant storage for bed linens or towels.
Get in touch for help designing your modern heritage bedroom
For help designing a modern vintage bedroom with enough storage to keep your clutter out of sight, speak to one of our experts. We offer a free design visit to your home, where we will tailor our products to suit your style.
You bring the space, we bring the inspiration
Whether you have an exact vision in tow, or are just at the beginning stage of your home renovation, we have heaps of inspiration for you to get stuck into. 
Find a wealth of design tips, trends and inspiration in the pages of our brochure, magazine and on our blog. Our experts are always ready to help you create dream home, pop in store or book your free design visit for experts to help on bringing your vision to life.