Most annoying household habits
| Inspiration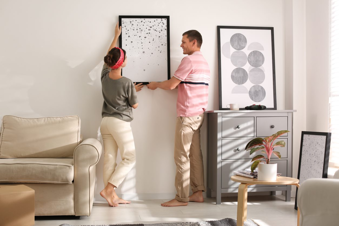 How to create a harmonious living space for you and your partner
Here at Hammonds, we believe creating a harmonious living space is key to a smooth sailing partnership. But what are the bad habits causing rifts in relationships?
In a bid to find out what annoying routines us Brits are guilty of in our own homes, we surveyed 2000 UK-based adults on bothersome household habits and how couples are dealing with these issues.
To help you talk to your partner about their bad habits, we've enlisted the help of relationship coach Billy Reid to provide tips on how to discuss these issues, including information on communication, setting boundaries and patience.
What bad habits are Brits guilty of at home?
Through our survey we found out which of the annoying habits are really getting on our nerves.
Top ten most annoying habits according to couples:
Not listening - 51%
Snoring - 42%
Leaving cups / washing up out - 39%
Avoiding household tasks – 35%
Stealing bed covers at night – 35%
Too much screen time – 35%
Leaving lights on in the house – 35%
Leaving dirty clothes on the floor – 33%
Nagging – 29%
Not emptying bins – 28%
More than 15 million Brits in relationships say they get annoyed by their partner not listening to them (51%) - but only one in six (16%) admit to doing the same to their partner.
Snoring comes in at the second most popular reason to get annoyed at your partner with 42% saying this is their pet peeve. However, only 12% admit to actually snoring themselves – interesting!
Snoring is followed by leaving cups out or leaving washing up (almost 12 million Brits in relationships, or 39%) compared to only 12% of relationship partners admitting to doing this.
The data shows 42% of females get annoyed at their partner for avoiding household tasks compared to 28% of men. Whereas it appears 38% of men believe nagging is their partner's most annoying habit, opposed to 22% of women.
Enough to call it quits?
Luckily, what we can see from our study is that these bad habits aren't a deal breaker for many couples. However, there are a handful of traits you might want to watch out for...  
Top pet peeves that would cause a break-up (Total of UK adults)
Poor personal hygiene (1.27m)
Vaping or Smoking (1.1m)
Nagging (860,000)
Nose picking (800,000)
Chewing loudly or with mouth open (770,000)
Snoring (680,000)
Avoiding household tasks (680,000)
Talking negatively about the in-law's family (650,000)
Obsessively watching sports (650,000)
Using expensive items of mine such as soaps and shampoo (650,000)
The worst habit that could end a relationship was revealed to be poor personal hygiene with 4% (over one million) claiming they would break up with their partner over this – so don't forget to put on your deodorant on! 
The survey showed most couples (68%, more than 20 million Brits) either never argue about each other's bad habits or only argue less than once a month; whilst a third of couples (33%) never argue about them at all.
One in five couples (19%) say they bicker at least once a month with their other half about their bad habits – we think that's not too bad going!
Generationally, older couples were found to argue less than any other age group with nearly half of 65+ year-olds saying they never argue about each other's bad habits, compared to just a fifth (19%) of 25-34 and 23% of 18–24-year-olds.
Biggest pet peeve of couples in each city
Belfast: Not listening (28%)
Birmingham: Not listening (18%)
Bristol: Stealing bed covers at night (18%)
Cardiff: Too much screen time (16%)
Edinburgh: Avoiding household tasks / Not listening (19%)
Glasgow: Leaving cups out / Not listening (19%)
Leeds: Taking up too much wardrobe space / Too much screen time (16%)
Liverpool: Snoring / Not listening (20%)
London: Stealing bed covers at night (17%)
Manchester: Eating in bed / leaving crumbs (16%)
Newcastle: Stealing bed covers at night (18%)
Norwich: Avoiding household tasks (21%)
Nottingham: Not listening (19%)
Sheffield: Not listening (22%)
Southampton: Too much screen time (17%)
The results also found that Manchester is the most argumentative city with less than a quarter (23%) of couples saying they never argue about bad habits whilst less than a third (29%) argue less than once a month.
How to talk to your partner about their bad habits
Relationship coach Billy Reid has given his tips on dealing with a partner's bad habits: 
"Firstly, it is important to communicate openly and honestly with your partner about their bad habits. This means expressing your concerns without being judgmental or critical. Instead, focus on how their behaviour makes you feel and the impact it has on your relationship. By doing so, you can work together to find a solution that addresses the issue while maintaining a positive and supportive dynamic. 
Secondly, it may be helpful to set boundaries and establish clear expectations around certain behaviours. For example, if your partner has a habit of leaving dirty dishes in the sink, you could agree to take turns doing the dishes or establish a rule that dishes must be washed immediately after use. By setting these boundaries together, you can create a sense of accountability and ensure that both parties are working towards a common goal. 
Finally, it is important to recognize that changing habits takes time and effort. It is unrealistic to expect your partner to completely change overnight, so be patient and supportive throughout the process. Celebrate small victories along the way and continue to communicate openly about any challenges or setbacks that may arise."
Savvy storage solutions to help you achieve organisation in your space  
Our study revealed that women tend to take up more space in the wardrobe than men with almost one in five females (18%) saying they are guilty of taking up too much wardrobe space compared to just 6% of males.
Our Interior Design Expert Melissa Denham shares her advice on how to tackle each other's untidy traits together:
In the wardrobe. The vertical folding process is a great general rule for all your basic clothing items. If you lay your item flat, fold in any sleeves and loose edges then fold vertically before horizontally, you will find you save much more wardrobe space.
By the bed. Add a tray to the side of the bed to collect old cups. When it's getting full, it's easier to take them down in one go, which might help you feel less overwhelmed with the task at hand.  
Hiding dirty laundry. If you're fed up with your partner's clothes piling up and creating a 'floordrobe', add an ottoman to the foot of your bed to hide dirty laundry in before it enters the wash.
Couples who are looking to create a peaceful environment should consider installing smart storage options with fitted wardrobes, to provide a more efficient way of sharing a wardrobe with your partner.
Sources & Methodology 
Survey of 2,000 UK adults conducted in June 2023, responses split by gender, age, and nearest city.
ONS Population Estimates and Census 2021:
You bring the space, we bring the inspiration
Whether you have an exact vision in tow, or are just at the beginning stage of your home renovation, we have heaps of inspiration for you to get stuck into. 
Find a wealth of design tips, trends and inspiration in the pages of our brochure, magazine and on our blog. Our experts are always ready to help you create dream home, pop in store or book your free design visit for experts to help on bringing your vision to life.