Natural bedroom ideas
| Inspiration, Bedroom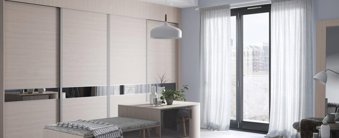 Bring the outside in by transforming your room into a nature-inspired space. For inspiration, check out Hammonds' roundup of natural bedroom ideas.

Nature-inspired bedroom ideas to bring the outside in

Bringing nature indoors has been seen in many interior design trends in recent years. From the cosy hygge style filled with neutral tones, to the rainforest office at Amazon's Seattle base, organic textiles appear in all kinds of settings.
While these colours and materials look great in any room in the home, the bedroom is the perfect fit for the calming effects of nature. A good night's sleep can be influenced by the colours and textures you surround yourself with, and a natural colour palette can be especially soothing.
If you're looking to introduce nature-inspired bedroom ideas to your home, our guide can help you transform the space.
Our love of nature

Before we introduce nature into our homes, it's worth taking the time to understand the link between our love of nature and design.
Designers often refer to nature-inspired décor as biophilic design. Biophilia refers to humans' innate love of nature and is a term that was coined by American psychologist Erich Fromm in 1973. Fromm discovered that biophilia reveals itself in the way we instinctively react to the space we're in.
Biologist Edward O. Wilson then went on to apply the concept to indoor layouts, using biophilic design to make the indoor spaces mimic natural environments. Since then, we've seen interior design trends embrace the natural world. Today, when we add a plant to a room or choose window dressings that allow more light in, that's biophilic design at work.
To bring this to your own home, here are some natural bedroom ideas.
Use natural materials

Pick out natural materials to bring the outdoors in. To do this, think about the things you need for the room.
Introduce wooden items, such as solid wardrobes, for robust furniture made from solid timber. Here at Hammonds, we specialise in building durable wooden fitted wardrobes, so you can add storage space that neatly slots into the room.
Consider your bedding, too. Cotton bedding and wool blankets add a layer of cosiness, making your bedroom a soft place to snuggle up in.
Add some house plants

House plants have become popular recently, with people investing in everything from cacti and cheese plants to statement yuccas and pretty bonsais. As well as adding a splash of green – a colour known for adding balance and a sense of reassurance, according to the Colour Affects theory – it also improves the air quality.
If you're not green-fingered, fear not. Faux plants are just as effective at transforming the aesthetic and take less maintenance.
Consider the colours and patterns

Natural colours, such as greens and blues, can be soothing. This makes them an ideal choice for a bedroom as this is the space where you need to calm the mind at the end of a busy day. Synthetic colours are more likely to stimulate you, waking you up when you need to be asleep.
One way to introduce these colours is to opt for nature-inspired wallpaper or artwork. Hanging up a blue-toned seascape, for example, is an easy way to update the room without making it permanent. This means that you can move it to a different spot whenever you want to.
Add some fragrance

Just as you need to use visual cues in your bedroom, you also need to consider your other senses too. Adding some candles scented with herbs, fruits, or flowers can create a feeling of serenity.
When choosing the fragrance, try to stick to natural scents known for their soothing qualities, such as camomile and lavender. Like the colours and the materials, you want this to create a peaceful setting.
Let the light in

Natural sunlight is known for its health benefits. While you need to create a relaxing setting to sleep in, you also want to gently wake to the rising sun where possible. Place your bed so that you're next to the window and think about the window dressing you need to enhance the light that comes in.
In the winter months, the mornings are darker, so invest in a sunlight alarm that replicates the sunrise. This will help you continue to wake naturally.
Choose your nature-inspired bedroom ideas

You may want to pick one or two of these tips for your home or you might find that combining all of these natural bedroom ideas is the perfect way to bring the outdoors indoors. Take your time to find the balance that suits you – after all, your bedroom is your sanctuary, so it needs to work for you.
If you're planning to add some beautifully designed wooden furniture, we're here to help. Book a design visit and we'll show you the different wooden materials we use to build tailor-made fitted wardrobes.
You can also find further guides on the Hammonds blog.
You bring the space, we bring the inspiration
Whether you have an exact vision in tow, or are just at the beginning stage of your home renovation, we have heaps of inspiration for you to get stuck into. 
Find a wealth of design tips, trends and inspiration in the pages of our brochure, magazine and on our blog. Our experts are always ready to help you create dream home, pop in store or book your free design visit for experts to help on bringing your vision to life.