Organise your dressing table for an easy morning routine
| Bedroom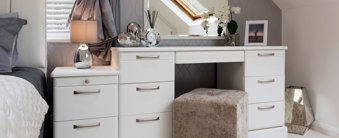 Organise your dressing table for an easy morning routine
A well-laid out dressing table has been an essential feature of beautiful bedrooms for years and they have many benefits; not only is it a dedicated space to get ready, but they are also a great storage solution for your beauty essentials and a place to display all your favourite things.
A good morning routine can really set you up for the rest of the day. With Brits spending approximately 47 minutes getting ready in the morning, it's essential to get organised so you can speed-up your routine.
We've put some top tips together to help you make positive improvements to your daily regime and start every day on the right side of the bed.
The importance of pre-planning
Eliminate decision-making tasks and have a smooth-running morning by pre-planning and getting organised on the evening before. This will give you a head start for a more relaxed morning. 
Your dressing table should be an extension of your pre-dresser, so get out all the essentials you'll need to get ready. Keep your beauty products organised and in the same place. Lay out your clothes the night before, make sure your handbag is packed and your lunch is in the fridge. Don't forget to leave a to-do list on your dresser, so you don't forget anything important.
Keep everything within easy reach and similar items together
When deciding on your storage and organisation, it's important to think about your everyday routine. The items you need first thing in the morning should be easy to reach and on display. Your beauty products should all be at hand, so all you have to do is sit down and get ready for the day ahead.
A dressing table is great for organising all of your essential items, especially when you're sat in front of your mirror going through your beauty regime. Organisers you can see through not only keep your products in order but also keep them in plain sight, so you can find everything you need at ease.
Keep similar items together and give everything its own place. Create the perfect home for your jewellery collection and make the most of every inch of space with smart, in-built jewellery trays. This will ensure your precious bracelets and necklaces stay detangled, saving valuable time in a morning. 
Think about positioning your dressing table near plug sockets or being able to use an extension lead safely. Electrical items such as hairdryers can be an essential part of your morning routine, so being able to use them at your dressing table is an advantage - everything in one place. Keep your electrical items together and have a surface heat protector to hand; you don't want to be marking your dressing table!
Think about the important additions
Lighting is easily one of the most important aspects to get right in your bedroom. We all know, you need good lighting to put on your make-up. Play around with different light sources, especially on your dressing table. Find a lamp that tilts and can move around. You can use this as a spotlight for the more fiddly make-up jobs like eyeliner and lipstick.
A dressing table mirror is a fantastic addition to any bedroom. Not only will it help you with your beauty routine, but it can also make your bedroom feel more spacious, reflecting natural light around your room. Tilting mirrors are super handy and LED mirrors are totally on-trend. Try a double sided mirror, and the zoom feature can help you with the little details. Alternatively, see yourself from all angles with a triple mirror.
Spending time on yourself and making yourself feel beautiful is important to gain a sense of calm before your day ahead.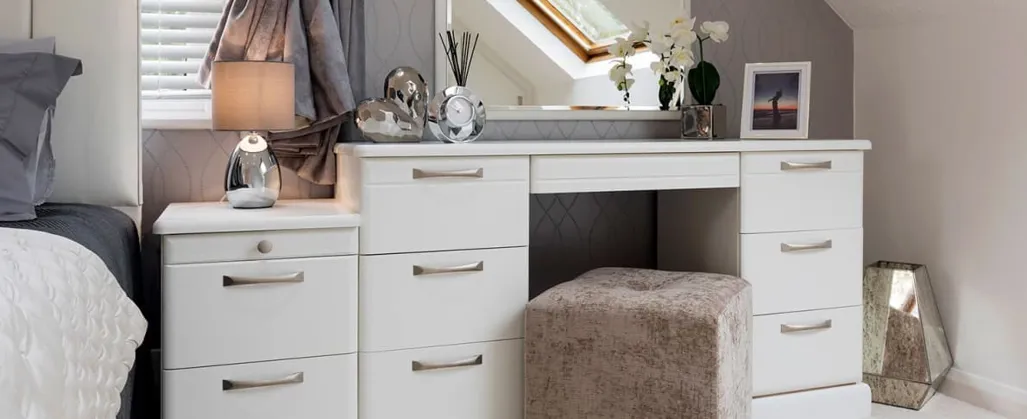 Declutter your dressing table, declutter the mind
Occasionally take some time to declutter your dressing table to make room for the things you need. Have a rummage through your make up and see if you can discard any old, unused products. Make-up does have a shelf life so throw out any crumbling mascaras. 
Not only does de-cluttering give you space on your dressing table, but it also helps clear the mind. Closing the doors on clutter is one of the main aspects of creating a Zen bedroom.
The little things can make a big difference 
Once you have decluttered, you can make way for all your favourite accessories. Ornate elements like perfume bottles, trinket trays and photos can provide the finishing touches and make your bedroom one of your favourite parts of your home.
Print out an inspirational quote and stick it above your dressing table. This will be one of the first things you'll see in the morning and could give you the extra boost you need for a positively productive day.
Try putting your alarm clock on your dressing table. Make sure you set it every night, giving yourself enough time for your morning routine without the stress of rushing. By placing your alarm further away from your bed, it will make you get up to turn it off, and you'll be less tempted to snooze.
Fresh flowers not only brighten up your room, but they can also lift your mood. According to a Harvard University study , people who display flowers around their home experience a noticeable increase in their mood, as well as higher compassion towards others.
If you're worried your flowers won't see much light, then consider artificial flowers or plants that don't need much attention. The idea of bringing the outside in is so that you can replicate the feeling of energy you get from spending time outside.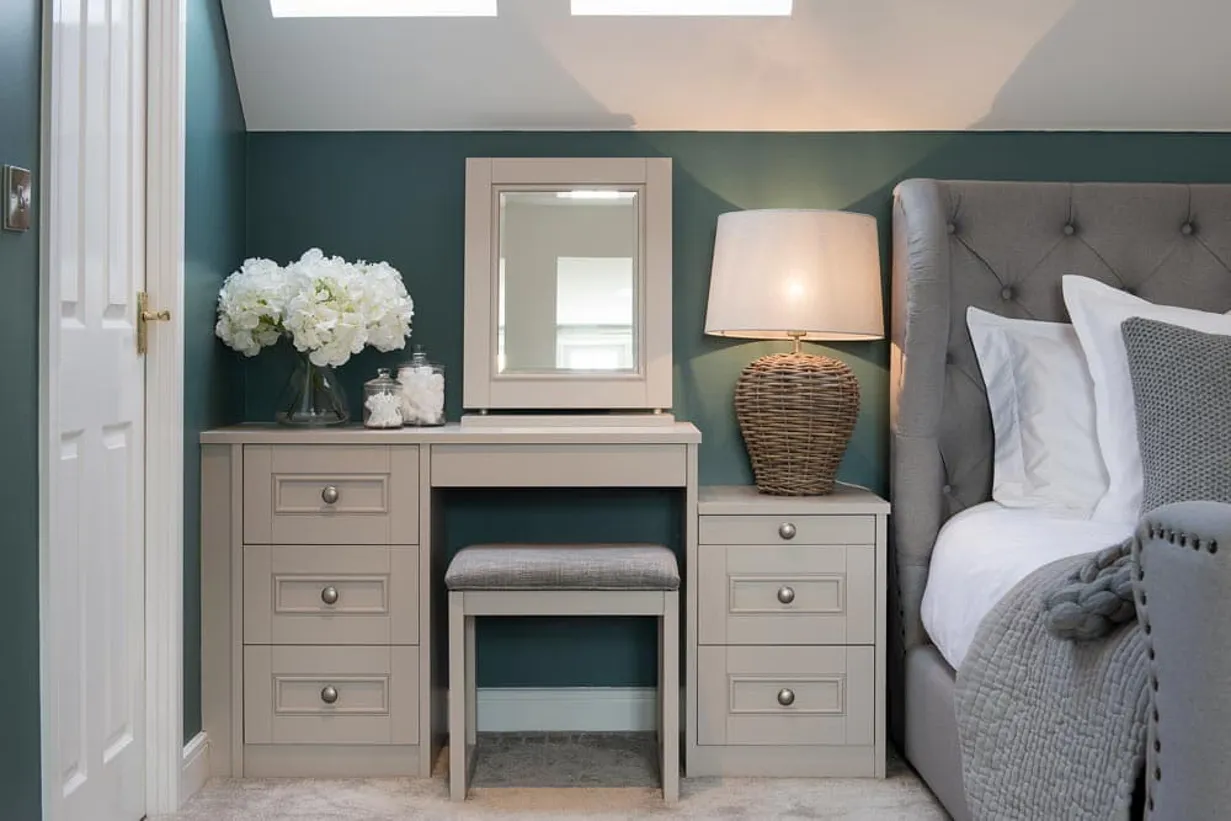 A dressing table is a place for you. A place to pamper yourself and enjoy a bit of 'me' time. If you'd like to add a little more luxury to your home, there are many ways you can do this. Call our design experts today to see how you can match a dressing table to your furniture or design a whole new look with matching fitted furniture and beautifully bespoke added extras.
You bring the space, we bring the inspiration
Whether you have an exact vision in tow, or are just at the beginning stage of your home renovation, we have heaps of inspiration for you to get stuck into. 
Find a wealth of design tips, trends and inspiration in the pages of our brochure, magazine and on our blog. Our experts are always ready to help you create dream home, pop in store or book your free design visit for experts to help on bringing your vision to life.