Our top 5 book storage solutions for small living spaces
| Inspiration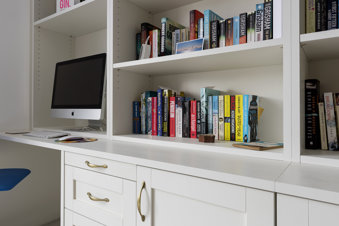 Our top 5 book storage solutions for small living spaces
Any avid reader knows the struggle of book storage, especially if you're not working with a lot of space. Luckily, books can be a charming feature of any living space; it all just leans on how you store them.
While piles of books may look artsy and intriguing, they can make your home seem cluttered and disorganised. Keeping your collection coordinated can improve the overall ambiance of your space and create an inviting home interior. While you might still want to keep your favourites on display, we've listed some of the best book storage ideas for small spaces.
Use high-up ledges
The average UK household owns 104 books – that's a lot of space used up if you don't have the right storage. If you don't have floor space to spare, why not utilise an empty ledge? Whether it's above the bed or along the top of a staircase, filling 'dead' space with your favourite novels can be transformative.
Instead of looking bare and a bit soulless, these areas can suddenly look lived-in and full of character.
Frame a doorway with shelves
Another bookshelf idea that does wonders for small rooms is making the most of your doorways. Packing the space above and to the side of an interior doorway can be an innovative and eye-catching addition.
Not only does this solution add a touch of sophistication to your interior but it's also practical and allows you to keep your existing floor space. There are good opportunities for some intriguing bookshelf lighting ideas to draw attention to the shelves.
Install understair storage
Never underestimate the potential of that unused space under the stairs, no matter how small or awkward. At Hammonds, we offer bespoke fitted understair storage so that you don't have to sacrifice any precious floor space while keeping the rest of your home tidy.
You can work with design experts to create a subtle approach to your book storage that is both functional and convenient. If you've got some valuable additions to your book collection, this storage method will also protect them from dust and sunlight.
Use corner shelves
If you haven't got the luxury of extra space and are worried that adding a bookshelf would make it too bulky, corner shelves might be the perfect book storage idea for your small space. Why not use smaller L-shaped shelves where two walls meet? While these might not be large enough to house your entire collection, you can distribute them evenly to prevent clutter.
Having these shelves high up optimises your vertical space – they also unlock the possibility of exploring bookshelf lighting ideas that could really brighten up the room.
Convert a bench
Whether you have a wooden bench at the foot of your bed or a futon bench seat in your living room, hollowing it out and converting it into book storage could create an unexpectedly stylish feature.
A book trunk will keep your collection in one place and double as a seating area where you can settle in and read your favourite novel. Not much of a DIYer? Don't let that stop you – there are plenty of how-to DIY guides that will get you upcycling with the best of them in no time.
Make your

bookshelf ideas for small rooms

a reality with Hammonds
We're here to help you make the most of your book storage or lighting ideas, no matter how small your space is. At Hammonds, we have all the fitted storage solutions you need to revitalise your living space and get a handle on your clutter. Book a free design visit so that you can discuss your bookshelf plans with our friendly experts and make your vision a reality.
You bring the space, we bring the inspiration
Whether you have an exact vision in tow, or are just at the beginning stage of your home renovation, we have heaps of inspiration for you to get stuck into. 
Find a wealth of design tips, trends and inspiration in the pages of our brochure, magazine and on our blog. Our experts are always ready to help you create dream home, pop in store or book your free design visit for experts to help on bringing your vision to life.