Pantone Colour of the Year 2022
| Bedroom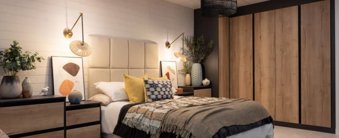 How to use the Pantone Colour of the Year 2022 in your bedroom  
Each year, Pantone chooses a colour to represent the time. The chosen shade is supposed to signify the zeitgeist of the year – our collective mood and tastes. The Colour of the Year influences trends in interior design, fashion, marketing and even our own homes, but sometimes the chosen shade requires some creative thinking. This year, it's the turn of Very Peri, a bold, bright periwinkle blue/purple.
What is the Pantone Colour of the Year?
The Pantone Colour System is recognised as the world's leading colour matching system, used across design and manufacture to standardise colours. Each year, Pantone carries out trend analysis and selects one colour to reflect and guide upcoming societal trends.
 
Introducing the chosen Pantone Colour of the Year for 2022: Very Peri
Very Peri is bold and unapologetic. It's both bright and deep, a few steps on from the pastel shades but still full of youthful fun and vigour. The blue-violet shade was chosen to reflect how the pandemic has changed our lives while celebrating the new creative possibilities that have emerged from it. It's said to encourage personal inventiveness and creativity, so it makes good sense to incorporate it in your home.
How to use Very Peri in your bedroom
Wall colour
Walls are the obvious place to start when you want to bring in a new colour. We're not saying you have to paint them all (that might be too much Very Peri!), but you could opt for a feature wall or go for smaller accents by painting your window frames or shutters.
If this is the route you want to go down, think about what colour you want to pair it with. Painting the other walls white might be a bit stark and too much of a contrast but incorporating lighter blue or lilac tones could work well. Grey also complements the Very Peri blue, especially if you find one with underlying pink notes.
When it comes to combining your new Very Peri wall with your fitted furniture, there are some more decisions to make. Our Elkin range has gorgeous soft neutrals like Vanilla and Fudge, that would tie your room together well, while also letting the blue pop. Our Light Grey tone runs through several of our ranges and would also be another great combination.
Furniture
The purple tone of Very Peri is full of glamour and fabulousness, so you could go the whole hog and opt for a chaise longue if you want to incorporate it into your bedroom. Imagine lying back, relaxing on your sumptuous Very Peri chaise longue in your poshest pyjamas. We think it would work well – particularly if the fabric is a luxurious velvet.
If your bedroom is a little more compact, an armchair or stool could look equally good, while storage benches at the end of the bed or beside a window offer some practical seating too.  
Soft furnishings and bedding
Chunky, soft throws look even cosier in this shade. Think big, thick knits that you can wrap yourself up in over winter or drape over a chair in the spring. Scatter cushions are also a great way to add splashes of colour if you don't want to make too big a commitment.
Another comforting and easy way to bring Very Peri into your bedroom is to opt for some bedding. We think that it would look great in a casual linen range, and with so many retailers influenced by the Pantone Colour of the Year, there is bound to be some in stores soon.
Art and other accessories
Very Peri is inspired by the natural bright blue of periwinkles, so having some in a vase in your bedroom makes perfect sense. You could opt for some dried or preserved flowers if you wanted them to last a bit longer.
We all love houseplants, and you could use the pots to bring pops of colour to your bedroom if you have some. If you can't find the right shade in the shop, why not paint a terracotta pot yourself? Pick a wide enough brush and do a few thick coats and it's hard to go wrong.
While you have your paints out, you could have a go at customising some picture frames. Try painting both the frame and the cardboard mount if you have one. Make sure the image inside the frame has some complementary tones – bright, fun nature images would work well – and you will have yourself a chic, personalised take on Very Peri-inspired wall art.
Find more design ideas with Hammonds
For more design news and inspiration, visit the Hammonds blog hub. We delve into all the current trends and have plenty of creative ideas about how to incorporate them into your home.
You bring the space, we bring the inspiration
Whether you have an exact vision in tow, or are just at the beginning stage of your home renovation, we have heaps of inspiration for you to get stuck into. 
Find a wealth of design tips, trends and inspiration in the pages of our brochure, magazine and on our blog. Our experts are always ready to help you create dream home, pop in store or book your free design visit for experts to help on bringing your vision to life.