Practical dressing table ideas to transform your bedroom
| Inspiration, Bedroom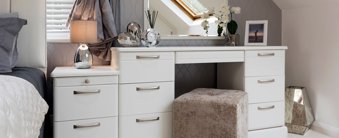 Transform your dressing table with our tips. Invest in key accessories and create a focal point in your bedroom.
Sometimes getting ready is more fun than going out, and when you have a carefully curated dressing table it makes the whole event much more of an occasion. Over the past decade we've seen a decline in dressing tables, but recently, there's been a definite resurgence in this humble piece of bedroom furniture.
A dressing table should serve its purpose functionally and aesthetically – and should complement your bedroom style. But a dressing table can easily become neglected with tangled jewellery, cluttered with lotions and potions, and sometimes even covered in make-up. Having an unruly dressing table can make your bedroom look chaotic and unattractive. If this sounds familiar, we've got some dressing table ideas that can help transform your space and make your dresser a luxurious part of the bedroom.
Focal point
Where you put your dressing table in your bedroom will have an impact on the whole space. Depending on the room size, there are a number of options when it comes to the placement of your vanity table. The most common place for a free-standing dressing table is in front of a window. Of course, if you have a traditional dressing table with a backboard mirror, this could block out a lot of light, in which case, choosing a table without a mirror and using a free standing one would be more beneficial.
If you have the space, a dressing table against a wall with a large mirror or a piece of artwork above it will create visual balance. Adding an oversized mirror will make the bedroom look bigger, while a collection of pictures or piece of artwork will make your dressing room look chic and add depth.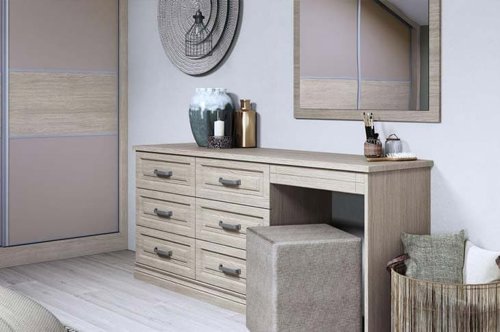 Use tall accessories
By adding something tall on your dressing table, not only will you be adding interest, but you'll be helping to zone the space. A chic table lamp would add additional lighting, while a tall houseplant or a pillar candle can add an element of calm. This will help draw the eye up and create a balance with your focal point.
Use trays
When it comes to how to organise a dressing table, use different trays for make-up and jewellery, instead of having everything tangled up. If you have a small dressing table, choose one with plenty of drawer space and buy drawer dividers to help keep things ordered and easy to find on those mornings when you're in a rush.
Invest in lighting
When thinking about how to dress a dressing table, you should also consider your light source. If you want a full-on luxury look and feel, a Hollywood-style mirror will allow you get ready with perfect lighting. And if you want to add some atmosphere, then mood lighting hung above your dresser will do the trick – and it will save surface space, leaving you with more room for items on your dresser.
Choose your chair
The chair for your dresser is important as it can help tie in the whole scheme of the room. Choose one which has colour and texture, perhaps with an elegant jewel-coloured velvet cushion, for a real boudoir feel. It's important that your chair isn't too big for your dressing table and room, as it will look chaotic and cluttered.
Get creative with colours
If the rest of your room is neutral or pared back, a colourful dressing table will bring some character to your space. Bold use of colours is fun when it comes to your dresser, especially when you're getting ready for an evening out, as it will help to get you in the mood.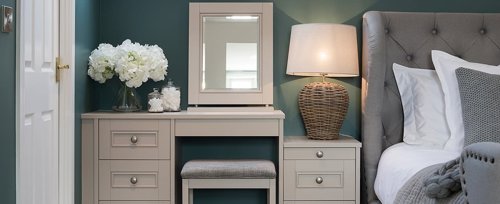 Your own space
Overall the dressing table ideas you choose should be the ones that inspire you. Your dressing table is your own space, and it should describe everything about you. Fill your table with things that make you happy, like photo frames, candles, mirrors, and memorabilia.
If you're unsure where a dressing table should go or you need help choosing the right dressing table style, then book a free design visit today.
You bring the space, we bring the inspiration
Whether you have an exact vision in tow, or are just at the beginning stage of your home renovation, we have heaps of inspiration for you to get stuck into. 
Find a wealth of design tips, trends and inspiration in the pages of our brochure, magazine and on our blog. Our experts are always ready to help you create dream home, pop in store or book your free design visit for experts to help on bringing your vision to life.