Refresh your child's bedroom with these design ideas
| Bedroom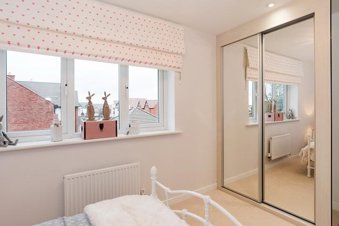 Refresh your child's bedroom with these decorating ideas
Most parents agree that their children's bedrooms are the messiest in the house. Toys and books strewn across the floor, clothes found anywhere but wardrobes or drawers, they're often a mess. All of which can make them daunting to sort out.
Practical solutions for getting your child's bedroom in order are needed. However, you won't want the room to lose its personality, and that's why knowing how to refresh its design is so important.
With that in mind, you'll be looking for ample storage opportunities and wonderful design ideas to bring your child's space to life – and keeping it neat and tidy once they're done playing! Fortunately, we've got plenty of design tips for achieving this. Read on to find out how you can refresh your child's bedroom with our top décor ideas.
Stick to neutral colours
Every child has a favourite colour and it's likely they'll want their walls painted in it. However, as with their favourite toys or movies, this colour is likely to change throughout their childhood. Therefore, we suggest not painting their bedroom in this colour – otherwise, you may find yourself getting the paint tins out again next year to change it.
Stick to neutral colours to avoid this. There are many benefits to choosing neutral colours, not least because they create a clean look for the bedroom. Should your child still want to add some of their favourite colours, then you can put up artwork that can easily be changed when their tastes change.
Hidden storage
Toys take up a lot of storage space and the storage units available can look less than desirable in your home. That's why you'll want a solution that can fit all the toys and accessories without impacting the overall look of the room.
The bedroom storage range at Hammonds is a wonderful choice for this. It offers accessibility when your child wants to find an item and makes packing away simple too. This ensures that your child can have a clutter-free room, without having to throw out their favourite toys.
Shelving 
If you need even more storage, take advantage of every space in your child's room. Walls often go unused, so why not fit floating shelves? These are easy to install yourself or you could have a professional do them if you're worried you might get it wrong.
Once installed, items that need to be accessible, such as favourite toys or their bedtime book, can put neatly on here. This adds edge to your child's bedroom décor and can really make a statement when you place vibrant items on the shelves.
Desks
Homework may seem like the bane of your child's existence. However, they'll have to get used to it as it's only going to increase as they get into their teenage years. That's why we recommend adding a high-quality, spacious desk to their room to increase their motivation to complete their work. Make it somewhere they will want to spend time.
Having their own dedicated space to do their homework will let them focus and avoid unnecessary distractions in other rooms around the home.
Reading corner
Children love to get lost in stories and you'll want to give them every opportunity to read stimulating books in the comfort of their own room. Adding a reading corner to your kid's bedroom décor is the best way to do just that.
Place a statement piece of furniture like an armchair in the corner of your child's bedroom, and accompany it with a reading lamp and a bookshelf for them to build a book collection. Having this area will make them excited to read and will benefit their overall development.
Book a Hammonds design visit to create the perfect room for your child today
Whatever features you want to add to your child's bedroom décor, you can rely on Hammonds to help bring your vision to life. Book a design visit and see how our fitted furniture can enhance your child's bedroom and make it a special place for them and hassle-free for you
You bring the space, we bring the inspiration
Whether you have an exact vision in tow, or are just at the beginning stage of your home renovation, we have heaps of inspiration for you to get stuck into. 
Find a wealth of design tips, trends and inspiration in the pages of our brochure, magazine and on our blog. Our experts are always ready to help you create dream home, pop in store or book your free design visit for experts to help on bringing your vision to life.