Restful bedroom ideas for a soothing sleep space
| Bedroom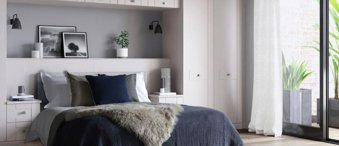 Restful bedroom ideas for a soothing sleep space
As a place where you go for rest and rejuvenation, your bedroom should offer a peaceful haven away from the chaos of the outside world and even other parts of your home.
Many people suffer from sleep issues as a result of stress, busy lives and the inability to switch off before bedtime. However, making some subtle changes to your bedroom set-up and décor can significantly impact your ability to feel more relaxed and at ease each night.
Here are a series of restful bedroom ideas to ensure you manage to get that all-important undisturbed night's sleep. 
Choose calming colours
There has been a lot of research published about how colours can affect our mood and emotions, with certain bright colours shown to increase anxiety and even blood pressure. 
Therefore, when it comes to creating a restful bedroom environment, it's best to avoid brights and stick to soft, muted shades that can help create a serene feel.
White on its own can often appear a little cold and stark, so opt for warmer shades, beige or experiment with pastels and earthy tones as a baseline for your room.
Declutter
Visible mess signifies chaos and unfished chores, so a restful bedroom space should be clutter-free and minimal to ensure your mind remains clear too.
Depending on the size of your bedroom, storage space could be an issue, so you might have to be imaginative when it comes to finding homes for all your possessions.
Fitted bedroom storage is a great idea to ensure no inch of space is wasted, with bespoke storage suited to the dimensions of your room. Fitted wardrobes, cabinets and bedside tables create places to store all your bedroom essentials such as clothes, towels, bed linen, nightwear and accessories, so they never need to be on show again.
Under-bed storage is also useful for out-of-season clothes and shoes, as well as lifestyle accessories including yoga mats, exercise balls and suitcases.
Create an inviting bed
The quality of your bed is also likely to affect the quality of your sleep. Choose a mattress that is suited to your body shape, and remember that you should look to replace your mattress approximately every six to eight years to avoid any health implications.
A mattress topper can help to make your sleep position even comfier, and super-soft bedding and duvets can all contribute to a restful night's sleep every evening.
Thick throws and blankets not only make your bed look inviting and hotel-quality standard, but also come in handy on colder nights when your body temperature drops.
Set the mood with lighting
Natural daylight can help us feel relaxed and calm during the day, but on darker days and evenings, playing around with mood lighting can help create a chilled vibe.
Bedside lamps give ambient lighting to read a book or magazine, and pendant lights provide a sultry feel when you fancy an evening of pampering and self-care.
A dimmer switch will help you wind down before dozing off and will also come in handy when it comes to letting the light in gradually on a morning.
Bring nature in
We're frequently encouraged to get out and embrace nature to relax and reduce stress. Therefore, it makes sense that we don't just enjoy nature outside, but also bring it into our homes wherever possible.
Low-maintenance house plants such as aloe vera, spider plants, cactus and sansevieria are all good options for bedrooms and can boost your oxygen levels at night too.
Other ways to bring nature into your bedroom include wooden furniture, nature scenes on artwork, and natural-scented aromas. 
Add snoozy scents
When it comes to adding natural aromas to your room, candles and oil diffusers are a great way to stimulate the senses.
Various aromatherapy oils are known to induce relaxation and reduce anxiety, so you might want to try out a few different blends to see which work for you.
Scent is a very personal choice, so what works for you might not work for another person. However, lavender, clary sage and frankincense are popular scents for restful bedroom vibes.
Let Hammonds help you get a good night's sleep
With many years of experience, the Hammonds team certainly know how to create a harmonious space, with many restful bedroom ideas up their sleeves.
We'd love to begin helping you create a relaxing and well-organised bedroom, so arrange a free design visit with one of our experts to start that journey. We look forward to hearing from you soon.
You bring the space, we bring the inspiration
Whether you have an exact vision in tow, or are just at the beginning stage of your home renovation, we have heaps of inspiration for you to get stuck into. 
Find a wealth of design tips, trends and inspiration in the pages of our brochure, magazine and on our blog. Our experts are always ready to help you create dream home, pop in store or book your free design visit for experts to help on bringing your vision to life.