Scandinavian bedroom design ideas and inspiration
| Bedroom, Inspiration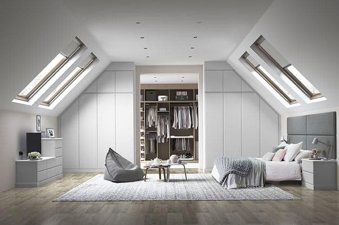 Want to add some Scandi style to your bedroom? Our latest blog offers some Scandinavian bedroom design ideas that are designed to inspire you.
Scandinavian bedroom design ideas and inspiration
Our bedroom is our sanctuary; a space that we can retreat to after a busy day. If you want to make this a totally relaxing room, choosing a simple, fuss-free design is key. One way to introduce effortlessly soothing style is to incorporate Scandinavian bedroom design ideas.  
Scandinavian décor has long been associated with understated elegance and makes a beautiful theme for a bedroom. Its sleek, chic colour scheme and mixture of natural textures can instantly transform a room, creating a sense of tranquillity.
Here, you can get some inspired Scandinavian bedroom ideas and discover the design principles to follow to bring this style into your home.
What is Scandinavian interior design?
When we think of Scandinavian décor, we immediately think of minimalistic, functional design. White walls, wooden floors and furniture, and rounded lines all come together, creating a light palette.
This style first became popular in the 1950s when Elizabeth Gordon, who was editor of American interiors magazine, House Beautiful, introduced the Design in Scandinavia exhibition. This exhibition toured the US and Canada between 1954 and 1957 and attracted over 650,000 visitors. It incorporated the colours and materials that we associate with Scandinavian interior design today.
In recent years, these interiors have also featured the Danish concept of 'hygge'. This brings a sense of cosiness and contentment to a space and is ideal when you're planning on adding snug Scandinavian bedroom ideas to your home.
What are the Scandinavian design principles?
If you want to include this minimal, cosy design, it's worth having an idea of the principles behind it. Scandinavian design has several characteristics that are there to balance comfort with functionality. These are:
1. Bright white colours and muted tones
If you're looking for Scandinavian bedroom inspiration, start with the colours. It can be tempting to make your bedroom cosy by adding darker tones, but to embrace the Scandi style, you need to go light and airy. Winters are dark in this corner of Europe, so lighter neutrals are used brighten the home and reflect the light that does filter through.
White walls and grey and soft brown furnishings are the go-to palette, with bold colours included for contrast. Swedish interiors in particular add splashes of bold patterns and eccentric colours to sit against the muted shades. For large pieces, such as wardrobes and drawers, keep things light. Opting for customisable fitted wardrobes, for example, will give you the chance to select colours that suit the theme.   
2. Natural accents
Wood features in all Scandinavian designs. From dark woods to lighter pine tones, there is always a flash of this natural material. When you add this to your Scandinavian bedroom, one of the easiest design ideas to fit this trend is to contrast the wood with soft textiles. By laying a faux sheepskin rug next to your wooden wardrobe or bedside table, you're adding a cosy feel to the room.
3. Modern furniture
In the 1950s when this style became popular, Scandinavian homes were smaller. Furniture had to be both functional and easy to add to any space. This trend continues today. If you're planning on introducing Scandinavian-inspired furniture to your bedroom, focus on clever storage solutions and keep them in natural wood tones.  
4. Cosy textures
As well as adding a rug, you can include blankets, cushions and throws. This layering of snuggly materials is the ultimate way to nod to the hygge trend from recent years and is perfect for a bedroom.
5. Keep it simple
Avoiding clutter is essential. Simplicity and practicality are at the heart every Scandinavian design. For bedroom inspiration, keep walls clear and make sure every piece of furniture has a purpose.
Whether you're adding a bedside lamp or you're planning out your storage options, every item has its place and a reason for being in the space.  
If you're planning to bring some Nordic chic into your home, we're here to help. We have over 90 years' experience in creating beautiful bedrooms and know exactly how to make your furniture functional, especially when you choose our fitted wardrobes. These slot neatly into the room and we can work with you to make sure your Scandinavian-inspired bedroom is clutter-free. Book a free design visit and we can talk you through your options for creating your dream room.
You can also find further guides and Scandinavian bedroom inspiration on the Hammonds blog.
You bring the space, we bring the inspiration
Whether you have an exact vision in tow, or are just at the beginning stage of your home renovation, we have heaps of inspiration for you to get stuck into. 
Find a wealth of design tips, trends and inspiration in the pages of our brochure, magazine and on our blog. Our experts are always ready to help you create dream home, pop in store or book your free design visit for experts to help on bringing your vision to life.