Seasonal sort-out: Is your wardrobe ready for autumn?
| Bedroom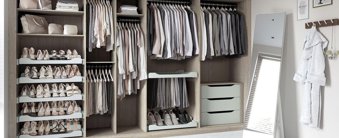 Seasonal sort-out: Is your wardrobe ready for autumn?
Professional Organiser and APDO member, Jules Langford from Cluttered To Cleared, shares her advice to get your autumn wardrobe ready for the changing season soon to come.

Crisp weather and changing leaf colours make autumn a favourite season for many.   
But it can also be a tricky one for your wardrobe with unpredictable weather, sunny one day, and stormy the next.

If you suddenly feel that you have "nothing to wear", it's time to take stock and get ready for the coming season.  
 
Take a look at your lifestyle
Are your days full of dog walks and school runs? Or do team meetings and power-lunches take up your time? Your wardrobe should reflect your life.
Sort out your summer clothes.
If you didn't wear your paisley maxi-dress this summer, chances are you won't wear it next year. Gift it to a friend or donate it to the charity shop.
If you love it, but it's purely seasonal, store it away.  You won't need those shorts in November!
Try repurposing for autumn. That sassy denim skirt you loved with sandals could look equally fabulous with boots.
Bring out your colder weather wear
Is that poncho you wore permanently last winter still your style? If not, pass it on to a friend. 
What stayed in the wardrobe? (sequined sweater, I'm looking at you).  Take it to the charity shop. 
Finally, check that everything fits, there are no buttons missing and the hems haven't dropped. If so, put a note in the calendar when you'll mend it to save from it staying on your to-do list.   
Try blending to create your autumn look
Have fun and combine items to create multiple outfits for any occasion. 
Start with the basics - trousers, dresses or skirts you turn to again and again.
Then add tops, shoes and accessories to create different looks.  
Factor in layers so that you can adapt your outfits to suit the ever-changing weather.  
 
Mind the gap!
If you have pieces you love but don't wear you may have wardrobe "gaps".
Would your grey work trousers get more wear if you bought the right height heels?
Difficulty matching lots of busy prints? Balance them with neutral blouses.
And do you have enough chunky tights? Can you ever have enough chunky tights?
Autumn is here!  Follow these tips and transition in style.
You bring the space, we bring the inspiration
Whether you have an exact vision in tow, or are just at the beginning stage of your home renovation, we have heaps of inspiration for you to get stuck into. 
Find a wealth of design tips, trends and inspiration in the pages of our brochure, magazine and on our blog. Our experts are always ready to help you create dream home, pop in store or book your free design visit for experts to help on bringing your vision to life.