Six essential items for bedrooms that you didn't know you needed
| Inspiration, Bedroom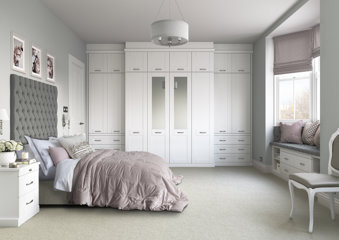 Six essential items for bedrooms that you didn't know you needed
Bedroom design is something that's easy to spend hours on, and you might think that you already have everything you need. However, what if that's only because you don't know what you're missing?
With contemporary interior design focusing on convenience, handheld devices are becoming increasingly connectible with features in your bedroom too. But adding a few new details to your bedroom doesn't have to mean kitting it out with the latest gadgets.
By combining the effortless charm of traditional furniture with a few modern decorative items for your bedroom, you can create a characterful, personal space.
Decorated bookshelves
Reading before bed is known to improve sleep quality, so why not keep your books in your bedroom? If you have the space for it, a colour-coordinated bookshelf makes for a wonderful statement piece. Not only will you have your favourite stories within arm's reach, but you'll also be able to arrange your books in an aesthetically pleasing way.
If you have a dark, eye-catching feature wall, blending a bookcase with it could make a sleek and stylish addition to your bedroom. With books placed in size, colour, or alphabetical order, any bookcase adds a hint of order and tidiness to your room.
Cosy corner
Longing for a separate space to relax and unwind at the end of a busy day? If you would prefer your bed to be reserved for sleeping, setting up a cosy corner in your bedroom makes sense.
Installing a comfortable blanket box or bespoke fitted furniture could be the way to go. With soft cushions, sturdy bedroom furniture items and a few of your favourite books or games, you'll have your own little 'zone' to enjoy as often as you like.
Charging mat for your phone
Charging your devices overnight can be made even easier with a charging mat. Many brand new models of mobile phones and tablets no longer need to be charged with a wire and can simply be placed on a purpose-built mat instead. This convenience makes charging mats one of the must-have items for bedrooms in 2023.
This clever gadget removes unnecessary wiring, which can be a trip hazard and an eyesore in your bedroom. It's also possible to attach these mats onto the surface of your bedside table, making recharging as simple as putting your phone down and turning out the bedroom lights.
Smart blinds
Want to wake up to natural light flooding your bedroom in the morning? Certain smart and electric blinds can be programmed to open at a set time every day, kickstarting your morning routine by filling your bedroom with outside light. Not all luxury bedroom items are designed with your wellbeing in mind, but these are an exception.
Depending on your needs, smart blinds can be a fantastic investment for your health. For example, if you experience seasonal affective disorder or find it difficult to feel energised through the winter months, waking up to daylight could be invaluable. These blinds help to reset your circadian rhythm, allowing you to enjoy a deeper sleep during the night.
Mirrored furniture 
Full-sized mirrors can be awkward to place and often take up space you don't have. However, installing a bespoke built-in mirrored wardrobe offers you the best of both worlds. Along with being able to check your outfits before you leave the house, you'll benefit from extensive storage space too.
Large floor-to-ceiling mirrors maximise the space in your bedroom, so they make a great choice if you're thinking of scaling back. If you have a large window in your bedroom, try to see if you can install your wardrobes in a way that reflects the most natural light possible.
Built-in pet bed
Don't want your puppy or kitten in the bed but want them nearby? Depending on the type of bed base you sleep on, you could build their own bed into yours.
Decorated with cushions, all their favourite blankets and even a cosy pair of curtains, this type of comfy nook is the perfect choice. Whether your priority is to keep your bed free from pet hair or to keep your furry friend safe and comfortable through the night, this solution ticks all the boxes.
Book a design visit with Hammonds today
Ready to add the finishing touches to your new, upgraded bedroom? Once you've decided on your favourite bedroom furniture items, all that's left to do is contact the experts. When you book a design visit with Hammonds, we'll help you find the perfect fitted furniture to complete your space. Whether you choose bright and regal mirrored wardrobes or fitted storage for a cosy nook, we can make it possible.
You bring the space, we bring the inspiration
Whether you have an exact vision in tow, or are just at the beginning stage of your home renovation, we have heaps of inspiration for you to get stuck into. 
Find a wealth of design tips, trends and inspiration in the pages of our brochure, magazine and on our blog. Our experts are always ready to help you create dream home, pop in store or book your free design visit for experts to help on bringing your vision to life.