Six ways to make your bedroom more luxurious
| Inspiration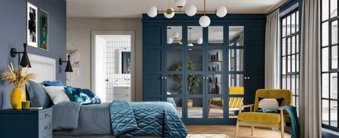 Six ways to make your bedroom more luxurious
Your bedroom is your safe haven; it should always feel comfortable and luxurious. It's a place where you can switch off and relax, so you want to ensure it looks and feels the part.
Creating the bedroom of your dreams doesn't have to cost a fortune. That's why we've put together six luxury bedroom ideas to help you spruce up your space and feel on top of the world.
Dress your bed
When you're wondering how to make your bedroom feel luxurious, one of the first things to do is dress and decorate your bed accordingly. For example, the way you style your pillows is an easy way to add an extra dimension of luxury to your bedroom.
Use decorative pillows, as well as the practical ones you usually sleep on, to achieve an opulent finish. Arrange these in descending order, starting with your sleeping pillows against the headboard and the smaller, feature pillows at the front.
Similarly, you can use additional sheet layers to dress your bed. Fold a second bedsheet over the top of your duvet for the aesthetic of a premium hotel. Finally, finish with a folded soft throw to tie everything together.
Hang artwork
We often use artwork to add style and class to the social rooms of the house. However, this same strategy can work wonders for your bedroom. Why not move some of the artwork you already own and hang it in your cosy room to bring it to life?
Alternatively, you can buy something new that suits your bedroom aesthetic. Either way, the pieces should complement the other stylistic elements in your room and help personalise your space.
Add some greenery
Having plants in your bedroom can enhance its appearance, adding textures, shapes and patterns. Plus, studies have shown that in certain conditions houseplants can improve air quality, making them a practical addition too.
Choose some stylish plants, such as hanging ivy, Chinese evergreen and the peace lily, and arrange these around your bed. You can place your plants on nightstands, shelves, windowsills and even on the floor in the corners to create a peaceful, green sanctuary.
Use bold colours
The bedroom is one of the best places to use bold colours and patterns. Doing this tastefully will make your bedroom look more appealing, and you can even choose specific colours to help create the illusion of your bedroom looking bigger. For example, pale blue – when combined with other light colours, often from trims and doors – often makes a room look larger.
Alternatively, you can paint accent walls or the ceiling to create the same effect. If you're creating an accent wall, pick one that your eyes are immediately drawn to as you step into the room. Ensure your chosen wall is unobstructed so it achieves your intention to create a luxury feel.
Incorporate statement pieces
Statement pieces provide a focal point you can build the design of your bedroom around. Professional designers use this technique to create impact in their work and you can use it when figuring out how to create a luxury bedroom.
A statement piece can be anything, from a bold and colourful piece of art to an elegant sliding wardrobe. This sole piece in your bedroom can really transform the décor, so whether you're choosing a dramatic chandelier, a patterned rug or an upholstered headboard, it should set the tone for the rest of your room's design.
Maximise floor space
Larger bedrooms naturally feel grander than cramped ones, so making the best use of the space you have is important. Do this by reducing clutter as much as possible, especially on the floor.
Look to arrange items vertically using shelves, drawers, racks and wardrobes. Bespoke fitted wardrobes and fitted storage units would improve your bedroom's luxuriousness by keeping the floor space clear and hiding away clutter.
Create luxury with Hammonds
To begin creating your luxury bedroom, why not book a free design visit with Hammonds today? We'll work with you to capture exactly what you want and will aim to fulfil all your fitted furniture needs. Our friendly team of experts have years of experience and want to help you design the bedroom of your dreams.
You bring the space, we bring the inspiration
Whether you have an exact vision in tow, or are just at the beginning stage of your home renovation, we have heaps of inspiration for you to get stuck into. 
Find a wealth of design tips, trends and inspiration in the pages of our brochure, magazine and on our blog. Our experts are always ready to help you create dream home, pop in store or book your free design visit for experts to help on bringing your vision to life.