Small living room storage ideas
| Living Room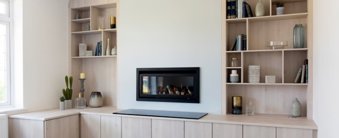 Small living room storage ideas
More than just a place to sit, the living room is the central hub of your home. It's where every member of the family can be together and enjoy one another's company (well, sometimes!). Ensuring that you're using the space to its full potential is therefore hugely important.
That can be easier said than done when the space is on the tight side, though. But with the introduction of a few clever storage ideas for your small living room, you can create a space that contains everything that you need and still provides a relaxing atmosphere that everyone can enjoy.
Have a clear-out
When you've got a small living room, it doesn't take much for it to start looking messy. Regularly sorting through your belongings is important to ensure that you stay on top of things and keep your room looking clutter-free.
If you're already past that point and are looking to freshen up your interior, a clear-out enables you to figure out how much storage you're going to need. It's therefore important to go into it with a plan of attack; pre-determine some parameters for items that you will keep and others of which you'll get rid. This will save you from agonising over multiple decisions and help to make the process quicker.
It's not going to be the most fun task, but it's well worth doing for a fresh start!
Choose floor-to-ceiling storage cabinets
Make full use of the height of your room with floor-to-ceiling storage cabinets. These enable you to get more out of the vertical space that would usually be taken up by traditional shelving. You'll also be able to hide clutter away and select only what you want to display.
Fitted living room furniture can be designed bespoke to your measurements and preferences. This is another reason why it's worth having a clear-out beforehand. When you know exactly what you'll need to go in the cabinets, you can have them designed to meet those requirements. It's a great idea for small living room storage.
And don't worry about it looking like a lifeless wall of wood. There are plenty of different finishes on offer and multiple configurations, so you can create something to fit the aesthetic that you want.
Get creative with bookcases and sideboards
If you want to create a stylish display within your living room, bookcases and sideboards are really effective.
They may be named bookcases, but it doesn't mean that they can only be used to store your collection of novels. Their shelves can also be used to display some of your favourite items, whether those are ornaments with sentimental value or attractive houseplants.
Sideboards are better when there are only a few things that you want to display, like a selection of family photos. Everything else can be stored within it, keeping it out of sight but still easily accessible.
Make the most out of alcoves
It's often tricky to know what to do with unusual room features, but awkward spaces can provide useful storage in a small living room. Fitted furniture is a great idea in this instance because you can utilise the entire area instead of searching for units that fit within it.
Empty alcoves are great for combining a made-to-measure floor-level cabinet and some shelving. It will look great and turn a space that may have gone underutilised into something far more useful.
Accessorise with a side table
Side tables are one of the most convenient pieces of furniture in your living room. It's always handy to have somewhere to pop your drinks so that you don't have to keep hold of them the whole time. But they can do so much more than just provide you with a surface.
Instead of opting for a design that is essentially a miniature table, pick something with solid sides and a detachable top. This enables you to use the interior for storage. You could use it to house books, magazines, a blanket or anything else.
These small touches are even more important when your space is on the smaller side.
Let Hammonds give you storage ideas for your small living room
To ensure that you're making maximum use of small spaces, book a design visit with Hammonds for professional living room storage ideas tailored to you.
Our expert will visit your home and discuss your needs with you, before producing 3D visualisations of what your new fitted furniture could look like.
You bring the space, we bring the inspiration
Whether you have an exact vision in tow, or are just at the beginning stage of your home renovation, we have heaps of inspiration for you to get stuck into. 
Find a wealth of design tips, trends and inspiration in the pages of our brochure, magazine and on our blog. Our experts are always ready to help you create dream home, pop in store or book your free design visit for experts to help on bringing your vision to life.