Small loft conversion ideas
| Loft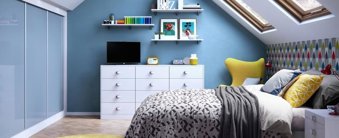 Small loft conversion ideas
If you own one of the many UK homes with an unconverted small loft space, you'll know just how intriguing a prospect it is from a design standpoint.
First off, can you convert it at all? Only a surveyor can give you the answer to that all-important question but, if you do get the green light, the potential for your attic room is huge.
An extra bedroom? A playroom for the kids? A brand-new home office? How about an attic bathroom? All are viable options if you do the job right - and, with the help of a design specialist like us, you might just be surprised by how much you can do with the space that you have.
Here are some of our best small loft conversion ideas to get the most from your new design.
Work with the proportions of the attic
You may well be looking at the awkward elements of your loft space and wondering how to get around them. Well, instead of trying to work around the unique features of your attic like the slanted rooflines and exposed brickwork, focus on bringing them into your design.
With a bit of creativity, all dimensions of your loft space can be used to enhance your design rather than act as an obstacle. That exposed brickwork, for example, should be treated a ready-made gift that can be left untouched or have a coat of paint applied to become a key component of your new attic space.
Utilise light and airy colours
Speaking of paint, colour choices are important with smaller attic spaces. The best small loft conversion design ideas tend to incorporate light colours to give a sense of airiness and remove any feelings of claustrophobia.
Your best bet is to keep the core elements of your design to an expanding white/light grey palette, which you can then add to with small bursts of colour via accessories. Alternatively, if you're creating a guest bedroom, you can add darker tones via your soft furnishings for a more welcoming aura.
Maximise natural light
While the colourway that you choose will play an important role in establishing a sense of space in your loft, utilising as much natural light as possible is essential, too.
Unless you're designing an attic bathroom or another space where privacy or limited lighting is a priority, virtually every room idea that you have for your loft will benefit from maximising natural light sources. To achieve that, skylights should make up around 20% of your roof. Just make sure to get some good blinds, too, particularly if you're building a new bedroom.
Work with the shadows
Shadows are a natural part of pretty much every loft space due to the sloping proportions of most attics. This can mean interesting light and shading patterns hitting the room throughout the day which, at times, can be a little harsh or distracting.
Work with the shadows in your attic by using darker neutral colours (which will remove some of the harshness of heavy shadows) on the walls that tend to be in shade the most. If you feel like you need to offset this, make your flooring lighter as a balancing contrast.
Introduce bespoke storage
For all the good work that you can do with colourways, natural light and managing the shading and proportions of your attic, getting the most from your loft space often comes down to having effective storage in place. Small lofts call for creative, smart storage, and that's where our fitted loft storage solutions come in.
We design fitted loft wardrobes suitable for all sorts of small loft conversion ideas in the UK, with no corner too tight, roofline too slanted or layout too awkward for us to help to make the most of your space. If you're looking to work with the proportions of your attic as per the first point of this article, utilising the more unconventional spots for storage is a good place to start.
Book a design visit to discuss the best small loft conversion ideas for your home today
Our design experts can help you to get the most from your small loft conversion. Book a free design visit with a member of our team today and you'll be able to get a better idea of what exactly is possible with your loft conversion - and how our fitted storage can help.
You bring the space, we bring the inspiration
Whether you have an exact vision in tow, or are just at the beginning stage of your home renovation, we have heaps of inspiration for you to get stuck into. 
Find a wealth of design tips, trends and inspiration in the pages of our brochure, magazine and on our blog. Our experts are always ready to help you create dream home, pop in store or book your free design visit for experts to help on bringing your vision to life.