Spring Cleaning Tips to Declutter Your Wardrobe | Hammonds
| Inspiration, Wardrobe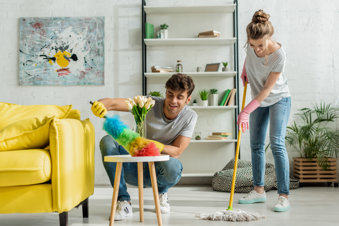 How to clear out your home this spring
We at Hammonds feel that nothing beats coming home to a clean atmosphere after a long day.
If you are looking to declutter, spring cleaning can be a great opportunity to part ways with old possessions and make room for something new. However, we know that this can seem like a huge task, and when clearing out your home it's easy to feel overwhelmed or not know where to even begin!
In a bid to find out the nation's cleaning habits, we surveyed 2,000 UK adults to see how often they go through items such as clothing with the intention of getting rid of them, and just how much we hold onto in our wardrobes.
To help you with this year's spring cleaning, we also spoke to various de-cluttering and style experts about different approaches and techniques to get more organised, and why we don't want to part with certain items.
How often do people clear out their homes?
Our study found that surprisingly spring is not the only time of the year for Brits to declutter, as the majority of respondents claim to clear out their home more than once a year.
Almost three in ten (29%) have a clear out of their homes as often as once a month, with one in twenty (5%) even claiming to clear out their homes at least once a week, meaning 2.6 million of us are culling our belongings on a weekly basis.
The most popular time frame was found to be once every six months, with one in five (22%) doing a bi-yearly clear out.
In fact, less than one in six (14%) say they clear out their home just once a year. Just 16% said that they leave it even longer, undertaking a clear out less than once a year, while only 3% say that they've never had a clear out.