Spring decorating ideas for your home
|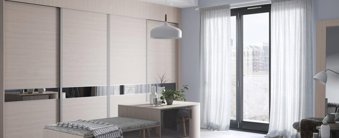 Simple spring decorating ideas to try in 2022
With the brighter mornings, lighter nights and clear blue daytime skies, it really feels like spring 2022 is nearly here. With British springtime officially declared on 20 March, it's time to start planning your spring décor ideas at home.
From blossom-inspired wallpaper to springtime colour pops, here are five spring decorating ideas from Hammonds to fill you with plenty of inspiration…
Bring the outdoors in
There's no better time to embrace the great outdoors. It's time to open those shutters, peel back the curtains and let all of that lovely, natural sunlight beam through your glass windows. It may even be warm enough for you to open the windows for a while to experience the fresh air breeze inside your home. 
To really maximise daylight, why not have a play around with moving your living room furniture into different spaces? You could try positioning your sofa closer to your French doors or bifolds so that you get a vitamin D fix as you read your favourite book or magazine. If you work from home, move your office desk closer to the nearest window, thus connecting your indoor and outdoor spaces seamlessly.
Fill your home with plenty of lush greenery to transform your interior into a springtime indoor oasis. As well as adding a feel of nature and life to your space, plants are known to have air-purifying qualities by absorbing CO2 and releasing oxygen.
Embrace botanical wallpaper
A simple way to update your home interior is to change the wall colour or design. Wallpaper is a great alternative to paint and is very durable and cost effective. In fact, when hung professionally, wallpaper can last up to three times longer than paint and is also great at hiding wall imperfections. The good news is that there's also an abundance of designs available on the market, so you're sure to find one to suit you.
Opting for a botanical-themed wallpaper is a great choice when decorating your home for spring. From fabulous florals to leafy motifs and forest-inspired prints, you can be as bold or understated as you want. Botanical wallpaper works especially well in living rooms and on walls close to windows where it blends in effortlessly with the natural elements outside.
Add pops of colour
Whilst dark and moody design certainly has its place as a chic interior trend in the winter months, spring décor ideas tend to incorporate more vibrancy and colour.
This doesn't mean you have to change your whole colour scheme and decorate every wall in your home, but it does mean that you can update a few well-chosen accessories and soft furnishings to add pops of colour throughout. Throws, blankets, cushions, and pieces of artwork are great features to start with.
If you are considering adding additional furniture to your living space this spring, then bespoke fitted furniture makes a great choice and can be customised in many colour shades and finishes. It's an elegant way to add extra texture and dimension to the room, as well as creating essential storage space for all your family's needs.
Try your hand at flower arranging
Nothing transforms a space like a show-stopping floral centrepiece and something as simple as a bouquet of spring flowers can make a striking visual impact. Beautiful spring flowers include tulips, daffodils, crocuses, hyacinths and irises, which are all wonderfully colourful and easy to pick up from local florists or garden centres.
Springtime flowers are so pretty that they don't need to be overcomplicated. Single stems look elegant when placed in clear jars and don't necessarily need to be mixed with anything else. Play around with different heights using multi-sized jars and pair with crisp white table linens for sophisticated dinner party décor.
Take inspiration from bohemian-style design
Boho décor is all about incorporating fun patterns and textures. Exposed brickwork, reclaimed wooden flooring and printed ceramic tiles all add to an earthy boho backdrop that's perfect for springtime celebration of nature.
Complement the boho aesthetic with colourful weaved rugs, quirky accent chairs and rattan lampshades. Be sure to pay a visit to your local antiques market or second-hand store to source quirky vintage pieces of items in need of upcycling for a fun spring project.
Make your home perfect this spring with Hammonds
At Hammonds, we are experts in creating beautiful storage solutions for every home interior to create a brighter and airier space with less clutter. Get in touch with our team to arrange a free design visit this spring. 
You bring the space, we bring the inspiration
Whether you have an exact vision in tow, or are just at the beginning stage of your home renovation, we have heaps of inspiration for you to get stuck into. 
Find a wealth of design tips, trends and inspiration in the pages of our brochure, magazine and on our blog. Our experts are always ready to help you create dream home, pop in store or book your free design visit for experts to help on bringing your vision to life.