Storage ideas for a more organised home
|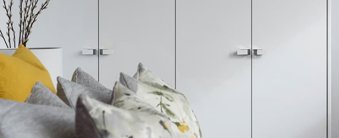 Storage ideas for a more organised home
There are so many reasons why being organised is a good thing. Number one, it lowers your stress levels and number two, it saves you time (because you know where everything is). It cuts down on waste because you know what you have and where to find it, and you don't miss out on things because your home and mind are too cluttered to remember what's what.
It might sound boring but being organised is the best. Here are our top home organisation tips to help set you on your path towards a more serene and ordered life.
Everything must have a place to live
If you're more of a 'chuck it and run' type, then you may not like to hear this – but to keep organised you need to designate a place for everything. Keys are often the worst for getting lost around the house, so start small with a key bowl and get into the habit of always putting them there when you get in.
You could then work up to labelled storage containers for things like craft supplies or schoolbooks. Having separate boxes or bags for each person's hats, gloves, sport equipment and whatever else is kept near the front door also saves minutes of searching and stress each time you leave the house.
Consider bench seating
When you are planning how to organise your home, give some thought to clever storage ideas. This is all about making the most of the dead space. Cupboards under the stairs or in the eaves are one of the most useful examples of this, but you could also maximise your seating areas by incorporating some benches with integrated storage.
You could use one in the hallway, as a window seat or even in the kitchen if you have the space. In one bench you could fit a pile of blankets or throws, or perhaps the out-of-season footwear that clogs up your shoe rack. By utilising dead space for bulky items, you'll clear your countertops to create a sense of order.
Hooks are your friend
You can never have too many hooks. Add some to the back of a few doors and hang some stylish baskets off them, then you can fill said baskets with all of the bits and bobs that have been lying around looking messy. Again, this simple trick makes getting organised at home achievable because it maximises the dead space, and when you're short on storage, that is all-important.
Use storage containers
Rather than having loose items on worktops or in drawers, try to group them into storage containers. As well as being easy to move around for cleaning, it will help your space to feel organised and tidy. Use clear boxes so you can easily see what's inside or be sure to add a label or a photo of the contents. If you buy stackable boxes, that is a great way to make the most of your available space.
Limit your junk drawer
Otherwise known as the 'man drawer', though we all have them, these tend to be full of odds and ends like old receipts or spent batteries. Whilst we're not suggesting getting rid of them entirely, by keeping it to one drawer you won't become overrun with clutter. If you can, try to organise the drawer with baskets and dividers. Keep your cables separate and tidy so they don't tangle, and go through it every few weeks to keep any inclination for mess at bay.
Invest in some quality built-in storage
Bespoke built-in storage is obviously a much larger investment than hooks and baskets or plastic stacking boxes, but the long-term difference it can make to your home, and ultimately your life, is huge.
Our fitted living furniture is designed to enhance the difficult spaces in your house, from tricky eaves to small alcoves. It can transform your most-used rooms – whether you want a statement wall cupboard or one that will disappear into the background – and we have a variety of styles and finishes to choose from.
Get organised with Hammonds
So, why not book a Hammonds design visit and one of our experts will show you how to get organised at home with the perfect storage solution for your space and style. Our designers will then create a virtual design so you can visualise exactly what it will look like and feel full confidence in your decision.
You bring the space, we bring the inspiration
Whether you have an exact vision in tow, or are just at the beginning stage of your home renovation, we have heaps of inspiration for you to get stuck into. 
Find a wealth of design tips, trends and inspiration in the pages of our brochure, magazine and on our blog. Our experts are always ready to help you create dream home, pop in store or book your free design visit for experts to help on bringing your vision to life.