Storage spotlight: how to banish clutter from your hallway
| Hallway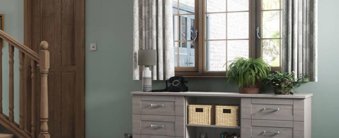 Storage spotlight: how to banish clutter from your hallway
We've all seen the photographs of super-chic hallways - the ones with the console table and the cosy lamp, where a couple of nice coats are neatly hung up on hooks and the floor is clear and clean. The reality for many of us, though, is that however hard we strive for that polished style, our own hallways are a long way off. They are places where bulky coats and muddy boots are piled up high and seemingly thousands of pairs of shoes sit waiting to be worn.
Somewhere in the middle of these two visions is an achievable hallway, that fits with our lives and offers a welcoming space when you get home or have guests. Read on for some hints and tips about how to achieve it, and for some great hallway storage ideas.
Remove everything that doesn't need to be there
The first step to planning great hallway storage is to have a thorough declutter. Choose a quiet morning and take the time to remove everything that doesn't need to be there. When it comes to shoes and coats, only keep the ones that you wear most days - everything else can go upstairs to be put away in bedroom wardrobes.
Invest in a storage seat or organiser
Shoes are some of the worst offenders when it comes to cluttering up the hallway - luckily, they are also one of the easiest things to hide away. Simple shoe racks are cheap and easy to put together but, if you have a family (or a shoe addiction), you can easily outgrow them. This is where slim hallway storage options can be useful, such as wall-mounted shoe racks or even a covered bench inside which any overflow shoes can be hidden.
Make use of the garage
Walking boots and mucky wellies can make a hallway look really untidy as, on top of being bulky, they have a habit of dropping mud everywhere. Unless you need them for the daily dog walk, consider storing these items in the porch or garage. You can use closed plastic boxes to keep out any garage wildlife, and you will be thankful that they're not blocking up your hallway.
Use the space under the stairs
That triangular area of space beneath your stairs has the potential to offer you plentiful amounts of hallway coat and shoe storage. With the right fitted storage, you can have space for all of your hats, gloves and scarves, for shoes, for footballs and those dog leads - all the bits that can turn a hallway from a welcoming space into a dangerous obstacle course. Our fitted cupboards are designed bespoke so that you can plan your perfect setup with our designers.
Use baskets
Thanks to our long-lasting obsession with Scandinavian homes and interior design, baskets are still the ever-useful, ever-stylish answer to so many of our storage needs. A group of three plain baskets hanging off some snazzy pegs can be the perfect place to store any small things that you need when you're walking out of the door - sun creams and hats for summer, for example, and scarves and gloves for the winter.
Add storage hooks
Coat hooks and pegs can be so much more than just coat hooks and pegs. They can help to complement and build a style (industrial metal hangers, for example, or curling vintage-inspired ones) or even stand out artfully by themselves (those colourful Eames hooks that we all love). What's more, of course, they are genuinely useful and can help you to clear your hallway floor in a matter of seconds.
Come to Hammonds for clever hallway storage
For help creating a chic and welcoming hallway with plenty of storage, go online to book a free design visit with one of our experts. They'll offer helpful ideas for making the most of the space with which you're working and help you to get control of a vital and constantly used part of your home.
You bring the space, we bring the inspiration
Whether you have an exact vision in tow, or are just at the beginning stage of your home renovation, we have heaps of inspiration for you to get stuck into. 
Find a wealth of design tips, trends and inspiration in the pages of our brochure, magazine and on our blog. Our experts are always ready to help you create dream home, pop in store or book your free design visit for experts to help on bringing your vision to life.