Style Spotlight: designing a mid-century-inspired office
| Office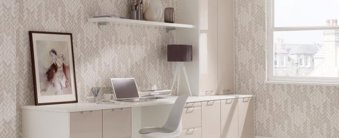 Style Spotlight: designing a mid-century-inspired office 
Simplicity and smooth lines are key to mid-century design. Interior designers have favoured the natural shapes and quality finishes of this design period for years and it shows no sign of going out of fashion.
It works particularly well in a home office, mainly because mid-century desks are always sleek, classy and beautiful, but also because it's a comfortable and calming trend. Smooth finishes and simple shapes don't distract from your work and have a quietly satisfying aesthetic. Plus, you can pretend you're a character from Mad Men!
Here is our guide to mid-century office design.
What is mid-century?
Mid-century design is built upon a post-war aesthetic of simplicity and care. Wood, in various tones and types, is common in authentic mid-century furniture. When it comes to colour, the traditional palette ranges from soft creams to deep greens.
Ercol is one of the best-known brands from the era. There are also iconic products designed by Charles and Ray Eames, such as the famous lounging chairs and the wall-mounted coat hooks (the one with the colourful balls). Original pieces often reach very high prices online and as a result they're widely copied on the high street.
How to create a mid-century home office
Choose your furniture
Lots of mid-century gems can be picked up second-hand or at antique fairs, but they're not cheap – as we said, these are design classics. If you're not sure what to go for, look for slimline table and chair legs that taper towards the floor. Desks tend to be fairly shallow and elegant, and wide, low-level sideboards are key to achieving the look. On a smaller scale, you could go for a set of G-Plan nesting tables.
One of the great things about mid-century design is that it can be mixed with more contemporary items and still hold its appeal. Our fitted office furniture is designed to make your space feel clean, organised and inspiring – perfect if your mid-century office ideas also involve a bit of modern luxury.
Keep it simple to complement any original pieces that you acquire and think about a wooden finish as a nod to the mid-century aesthetic. You could also opt for some of our statement shelves to display a few original accessories like sculptural vases or glass lamps.
If you want a few original items to make your room pop, go for accessories. Starburst clocks, Anglepoise lamps and sculptural vases would all look good. You could even invest in an original mid-century coffee pot for your morning brew.
Use colour contrasts
Mid-century colours tend to be quite tasteful – teal, grey, soft sage and darker greens all work well, particularly against the wood of the furniture. There is room for some surprising pops of colour, though. Orange and mustard are great highlight colours and can be picked out beautifully in your accessories. You could even go for a framed Bauhaus print to hang on the wall – most of these are likely to bring a bit of brightness to a room.
Make your desk the star of the show
The desk should be the heart of the room, so bear that in mind as you put together your mid-century modern office ideas. A rug beneath the desk looks great and is lovely to feel beneath your feet as you work. It also frames the desk area, putting it front and centre.
A large sheepskin or thick pile rug would work well and fit with the aesthetic, or you could go for a simple pattern. Geometric shapes often work well with mid-century styling as they highlight the crisp, clean lines.
Invest in a cosy lounge chair
Eames chairs were de rigour in the actual mid-century and still fetch eye-watering prices whether you buy them new or second hand. If you don't have a spare few thousand pounds, you could go for a cheaper version that's been inspired by the original. The leather look is key, along with the addition of a matching footstool. Black or deep brown are the classic colours.
Hammonds can help with your mid-century office
Book a design visit with one of our experts for help designing your mid-century-inspired home office. They can advise you on the best ranges to suit your style and draw up a plan so you can feel confident visualising the finished space.
You bring the space, we bring the inspiration
Whether you have an exact vision in tow, or are just at the beginning stage of your home renovation, we have heaps of inspiration for you to get stuck into. 
Find a wealth of design tips, trends and inspiration in the pages of our brochure, magazine and on our blog. Our experts are always ready to help you create dream home, pop in store or book your free design visit for experts to help on bringing your vision to life.