Style spotlight: How to make a Moroccan-style bedroom
| Inspiration, Bedroom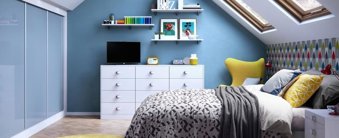 Style spotlight: How to make a Moroccan-style bedroom
Known for vibrant colours, dazzling tile work, opulent fabrics and its melting pot of cultural influences, Moroccan style has long lured intrepid and discerning style connoisseurs to the sandy outreaches of the north-western Sahara Desert.
As the closest point between mainland Europe and Africa, Moroccan architecture, style and design has long been influenced by multiple different cultures. From the Bedouin crafts of Atlas Mountain tribes to the Moorish decorative styles of southern Spain, Moroccan style represents an effortless and iconic fusion that has been replicated the world over.  
Create an elegant and luxurious Moroccan-style bedroom interior imbued with cultural references and your own personal style. Our style spotlight shows you how with cultural design elements and Moroccan bedroom ideas.
What is Moroccan style?
Geometric designs, artisan crafts and luxurious fabrics make up the distinctly rich and instantly recognisable Moroccan style. Due to Morocco's hot climate, Moroccan interior design typically focuses on light fabrics, rich colour and cool tiles.
Intricate archways and detailed mosaics feature heavily in Moroccan style, inspiring interior decorators and architects the world over. Most notably, Moroccan riyads have become synonymous with high style and winter sun, while Yves Saint Laurent's iconic blue maison at the Jardin Majorelles has become a must-see for any traveller to the Moroccan capital.
Moroccan styling tips: Don't be afraid to be bold
While the ubiquitous and highly imitated Beni Ourain rug has become synonymous with minimalist, contemporary home style, Moroccan bedroom décor can take on an entirely bolder look and feel.
Blue, green, red or orange can provide the perfect foundation for a Moroccan-style bedroom. Clash fabrics such as silk, cotton, wool and linen in bright, jewel hues, accented with brass elements.  
If you opt for neutral shades, draw inspiration from the Bedouin tribes and add in opulent furnishings that provide the Moroccan influence you want. Terracotta, white and blue tiles can be combined, blended or clashed to create a neutral-toned north African look.
Use natural wood
Moroccan inspired bedroom design is all about the finishes. When selecting your fitted wardrobes and other bedroom furniture, it is important to get the choice of material just right.
Natural wood features prominently in Moroccan style and creates the perfect backdrop for vivid, complex and daring soft furnishings. Simple bedframes, stools, chairs and fitted wardrobes in natural finishes make the perfect complement to Moroccan bedroom ideas.
Get luxurious accessories
Accessories are the perfect way to bring your Moroccan bedroom ideas to life. From soft furnishings to rugs, lamps and occasional furniture, the items you choose to add to your space will create the Moroccan bedroom décor you want.
Plush silk cushions in bold shades, Moroccan print or woven blankets and breathtaking mosaic lamps and end tables will help to bring the look together. Luxurious elements and free-flowing fabric will amp up the drama and elevate the opulence in your space.
There are thousands of traditional Moroccan rug designs from the numerous tribes of the Moroccan mountains. Choosing the perfect one can be hard, but it's worth it to complete the Moroccan-style bedroom of your dreams.
Layer patterns and fabrics
Much like the melting pot of cultural elements that have influenced Moroccan style over the centuries, when creating your Moroccan-style bedroom, use a discerning eye to layer patterns, fabrics and colours that represent Moroccan design aesthetics.
Clash your rugs with your cushions and your curtains with your blankets. To keep the look cohesive and modern, choose clashing prints in complementary colours and vice versa.
Make use of scents
Scent is a huge part of setting the tone and creating an immersive design experience, regardless of your chosen aesthetic or theme.
When considering how to emphasise your Moroccan-inspired bedroom, consider the sensual scents of northern Africa. The scent of spice shops in Marrakech's souks can be imitated with essential oil diffusers and candles fragranced with cinnamon, nutmeg, tonka bean, clove and oud.
For an altogether lighter scent experience, consider the aromas of Moroccan mint tea, rose sweets and blooming jasmine bushes. To keep scent fresh, ensure your diffusers are swapped out regularly and candles are replaced when needed.
Getting Moroccan bedroom décor just right can be tricky, it takes a lot of planning and selecting the perfect soft furnishings, furniture finishes and lighting. Using clever software and a detailed mood board can help you to visualise your plans before you commit.
Bring your Moroccan-style bedroom vision to life
If you need a little more help to see your vision come to life, that's where we can help. A complementary home design visit from one of our friendly design experts is just not what you need. We'll help you assess your bedroom space and enjoy a mock-up of your dream Moroccan-style bedroom design.
You bring the space, we bring the inspiration
Whether you have an exact vision in tow, or are just at the beginning stage of your home renovation, we have heaps of inspiration for you to get stuck into. 
Find a wealth of design tips, trends and inspiration in the pages of our brochure, magazine and on our blog. Our experts are always ready to help you create dream home, pop in store or book your free design visit for experts to help on bringing your vision to life.