Styling tips for a contemporary living room
| Living Room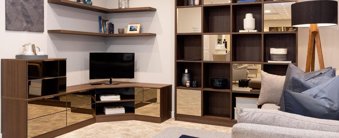 Styling tips for a contemporary living room
A place to relax with your family or friends, entertain or simply snuggle down and enjoy a hot chocolate while reading a good book or watching a film, the living room needs to create the perfect atmosphere. It needs to have the right lighting, storage and style to suit you.
We're exploring how to create the perfect contemporary living room that you'll love for your home. 
Finding the Right Contemporary Furniture
A great place to start is getting the right sofa to suit your needs and match your contemporary living room. For our recently styled living room display in our newly launched Abingdon showroom this corner sofa in light grey fabric works with the current greige trend. Matched with a collection of blue shakes of cushions with accents of dark blue, this is pulled in with the blue accessories amongst the Vigo Dark Pine fitted furniture. Getting a contemporary living room doesn't need to break the bank, shop around and choose a style that can be kept up to date with simple cushion changes as trends change.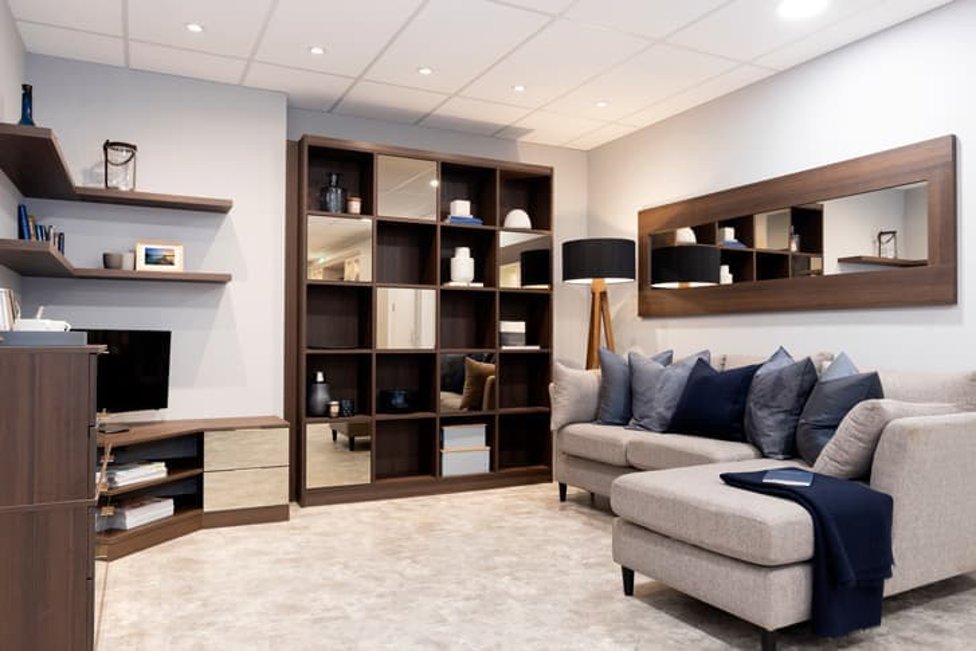 Ensuring you have the right storage options
Multilevel shelving, deep drawers, beautiful bookcases are all great storage options for any style living room. Choose a furniture door style and colour to give you that contemporary look and feel. At Hammonds, we have a wide selection to choose from, like the smooth door face of the Radley with a White Ash finish. The light modern tone reflected the natural light in the room to create a welcoming lounge space. These wall units for a living room in a contemporary style create a great modern look with clever storage.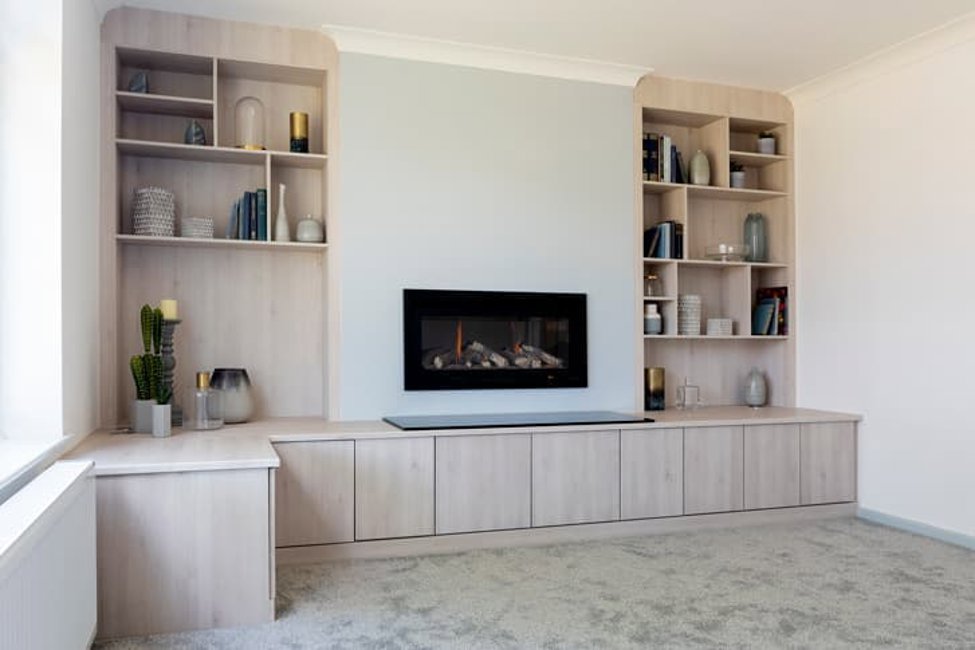 Lighting is important to maximise your style
The way a room is lit can have a huge impact not only on how your carefully selected furniture and furnishings look but also how you feel when you walk into your lounge. Think about your style and how you'll use the room and adapt to match. Want the room to be bright and light, go for a row of spot lights. Splash in a contemporary stylish lamp or two and add some more depth to the room and create a cosier atmosphere to your living room.
Accessorise to get the perfect contemporary finish
Keeping your primary colours in mind add some vibrant and beautiful modern accessories to maintain that contemporary look and feel. Make the room look bigger while reflecting the light with a chrome detailed mirror. Accessories can create the perfect eye catching accents in a room, like the understated touches of gold amongst this Radley White Ash Living Room.
Have a particular style in mind but not sure how to achieve it? Speak with a friendly designer about your furniture needs and discover the perfect range for you on a free design visit.
You bring the space, we bring the inspiration
Whether you have an exact vision in tow, or are just at the beginning stage of your home renovation, we have heaps of inspiration for you to get stuck into. 
Find a wealth of design tips, trends and inspiration in the pages of our brochure, magazine and on our blog. Our experts are always ready to help you create dream home, pop in store or book your free design visit for experts to help on bringing your vision to life.