The five best small bedroom storage ideas in 2022
| Showroom, Inspiration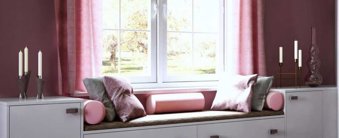 The five best small bedroom storage ideas in 2022
Having a small bedroom doesn't mean you have to live in a world of clutter and no space. It's important that you utilise every spare inch of your room and truly make it count.
That's why we've collated five storage ideas for small bedrooms to help you make the most out of your cosy room, providing you with more space than ever before.
Use the space under the bed
Beds take up a large amount of space, especially in small bedrooms. So, one of the best practical storage ideas is to use the area underneath it as effectively as possible – it's one of the handiest hidden storage spaces in your entire home, and therefore shouldn't be overlooked.
A great solution is to stow things away in various storage containers, or you can install drawers to act as an accessible new home for your clothes, sheets or even shoes. This provides a neat and tidy solution for putting any overflowing belongings away.
Double down on vertical space
Using vertical space well is one of the fundamental rules of small bedroom storage. Yet, while many people think to install floating shelves or hooks and pegs, it's rare to find someone using the ample vertical space in their closets or wardrobes to full effect.
A simple way to do this is to purchase a set of plastic boxes, which are often inexpensive. You can label them and fill them with essential items such as your clothes – making it easy for you to pull a box out, get the item you need and put the box back in its place.
Plastic storage boxes are often tough and stackable, with some including wheels for easy movement and convenience. Ensure to get transparent boxes so you can easily see the contents, making it an even simpler process when it comes to finding exactly what you need.
Get an ottoman stool
These multi-functional pieces of furniture are great for adding space to your room. They have either a removable or hinged lid on the top and storage space inside for keeping clothes, blankets or just about anything you want.
You can put one at the foot of your bed or in a corner of your bedroom, giving yourself a handy perch to sit on while putting on shoes. They are often available in a variety of colours and designs, ensuring they can look at home in any bedroom interior.
Go over the door
Your door isn't a usual source of storage, yet it can help you make the most out of your space. Adding an over-door hanger can give you plenty of extra room for hanging coats, bags or even towels.
If you already have plenty of clothes storage, you can get a multi-purpose over-door storage basket. This lets you store things out of the way, leaving your room clutter-free. Again, this helps maximise your vertical storage space, allowing you more room to roam around.
Buy furniture that fits your space
Even better, buying fitted bedroom furniture lets you transform awkward room features, such as a tight corner or a sloping roof, into a useful space.
Free-standing furniture, such as wardrobes and other storage units, often tends to be bulky and take up unnecessary room. Fitted furniture can truly optimise your space and is a great storage solution for small bedrooms. They can be made-to-measure to ensure they fit perfectly, leaving no wasted gaps.
Seek help from Hammonds
If you're feeling inspired and would like to learn more about how fitted furniture could help you make the most out of your small bedroom, book a free design visit with us today and we'll help you create a space that suits your needs, taste and budget.
You bring the space, we bring the inspiration
Whether you have an exact vision in tow, or are just at the beginning stage of your home renovation, we have heaps of inspiration for you to get stuck into. 
Find a wealth of design tips, trends and inspiration in the pages of our brochure, magazine and on our blog. Our experts are always ready to help you create dream home, pop in store or book your free design visit for experts to help on bringing your vision to life.