The life-changing magic of tidying by Marie Kondo
|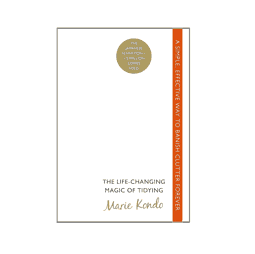 The life-changing magic of tidying by Marie Kondo
Transform your home into a beautiful space with the Japanse art of decluttering. Marie Kondo has changes the home and lives of people around the world with her simple KonMari Method. Her approach will help you to look at your belongings in a new light and encourage you to ask one simple question: do they spark joy?
Does the magic of tidying really transform your life?
The KonMari Method promotes treasuring the things you love and letting go of the things you don't, so you'll not only create a beautiful home but find the confidence and motivation to live the life you long for and make space for the future. 
Hammonds Conclusion
Everyone loves that feeling of a good de-clutter, being able to walk into your bedroom and know where everything is. There's usually one problem, those random places you leave important things so you see them every day just in case you need them at the drop of a hat. The things you eventually tidy away the day before you need them and poof they're gone, into the magical abyss of the monthly overhaul, end-of-your-tether tidy up. It's typical, the time you need that something it will be just days after you've given it its own place, which you've totally forgotten whereabouts that is. You start the search, so mad with yourself that you moved it because you've been staring at it in that place for ages. 
If you have the same problem, this book is where the penny drops. Tackling categories at a time, not rooms. It's hard to understand because my mind usually wanders, especially if I'm walking around the house. But, it works and everything under that category gets it in one hit, not room by room. 
This book is as much about self-discovery as it is about tidying. A must read if you have a lost emotional connection with your belongings.
You bring the space, we bring the inspiration
Whether you have an exact vision in tow, or are just at the beginning stage of your home renovation, we have heaps of inspiration for you to get stuck into. 
Find a wealth of design tips, trends and inspiration in the pages of our brochure, magazine and on our blog. Our experts are always ready to help you create dream home, pop in store or book your free design visit for experts to help on bringing your vision to life.