Tips for Decluttering the Spare Room
| Bedroom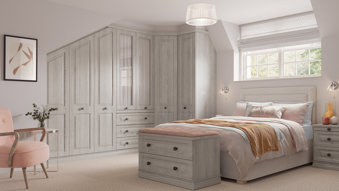 Tips for decluttering the spare room  
If you've promised yourself to keep your spare room tidy, you're in the right place. No matter how tidy you think you are, most of us have that one room that falls by the wayside. Positively overflowing with junk, so that the rest of the house can look spick and span, your spare room can turn into a dumping ground if you're not careful.
If you've had enough of your room of doom, perhaps it's time for a clear-out. This article will highlight the benefits of decluttering, the best ways to declutter your spare room, and what to do with your spare room once it's empty of clutter. 
Set realistic expectations
If you can barely open the door to your spare room, it might not be realistic to clear it all out during your lunch break!
So you don't end up feeling disheartened, start small and methodically work through sections as you go. Even if it's a task you keep coming back to, by working in small sections, you're still making good progress and ticking off a job on your to-do list.
Create dedicated groups
Organisation is key when it comes to decluttering. To make your life easier, we'd always recommend making four separate piles:
Bin – Old tat can probably go in the bin. But don't forget to check what can be recycled before you grab a black binbag and start throwing things away.
Donate – As the old saying goes, one man's trash is another man's treasure. So, if you have some old clothes or trinkets lying around that could go to a new home, be sure to donate them.
Store – If you're keeping all your winter coats in your spare room during the summer months, it might be a good idea to store them away. Vacuum bags are a great way to minimise the amount of space bulky items like coats take up.
Keep – If you love it or use it, pop it in a pile to organise later.
By sticking to four distinct piles, you'll be making informed decisions about every item. This means you won't just be moving the clutter elsewhere. By having a 'keep' pile, you can see how much stuff you're keeping, and whether there's too much for the space you have.
If you're still struggling for space, you might need to be a bit more ruthless so you can reap the full benefits of decluttering.
Clear the floor
If you're worried about breaking a leg every time you set foot in your spare room, you might want to tackle the dreaded floor first.
Then, you can easily move around the room to tackle the rest of the mess.
Organise your clothes
Do you have piles of clothing dotted around the room desperate for a home? If your spare room is the residence of clothes that have been relegated from your main wardrobe, it's time to have a thorough clothes declutter.
Begin by deciding what items you want to keep, donate, or sell. Then, methodically fold them and put them away.
If your main wardrobe is full to the brim, adding more storage is an essential if you're to prevent your room from becoming a dumping ground again. Luckily, our range of fitted wardrobes is designed to maximise your space, leaving you with plenty of storage to keep your spare room tidy. 
Sort the drawers and cabinets
Just shoving things into drawers in an 'out of sight, out of mind' approach isn't going to help in the long run. As well as clearing the clutter visibly strewn around your spare room, it's important to be aware of the mess you can't see.
As part of your mammoth clear-out, systematically empty all your drawers and adopt the four-pronged approach to sorting.
That way, you'll clear room for all your most used, most loved items.
Maintain a routine
Rather than closing the door to your spare room and forgetting it exists, try to make a regular point of having a sort-out.
No matter how organised you are, spare rooms tend to fall by the wayside when life gets busy. But that's okay! If you have a regular sorting routine, you can keep on top of the clutter before it escalates.
Little and often is the way forward when it comes to spare rooms. If you can, each week try to make a point of clearing things away that may have been led astray from their usual homes.
Transform your spare room with storage from Hammonds
If your spare room tends to turn into a junk room, you might just need a little extra storage space. At Hammonds, our friendly team of declutterers will help you transform your spare room for good.
Book a free design visit with us today and let us help you create a spare room with plenty of usable storage.
You bring the space, we bring the inspiration
Whether you have an exact vision in tow, or are just at the beginning stage of your home renovation, we have heaps of inspiration for you to get stuck into. 
Find a wealth of design tips, trends and inspiration in the pages of our brochure, magazine and on our blog. Our experts are always ready to help you create dream home, pop in store or book your free design visit for experts to help on bringing your vision to life.