Tips for Organising your Dressing Room
| Bedroom, Wardrobe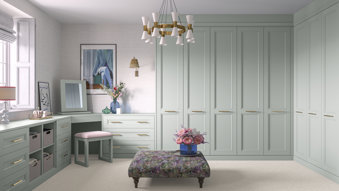 Tips for organising your dressing room 
No matter what time you rise in the morning, getting ready to start the day can be a rushed affair. If you continuously find yourself rummaging in your drawers unable to find that top, it might be a sign that your dressing room needs some TLC.
Unfortunately, dressing rooms can easily become disorganised, cluttered, and cramped if not kept tidy. But help is at hand! Whether your dressing room is a large walk-in space, packed to the brim with clothes, or a corner of your bedroom, we'll look at ways you can keep it organised.
Have a clear out
If your wardrobe is full of clothes that no longer serve you, it might be time to have a cull. Whilst we're not suggesting that you throw away all your old favourites, cutting down on your amount of clothing is a good place to start.
According to research by Vogue, a 'sufficient' wardrobe consists of just 74 garments. Although this might not sound like much, with the right items you can create a versatile capsule wardrobe that saves you time in the morning.
To decide what to keep and what to throw, take everything out of your wardrobe and methodically assess each item of clothing. As a rule of thumb, if you haven't worn it in a year, it no longer fits, or you don't feel comfortable in it, it doesn't belong in your wardrobe.
But don't throw your old clothes away. Head to your local charity shop to make a donation or – if you fancy cashing in on your old items – start selling your old clothes online.
Keep things neutral
If you've got a busy family life, you'll want your dressing room to be a calm, tranquil space where you can relax and get ready for the day. So, it's best to keep things neutral.
Neutral tones are ideal for dressing rooms for two reasons. Firstly, they help you create a calm environment. But secondly, they don't mess with the lighting. This means that you won't be left wondering 'Is this navy or black?' each morning.
Install fitted dressing room wardrobes
Your dressing room is far less likely to get messy if everything has a home. Even if space is limited, fitted storage options can help keep clutter at bay. Tucking clothing, hair accessories, and shoes behind closed doors will make your space feel instantly tidy and prevent the dreaded 'floordrobe'.
At Hammonds, we've developed a range of bespoke walk-in wardrobes that'll provide a home for your belongings, so you can keep all your clothes neat and tidy at all times. 
Consider dressing room organisers and wardrobe accessories
You accessorise your outfits. But what about your wardrobes?
Wardrobe accessories like drawer dividers, shoe racks, pull-out laundry baskets, and space-saving ironing boards will help keep your dressing room shipshape. Not only that but dressing room organisers will help you make the most out of your dressing room, with every inch of valuable space being utilised.
Add functional furniture
To add even more storage and a little je ne sais quois to your dressing room, consider adding functional standalone furniture. Freestanding vanity units (with drawers, preferably!) are an excellent investment if you're looking to add storage space. In fact, they're ideal for keeping hair straighteners and make-up brushes.
If you're feeling adventurous, repurposing an old piece of furniture can add an eclectic twist to your space. For example, you could repurpose an old armoire as a shoe display cabinet. Or, you could even make a dressing room island from old cabinets, marble toppers, and a lick of paint.
Style your shelving
Made popular by the Nordic approach to style, open shelving is a great way to visually expand your room if you don't want wall-to-wall cabinets. This is especially handy in compact spaces as it'll help your room feel light, bright, and airy.
Not only this, but by placing your most-used items on open shelves, they'll be easily accessible. So, you can use them, then tidy them away in a heartbeat.
Keep your dressing room tidy with dressing room wardrobes from Hammonds
At Hammonds, we've been inspiring customers with our dressing room ideas for nearly a century. Book a free design visit to chat about your dressing room woes – and we'll help you design an organised dressing room that you'll love both now and for years to come
You bring the space, we bring the inspiration
Whether you have an exact vision in tow, or are just at the beginning stage of your home renovation, we have heaps of inspiration for you to get stuck into. 
Find a wealth of design tips, trends and inspiration in the pages of our brochure, magazine and on our blog. Our experts are always ready to help you create dream home, pop in store or book your free design visit for experts to help on bringing your vision to life.