Tips from the expert: get the boutique bedroom look
| Bedroom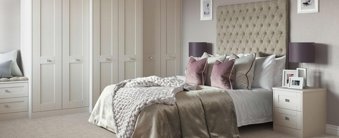 Tips from the expert: get the boutique bedroom look
Researchers at the University of Oxford have found you could fall asleep twenty minutes faster when you imagine yourself in a relaxing scene. Makes sense then that so many of us get a better night's sleep when we are staying at a hotel – usually the ultimate relaxing experience. 
With that in mind and with more than a quarter of Brits experiencing a poor night's sleep on a regular basis, we thought we'd team up with Interior Designer and Stylist Katie Longshaw-Pye and The Grand, York to show you how you can recreate a relaxing boutique feel in your own bedroom. So you don't have to imagine yourself in a relaxing space, you can make your own and get a better night's sleep.
You bring the space, we bring the inspiration
Whether you have an exact vision in tow, or are just at the beginning stage of your home renovation, we have heaps of inspiration for you to get stuck into. 
Find a wealth of design tips, trends and inspiration in the pages of our brochure, magazine and on our blog. Our experts are always ready to help you create dream home, pop in store or book your free design visit for experts to help on bringing your vision to life.