Toy storage ideas for your living room
| Living Room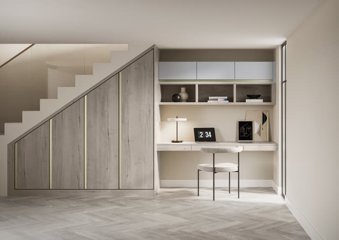 Toy storage ideas for your living room
When you have children, it can feel like they've taken over every part of the house. And the living room often bears the brunt of it! But it's a multi-purpose space that needs to be accommodating for every member of your household.
The living room should be able to transition between a play area for children and a relaxing, calm space for adults. Storage is essential in making this possible.
If you've recently been inundated with gifts for your little one, you may need ideas for toy storage in your living room. Fortunately, we've explored some of your best options.
Bespoke fitted cabinets
When you've got kids getting their toys out every single day, it can be easy to just put them to one side when they're not being used. But having them on full display hardly helps cultivate a relaxing ambience in your living room. There's also nothing stopping your kids from dragging them straight back out seconds later!
Fitted living room furniture is a great idea for living room toy storage as you can get it custom-made to fit your needs. So, if there are a couple of particularly bulky toys you're keen to get out of your eyeline, you can incorporate areas for them into your design.
When your children are in bed, their toys won't be visible, and you can relax in a space that feels like your own again… until tomorrow!
Make the most of your space
The luxury of a separate playroom is great if you have one, but when your little ones are young you want them somewhere that you can keep an eye on them. That's why the living room often gets swamped.
Keep clutter at bay by ensuring you utilise every inch of available space. If you've got a few awkward areas that you don't know what to do with, built-in storage is a great idea. Toys can be hidden away by using the nooks and crannies you thought you'd never find a purpose for!
Try bay window seat storage
This is one of the best living room storage ideas because it enables you to put toys away and introduce some new seating to your living room.
A multi-purpose window seat is great for those times when you want to just kick back, relax, and get stuck into your favourite book or simply watch the world go by. You can choose a design that suits your taste too, whether that's an open bottom with wicker baskets tucked in, pull-out drawers, or a liftable seating surface.
Get creative with baskets
A simple but effective way of keeping toys off the floor and out of sight is by using storage baskets and bins.
It's easy to find toy storage baskets that fit your living room aesthetic because there are plenty of different styles to choose from. Picking stackable ones can help keep things even neater, but this may make it more difficult for your child to access their toys depending on how old they are. If you're able to keep them accessible, it might be a bit easier to teach them to tidy up as well!
Sort out broken and unused toys
Kids regularly get new toys and they can accumulate to unmanageable levels before you know it. Whenever they get something new, it's probably worth looking through their other toys and seeing if there are any that can be moved on.
Broken toys can be recycled where possible while unused ones can be donated to charity. Depending on how old your children are, it could be worth making them part of this process. You'll help them feel good by doing something nice and donating their old toys, and you'll avoid any meltdowns should you throw away something that they weren't ready to part with.
Bring your living room toy storage ideas to life with Hammonds
If you're keen to upgrade your living room storage to make your space's transition from a play area to a relaxation zone a seamless one, book a design visit from Hammonds.
One of our fitted furniture experts will work with you to understand your needs and produce 3D design visuals so you can make sure it does everything you need it to.
You bring the space, we bring the inspiration
Whether you have an exact vision in tow, or are just at the beginning stage of your home renovation, we have heaps of inspiration for you to get stuck into. 
Find a wealth of design tips, trends and inspiration in the pages of our brochure, magazine and on our blog. Our experts are always ready to help you create dream home, pop in store or book your free design visit for experts to help on bringing your vision to life.