Transform your spare room into a home gym
| Inspiration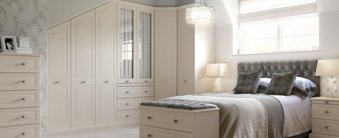 Want to get fit at home? Our latest blog offers tips on how to transform your spare room into an exercise room.
How to transform your spare bedroom into a workout space
If you have a spare room in your home that isn't being used for anything at the moment, why not utilise this space and turn it into an exercise room? There are so many benefits to exercising regularly, both physically and mentally. Not only does working out help people to get in or stay in shape, but it also helps to clear the mind. It's a great mood-booster too, particularly for the days when you have low energy.
Over the last few months, many people have felt uncomfortable about stepping inside a gym. With job losses and uncertainty on the increase, people have also been looking to cut back on luxury spending, which has included gym memberships and personal training sessions.
In order to reap the rewards of exercise, lots of us are thinking about building a home gym or workout space. But what are some of the things that need to be taken into consideration before doing this?
If you'd like to transform your spare room into a workout space, here are some tips on how to do it.
Paint the room a light colour
Getting your home gym design right doesn't need to be hard. The first thing you need to consider is the colour. The space must feel bright, clean and clear to help you feel motivated, especially if you're training first thing on a Sunday morning, or right after a long day at work. Warmer rooms can make you feel tired or relaxed, so ensure that you opt for a fresh coat of white or orange paint to energise you. If you're going to be using this space for yoga or Pilates, however, you might wish to paint it a more calming colour, such as sage green or a creamy white.
Get the lighting right
Whether you're doing a weights session or carrying out a high intensity interval training routine, you're going to need to be able to see what you're doing. This means that bright lighting is essential. If the room doesn't offer much natural light, try to incorporate as much overhead lighting as possible. For this, LED lights are a good choice.
Buy the equipment you'll benefit from
If you enjoy weightlifting but not cardio, for example, there is no need to splash out on a treadmill, bike or rower. Instead, invest in the equipment that will benefit you, such as dumbbells, kettlebells, a yoga mat, a barbell, bench, TRX and medicine balls. Today, there are a whole host of free training sessions online, so if you're not fully confident with creating your own programme, there will be plenty that you can follow on the likes of YouTube.
Invest in smart storage solutions
If you're short on space in your room, you will most definitely benefit from smart storage solutions. Fitted wardrobes are practical yet stylish, and the perfect place to store exercise mats, your gym gear, towels, trainers and some smaller equipment. Built-in wardrobes can be tailored exactly to suit your space, so no matter how big or small your room is, they can be designed to meet your needs.
Add full-length mirrors
Whether you're running on the treadmill or lifting weights, full-length mirrors will allow you to observe yourself from different angles so that you can check your posture at all times. No one wants to get injured while they're training, so mirrors are a beneficial investment to help you keep an eye on your form.
With these home gym essentials, you'll be able to carry out all the exercise routines that you enjoy, from the comfort of your own home. If you'd like to plan your home gym design soon, we're here to help. We can build furniture that works beautifully in the space that you've got. Book a free design visit today and we'll work with you to create your ideal workout space.
You bring the space, we bring the inspiration
Whether you have an exact vision in tow, or are just at the beginning stage of your home renovation, we have heaps of inspiration for you to get stuck into. 
Find a wealth of design tips, trends and inspiration in the pages of our brochure, magazine and on our blog. Our experts are always ready to help you create dream home, pop in store or book your free design visit for experts to help on bringing your vision to life.