Under-bed storage options
| Bedroom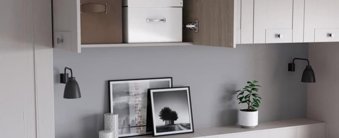 Under-bed storage options
Your bed is likely to be the biggest piece of furniture in your bedroom, so it's good sense to make it work for its space. Yes, it should be your little sanctuary – a place for you to sink into each evening and enjoy a great night's sleep. But it can do other things too, like provide you with valuable storage space.
Under-bed storage offers serious amounts of space if you know how to maximise it. From choosing the right bed to knowing the clever hacks, we've put together some top tips to show you how to organise your under-bed storage.
Divans and ottoman beds
If you're short on space, divans or ottoman beds are a practical and simple answer to any storage issues.
Divan beds have large and very useful pull-out drawers, perfect for hiding away bulky items like bedding, winter coats or clothes. Ottomans have a large space that is accessible by lifting the top half of the base and the mattress. It means storage is plentiful and perfect for big items that you don't need very often. This helps you keep your bedroom clutter-free in a highly organised way.
If you're wondering how to hide storage under your bed then these are the best two options because they are designed specifically for the job.
Roll-out drawers
If you don't have a divan or an ottoman but are wondering how to organise your under-bed storage, you could introduce your own roll-out drawers.
Low-form plastic storage boxes complete with little wheels are easy to find online and a couple can easily fit beneath a double bed. Because they're on the floor and hidden by the bedframe, they're a clever way to maximise space in a tight spot.
If you're wondering what to put in your under-bed storage, opt for something you probably won't need every day. Out-of-season clothes, books, old photographs, or accessories like bags and shoes are all good options.
Boxes, trunks and baskets
If the underneath of your bed is a little more visible, though, you might want something prettier than plastic storage boxes. Luckily, there are plenty of options.
Boxes, trunks and baskets are great under-bed storage ideas because they can still be easily accessed. Try to stick to a muted colour theme so it all looks neat and tidy. If you go for baskets, invest in some paper liners to protect your things from any sharp ends and edges.
Vacuum bags
Vacuum bags are miracle workers when it comes to space-saving storage. Choose your out-of-season winter coats, beach towels or any bulky items that you won't be needing too regularly, and watch as they shrink down when the air is sucked out of the bag you place them in.
It'll allow you to hide away far more than normal beneath your bed and keep it dust, moisture, and moth-free for as long as you need.
Let Hammonds help you decide how to organise under-bed storage
While we love under-bed storage, there's a limit to how much you can hide away down there. Custom-designed fitted storage is always the best option as it ensures every inch of usable space is available.
If you're looking for a bespoke solution that matches the space you have, book a design visit with Hammonds today
You bring the space, we bring the inspiration
Whether you have an exact vision in tow, or are just at the beginning stage of your home renovation, we have heaps of inspiration for you to get stuck into. 
Find a wealth of design tips, trends and inspiration in the pages of our brochure, magazine and on our blog. Our experts are always ready to help you create dream home, pop in store or book your free design visit for experts to help on bringing your vision to life.