Ways to redesign your bedroom
| Inspiration, Bedroom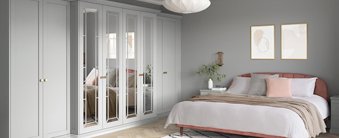 If you're ready for a change, follow our guide to how to remodel and renovate a bedroom. We bring you the top tips to help you create your dream space.
How to renovate a bedroom from start to finish
Are you about to put your property on the market? Perhaps you're just ready to make a change? Whatever the reason for wanting to update your bedroom, it can be tricky to know where to begin.
It's likely that you have many ideas and lots of ambition. After all, you spend a lot of time in your bedroom so you might have been thinking about making a change for a while. But if you're trying to pin down a style or theme, you're probably wondering where to begin.
Whether you're looking for ways to redesign your bedroom or you're going all-in and need to know how to renovate and remodel a bedroom, read on. We've created a guide to help you break the process down into stages and transform the space into a room you'll love.
Source inspiration
You might already have some thoughts about what you want the room to look like, but it's worth setting aside some time to research. By focussing on this stage before you jump into stripping the wallpaper, you might find that your initial ideas change slightly.
There are many ways to research designs and themes. Try looking through home interiors magazines, searching for themes online, and creating some inspiration boards on Pinterest. As you research, you'll find that you're repeatedly drawn to certain colours and styles. This will help you narrow your search and select a theme.
Plan the theme
So, after all that research what theme do you have your heart set on? Are you hoping to create a cosy space, filled with lush materials and colours? Or are you thinking of going minimal, with bare walls and Scandi-style accessories?
Having a theme gives you the chance to plan the aesthetic of the space. You can use this to guide everything from your furniture and colour scheme to your window dressings and accessories.
Set a budget
Now you know what look you're going for you should plan out where you'll need to invest more and where you can shop around. Setting a budget at this stage means you can account for the cost of any major purchases or labour costs, as well as the finer details.
For instance, if you'll need to get the walls replastered or you're thinking of swapping out the freestanding wardrobe for a fitted version, planning the costs of these early on will help you work out how much you can spend on everything else.
To plan your budget, break it down into sections, starting with the big jobs such as cosmetic building work or electrical rewiring. Then plan the costs of new furniture and add a section for paint, wallpaper, bedding and accessories.
This will give you an idea of how much you can spend before you start shopping for your theme.
Call in the professionals
If you're going for a full remodelling of the room or there's work that needs to be done, it's best to get professional assistance from the experts. You might need to get someone to look at the electrics in the room or it could be that there's structural work that needs doing before you can do any decorating.
Try to get quotes from the professionals early on. This will help you finalise your budget and allow for any major work that needs to be done. Also, follow the guidance from Citizen's Advice to make sure that you have permission to make any structural changes.
When it comes to looking at how to renovate a bedroom, it's important to get any important jobs like this done first as this will secure the room and make it a safe canvas to work on.
Invest in quality furniture
Your furniture is the next big expense. If you want this bedroom update to last for the next five or even 10 years, investing in high quality pieces means that they are likely to stand the test of time.
This bedroom furniture also needs to suit the look you're going for in the room. While there are typical pieces to include, such as the bed and the bedside table, it's possible to make these your own.
For instance, if you're thinking of investing in a bespoke fitted wardrobe, you can decide how to organise the interior. Perhaps you want to include a tie rack or separate sections for your shoes. Tailoring the furniture in this way makes the space unique to you.
Upgrade storage
As well as how you set out your wardrobe, you'll also need to consider your storage setup. Do you have enough drawer space? Is it worth investing in a new bedside table?
The storage you introduce can be simple, yet clever. There are many different options available that can seamlessly blend into the aesthetic of the room, from concealed compartments that glide out of your chest of drawers to classic open shelving where you can display photos, books, and other items. Take some time to find the storage solutions that work for you and maximise floorspace.
Choose the flooring
Time to look down! What do your floors look like at the moment? Do you have exposed floorboards or is it carpeted? Use your theme as a guide to help you choose a new carpet, rug or other material such as laminate or wood.
For instance, you might want to keep the carpet you already have but accessorise with a fluffy rug to add to the cosy vibe. Or maybe you want a bold mat to offset the neutral tones in the room.
The flooring can tie everything together, so it's worth thinking about this when looking at the different ways to redesign your bedroom.
Look at the lighting
Like flooring, lighting can transform the feel of a room. The bedroom is where you need to get the perfect balance between maximising light in the day so that you can wake up well, and making things soothing and relaxing at night so you can easily go to sleep.
Investing in a light with a dimmer is a great start as you can control the light levels at different times of the day. You can also try smart lighting that incorporates different colours to create an ambient space. Taking the time to focus on the lighting will ensure you come up with a solution that suits your lifestyle.
Add accessories
Once you've covered the bigger tasks, you can turn your attention to the fun jobs. Accessories can make your theme coherent and round off the overall look.
Take some time to choose throws, cushions and curtains that fit with the aesthetic and suit the colour scheme. Add some art pieces and other items to personalise the room.
Make it yours
Breaking down your bedroom renovation into manageable sections is a great way to focus on the important jobs first. Whether you're trying to work out the theme or you need to plan storage, it's possible to achieve your goals and transform the room when you take it task by task.
If you need expert advice for your bedroom project and you're trying to work out how to remodel your bedroom so that it incorporates bespoke furniture, we're here to help. Book a design visit and we'll show you how to create your dream bedroom.
You can also find further guides on the Hammonds blog.
You bring the space, we bring the inspiration
Whether you have an exact vision in tow, or are just at the beginning stage of your home renovation, we have heaps of inspiration for you to get stuck into. 
Find a wealth of design tips, trends and inspiration in the pages of our brochure, magazine and on our blog. Our experts are always ready to help you create dream home, pop in store or book your free design visit for experts to help on bringing your vision to life.