We reveal the most festive cities across the UK for a festive day out in 2022
|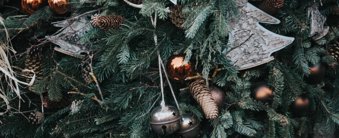 Where are the most festive cities in the UK?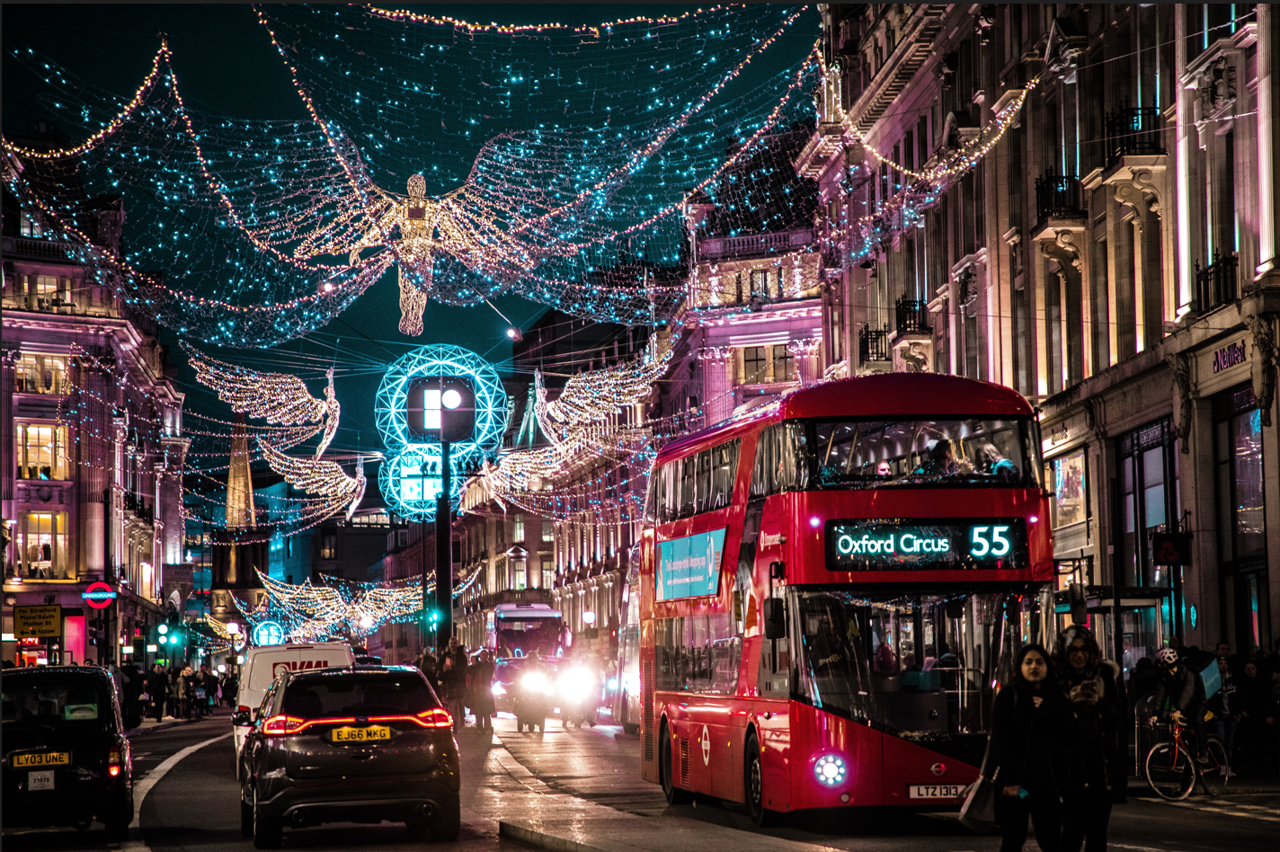 Christmas may be just a few short weeks away, but already, many UK towns and cities have
already been adorned with twinkling lights and festive décor, getting Brits in the mood for the upcoming festive season.
Sadly, due to the cost of living rising even more in the latter half of 2022 some local councils appear to be cutting back on their own Christmas lighting events and festivities, and naturally, many UK consumers will also be looking to make their own cutbacks too.
Nevertheless, we at Hammonds are eager to help spread the festive cheer amongst those looking to enjoy a festive day out in the lead up to Christmas this year, by helping them to find out just where they can head to experience the top ones in the country.
Alongside this, we also surveyed 2,000 UK adults about said days out helps to give them that magical Christmas feeling, as well as when they believe it's appropriate to begin putting up their own Christmas decorations up at home.
In order to form our rankings and to give the cities compared as part of our study a score out of 100 (100 being the most festive you can feel), we collated data relating on aspects such as the chances of the region having a white Christmas, the total number of Google searches around each of the local Christmas lights, the number of Instagram posts under local Christmas market hashtags, and the number of scheduled Christmas events per area.
We then combined this with our own unique survey findings related to festive decorating dates and used this to determine "Christmas spirit" levels across each of the cities.
The UK's most festive cities, revealed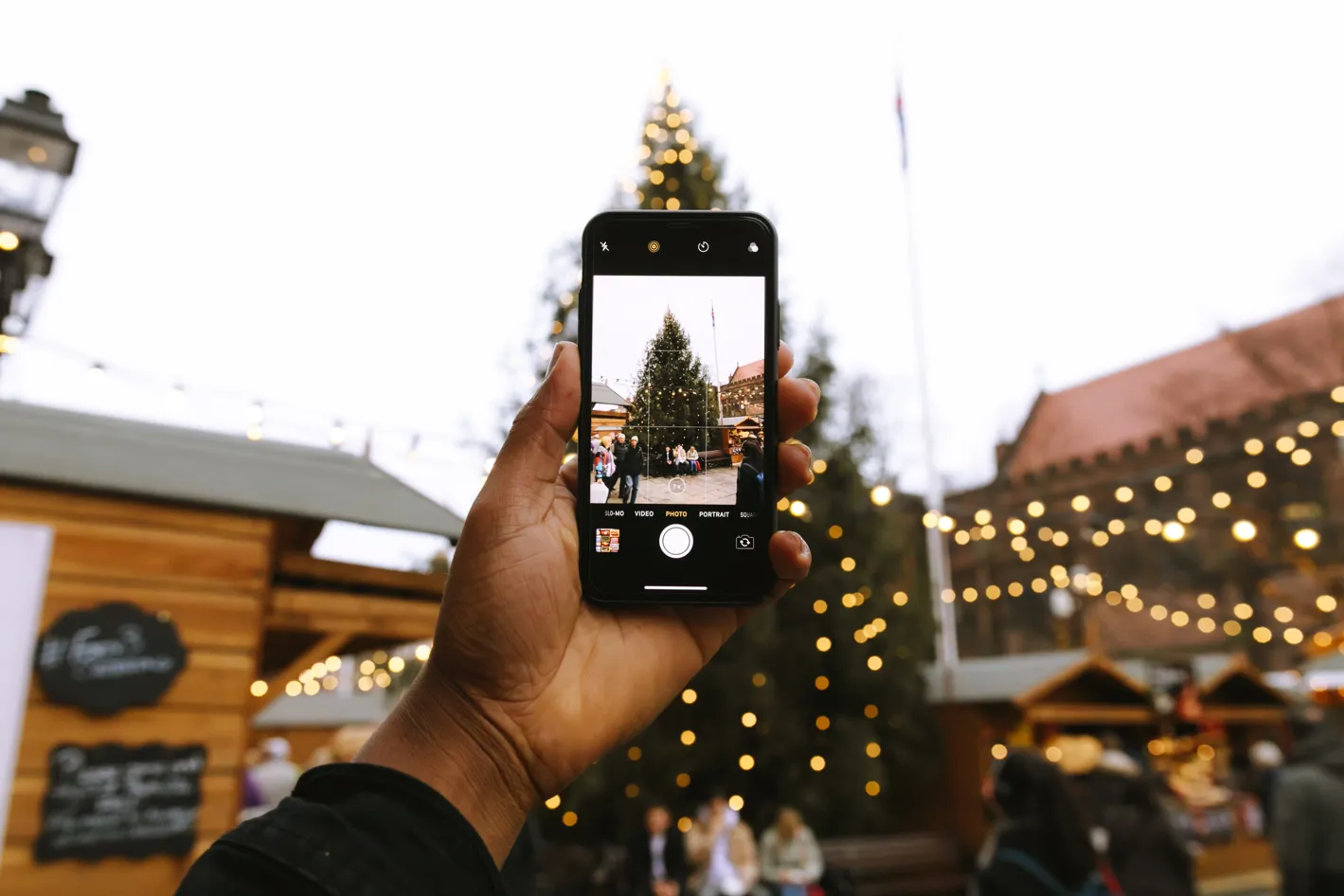 Claiming first place was the historic city of York.
The northern city has been found to be the most festive in the UK, scoring a respectable 87 out of 100 points. The Yorkshire city scored highly for local events, with five events per 10,000 residents, as well as boasting 8.5K Instagram posts under the hashtag #YorkChristmasMarket, making it one of the most popular festive markets on the platform.
We also learned that York is home to some of the most festive residents in the UK, with one in six (16%) admitting they put up their Christmas decorations as early as the first week of November!!  And although the Christmas light switch on event has been cancelled in 2022, there will still be plenty of lights around the city for people to go and see to get in the festive mood.
| | |
| --- | --- |
| UK's top 10 most festive cities | Total points (out of a possible 100) |
| York | 87% |
| Edinburgh | 86% |
| Manchester | 78% |
| Blackpool | 72% |
| Leeds | 71% |
| Newcastle | 71% |
| Glasgow | 70% |
| Birmingham | 70% |
| Nottingham | 69% |
| Oxford | 67% |
Hosting the best Christmas market in Europe according to National Geographic, Edinburgh follows closely behind in second place within our rankings. The Scottish capital has gained more than 44k Instagram posts under the Edinburgh Christmas market hashtag, proving the city's popularity amongst both locals and tourists alike.
Edinburgh residents may even be able to enjoy a white Christmas this year, as the city has a whopping 48% chance of snow on the big day, with the area experiencing 29 white Christmases since 1960. Additionally, according to our findings, just over one in ten (13%) of those living in the city also believe it's acceptable to start decorating their home for the upcoming festive period in the very first week of November – we're with you there, Edinburgh!
Despite coming third, Manchester was found to have the most tagged Christmas Market on Instagram, boasting a huge 54.3k posts under its local hashtag. The phrase "Manchester Christmas Lights" has also secured upwards of 880 searches on average each month, with people keen to find out when the lights are getting switched on this year.
Sadly, whilst those visiting the city will be able to enjoy an illuminated Manchester this festive season, there will be no event with the council citing a lack of 'suitable location' to host the festivities this year. Despite this, there is still plenty of festive activities to enjoy, with 3.5 events in the area for every 10,000 residents.
In fourth place was Blackpool, home of the famous Blackpool illuminations. The city has 720 average monthly searches in relation to their Christmas lights, and despite having a low number of Instagram posts tagging the local Christmas market, the city took fourth place due to both its high number of events (4.5 per 10,000 residents), and its high levels of Christmas spirit, with one in six (16%) residents getting their decorations up in the first week of November).
With a 38% chance of seeing snow this year, as well as 3.8 Christmas events per 10,000 residents, the city of Leeds claimed fifth place. The hashtag #LeedsChristmasMarket has also received 4.8k posts on Instagram, although, sadly those looking for a German market may have to head further afield as due to rising costs the council has cancelled the city's usual much-loved markets for 2022.
Joining the top 10 were Newcastle (71%), Glasgow (70%), Birmingham (70%), and Nottingham (69%). Interestingly, the only location in the south to reach the top ten was Oxford, coming in tenth place with 67 points out of 100.  
And the least festive...
In comparison, the Northern Irish city of Derry was found to be the least festive city, securing just 18 out of a possible 100 points due to its low number of events per 10,000 residents, combined with low numbers of Instagram posts using the local Christmas market hashtags.
| | |
| --- | --- |
| UK's least festive cities | Total points (out of a possible 100) |
| Derry | 18% |
| Wrexham | 25% |
| Warrington | 26% |
| St Albans | 29% |
| Bradford | 31% |
| Chelmsford | 35% |
| Peterborough | 35% |
| Swansea | 38% |
| Lisburn | 38% |
| Newport | 38% |
Tis the season to be jolly and joyous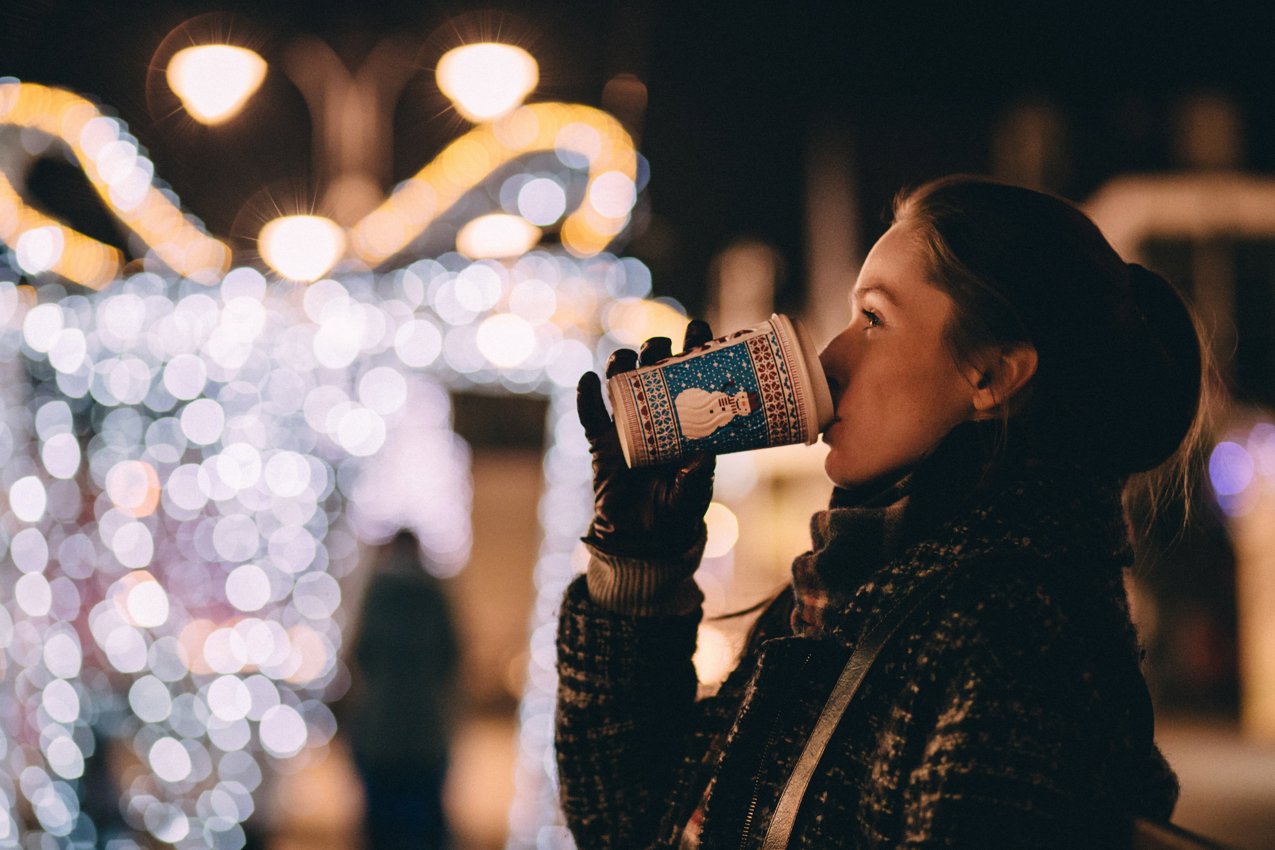 We also quizzed UK consumers about the elements of visiting UK towns and cities in the run up to Christmas that leave them feeling the most festive.
Above all else, being able to enjoy a location lit up with festive lights took the top spot (75%). This was followed closely by enjoying the festive decorations (74%) and the hustle and bustle of the Christmas markets (50%).
Perhaps surprisingly, just a quarter (25%) of Brits said that snowfall is a must have in order to make a place feel Christmassy. Meanwhile, just under a third (32%) believe that carol singers are a top way to bring about that festive cheer.
Top things that make a place feel festive
Festive lights (75%)
Festive decorations (74%)
Christmas markets (50%)
Carol singers (32%)
Snowfall (25%)
Santa's grottos (25%)

Despite top locations York and Edinburgh both boasting delightfully cobbled streets and medieval buildings, just one in seven (14%) told us that they think the architecture of a town or city can help it to feel more festive.
Deck the halls – but only after December 1st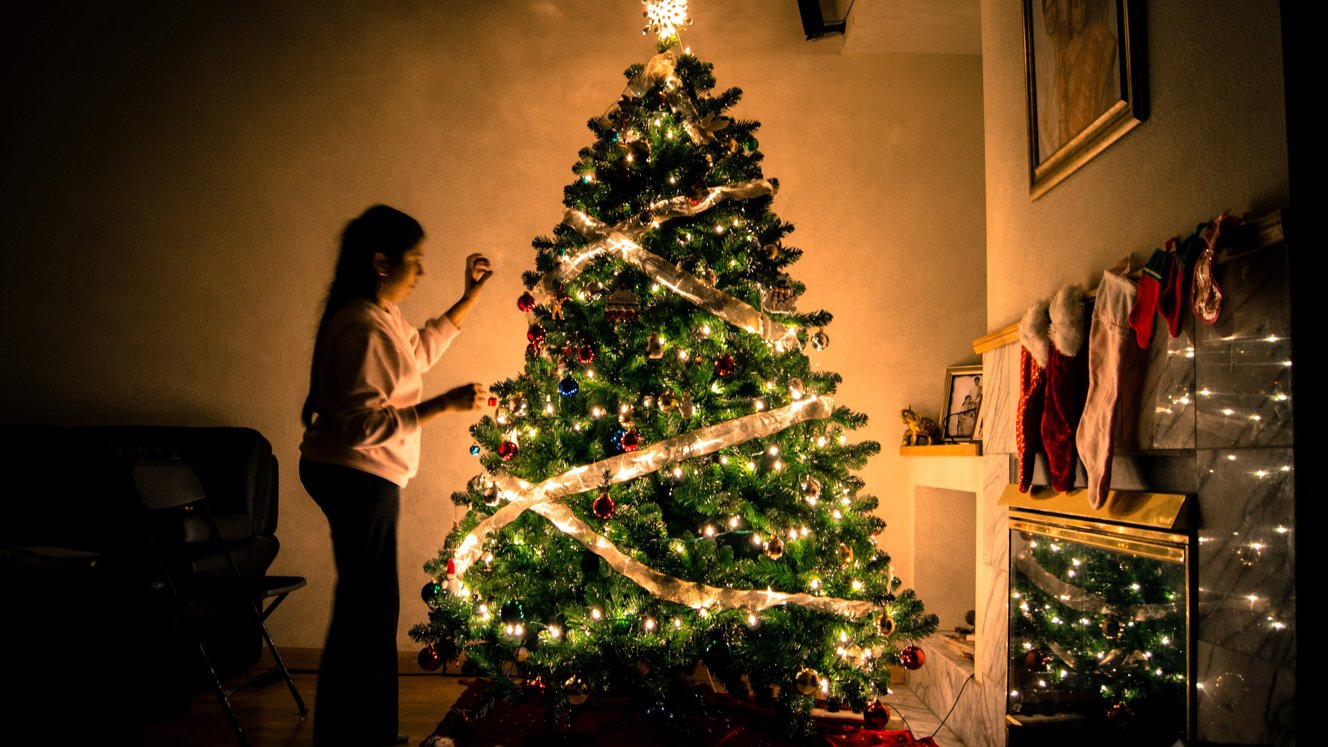 According to our findings Christmas lights and decorations are crucial to getting yourself in the Christmas spirit, but when do Brits believe is the right time to start putting these up?
We discovered that the most popular day to begin "decking the halls" is 1st December, as one third of respondents (34%). More than half of those surveyed said that they start their decorating between 1st December and 14th December (58%), while one in ten leave their decorations until closer to the day, putting them up between the 15th and 21st of December (9%).
However, one in ten (9%) of us started to get our decorations up as early as the first week of November, with 5% even starting this on the 1st of November. Overall, December was naturally still the more popular month to decorate ahead of Christmas (69%), compared to November (28%).
Most popular days to put up your Christmas decorations, according to Brits
1st December (34%)
10th December (7%)
1st November (5%)
12th December (4%)
30th November (3%)
By comparing regional differences, we discovered that both York residents and Northampton residents begin putting up their Yuletide décor the earliest, with one in five (16%) residents doing so in the first week of November.
Meanwhile, Dundee residents were found to put them up at the latest, as none of their residents think it's okay to start their decorating before the month of December starts.
Dreaming of a 'White Christmas'? Then head to Scotland!
We also examined historic data available from the MET office and learnt that Scottish residents have the highest chance of seeing a 'white Christmas' this year, with Northern (57%), Eastern (48%), and Western Scotland (45%) taking the top three spots. The North of Scotland has even had 34 wonderfully white Christmases since 1960. 
Those in the South have the lowest chances as the Southeast and Central Southern England have just a 17% chance of seeing snow on Christmas Day. The Southwest also has just a 23% chance. 
Probability of snowfall at Christmas by UK region
Northern Scotland – 57%
Eastern Scotland – 48%
Western Scotland – 45%
Midlands – 38%
Northeast and East England – 38%
Northwest England – 32%
Wales – 32%
Northern Ireland – 27%
Southwest England – 23%
East Anglia – 22 %
Southeast and Central Southern England – 17%

Conclusion
Snow or now snow, there's no shortage of wonderful festive events to look forward to in the coming weeks across the UK, and hopefully for those looking to get into the Christmas spirit, these rankings can give some inspiration of where to head to get some festive cheer!
It's clear from our study that there are many different aspects that help to get each of us in the festive mood, and each of the cities compared in our findings have plenty of Yuletide options for those looking for a Christmas day out.
Owing to disruptions to many events in 2022 owing to a number of different reasons, we would urge those keen to enjoy the festivities to double check the respective website or social media page before doing so in order to avoid further confusion or disappointment.

For those wanting to bring the festive cheer to themselves, there really is no better way than to start decking the halls and bringing the festive magic into your homes!
Our fitted storage solutions can be used to help rid yourself of any unwanted clutter, ensuring that your Christmas decorations take pride of place this December. Equally, they can also help to provide an excellent way to keep presents hidden away in the lead up to the big day.
To find out more about our storage solutions, book a free design visit to find out how we can help you create your perfect interior design for the new year.

About our study
Using the below data, we created the most festive city rankings on a scale of 0-100:
Chance of a white Christmas based on snowfall on Christmas Day since 1960 from the MET Office
Search data on Christmas lights in area location from Google Keyword planner correct as of 8th November 2022
Number of Instagram posts under local Christmas market hashtags correct as of 8th November 2022
Number of scheduled Christmas events for each area on All Events (allevents.in) from November 9th 2022 per 10,000 people of the population
Population data from https://www.ons.gov.uk/peoplepopulationandcommunity/populationandmigration/populationestimates/articles/overviewoftheukpopulation/january2021
Survey of 2,000 UK adults completed 17th October 2022, asking what makes a place feel festive and when people start to put their Christmas lights and decorations up
You bring the space, we bring the inspiration
Whether you have an exact vision in tow, or are just at the beginning stage of your home renovation, we have heaps of inspiration for you to get stuck into. 
Find a wealth of design tips, trends and inspiration in the pages of our brochure, magazine and on our blog. Our experts are always ready to help you create dream home, pop in store or book your free design visit for experts to help on bringing your vision to life.