What is Kindercore and how to incorporate it into your bedroom design
| Bedroom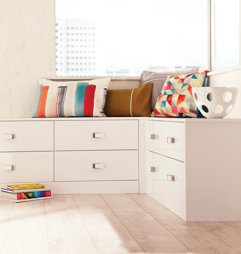 Kindercore: what is it and how can you incorporate it into your bedroom design?
Knocking Scandinavian design off the top spot is Kindercore. Channelling the "less is more" aesthetic, this trend sees home decorating enthusiasts taking more risks with colour to create an innovative bedroom space.
In this article, we'll explore what Kindercore is and how you can incorporate its principles into your bedroom design.
What is Kindercore?
The Scandinavian-inspired aesthetic has long reigned supreme when it comes to home décor. Favouring clean, crisp lines and muted colour palettes, Kindercore interior design sits bravely between minimalism and maximalism.
Kindercore mixes simple, bold colours to create a happy aesthetic. It's ideal for those looking to add a little fun to their home, brightening the moods of all those who step through the door.
Kindercore design combines modern and vintage-style pieces, with personality at its core.
Where did Kindercore come from?
Kindercore is a modern design principle that is becoming increasingly popular among interior designers. Most similar to the Memphis design movement in the '80s, Kindercore uses primary colours to spark joy and create a happy-go-lucky aesthetic.
Kindercore is a refreshing alternative to monochromatic and simplistic design approaches that are present in many of today's modern homes. Choose to go against the norm and implement this fun and quirky design style in your home.
How to create a Kindercore-inspired bedroom
Make a statement with colour
Kindercore is all about mixing simple colours for maximum impact. To create the look at home, try to be bold. For example, choosing furniture in fire-engine red or experimenting with green lamps can pack a real punch.
Say goodbye to subtlety with Kindercore – it's all about making a statement. Simply swap out your neutral pieces with brighter and more youthful alternatives. It's best to start small with Kindercore design, bringing in a few accent pieces to slowly integrate this new style into your home.
Why not upgrade your existing storage solutions too? We have fitted wardrobes available in a range of colours to suit your new aesthetic. Designed and crafted with you at the forefront, our fitted furniture can transform your space in an instant.
Invest in 'chubby' furniture
At the heart of Kindercore is childlike design – after all, "kinder" means "children" in German! One way to achieve a nostalgic feel in your bedroom is by using chubby furniture. Similar to mid-century pieces, chubby furniture has rounded edges, thick sides and a juvenile touch.
This comfortable and laidback style of furniture doesn't conform to the strict, sharp lines of contemporary pieces. Think oversized chairs, overstuffed upholstery and dramatic curves. These full-figured designs can certainly add a softening touch to your home.
Chubby furniture can transform your home into what feels like a gallery and will certainly capture all the attention of your guests.
Experiment with shapes
It's not just chubby furniture that adds a touch of nostalgia to your scheme. To nail the Kindercore trend, try to use half-moon shapes and cylinders, which contrast against the typical designs we see in most homes.  
Incorporate colour-blocking items with rounded edges for the full Kindercore touch. These shapes are both welcoming and assertive, creating a focal point in your bedroom.
Add character to your home with Hammonds
Switch up your home aesthetic and bring your bedroom to life with fitted furniture from Hammonds. Book a free design visit today to speak to our experts about how to create a Kindercore-inspired bedroom.
Our friendly team will bring years of experience straight to your front door, as well as a design that suits your exact needs, taste and budget.
You bring the space, we bring the inspiration
Whether you have an exact vision in tow, or are just at the beginning stage of your home renovation, we have heaps of inspiration for you to get stuck into. 
Find a wealth of design tips, trends and inspiration in the pages of our brochure, magazine and on our blog. Our experts are always ready to help you create dream home, pop in store or book your free design visit for experts to help on bringing your vision to life.