When couples move in together, how do we decide on decorating?
| Inspiration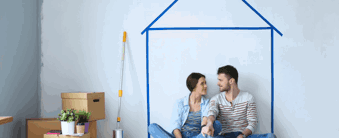 When we move in with our partner, how do we decide on our decorating?
As a new couple ventures into the milestone of moving in together for the first time, there's lots to organise such as your budgets, how you'll split your chores and logistics of boxing up and moving all your things.
But after you've taken the leap, how do we approach sharing a space, such as decorating decisions and where each person's items go? Well, we at Hammonds Fitted Furniture surveyed 2,000 UK adults in an effort to uncover how many Brits struggle with this when they first live together, and what people can do if their interior tastes differ from their partner's.  

What are the biggest sources of conflict when moving in together?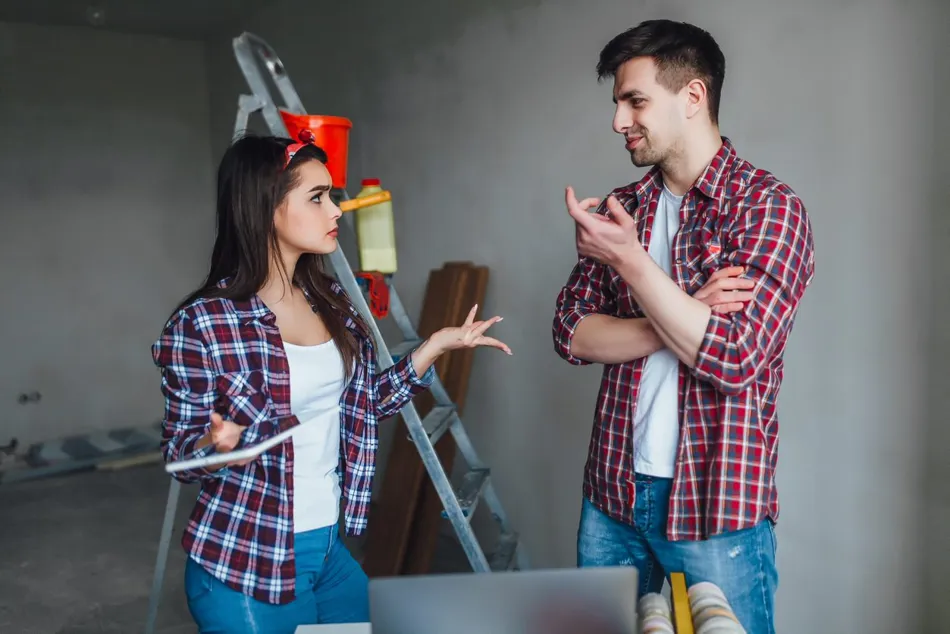 The process of moving in together can be a stressful experience at times, so perhaps unsurprisingly, we found that a substantial 83% of couples have argued about some aspect of living together either when undergoing the transition or talking about someday moving in with each other.
However, despite the rising costs of living, clutter and mess was the biggest cause of tension with couples as a third (34%) have argued about clutter in the home. Bills came in second place with three in ten (31%) arguing about money.
Top causes for arguments with couples moving in together 
Clutter/mess (34%) 
Bills (31%) 
Cleanliness (25%) 
Chores (22%) 
Decorating preferences (21%) 

Unfortunately, not everyone can agree on how they want to decorate their new home, with over one in five (21%) saying that they've argued with their significant other over decorating preferences when it comes to paint colours and flooring decisions, while over one in six (16%) clash over what furniture to pick.
15% also admit to arguing about how they should be splitting their storage space in their home, showing that it's also important to make sure you each have your own space to keep your personal items when moving in together, rather than one person struggling to fit all of their items and having to throw them away.

Some find decorating with their partner easier than others…
Fortunately, although some do clash with their partner on decorating decisions, the majority of Brits (55%) say that overall, they find it easy to decide on interior design styles and decorating choices with their partner.
Our research found that in couples, women tend to make most of the décor-related decisions as 16% of men surveyed said they find decorating easy as they simply let their partner make the decisions. This is compared to only one in twenty (5%) of women who are willing to let their partner be the decision-maker when it comes to decorating.
When asked, 16% of men said that they didn't have any interior design preferences, versus just 8% of women, which may be why they are more likely to let their other half be in charge of these choices.
However, around 7.4 million Brits do struggle with coming to an agreement with their partner on decorating, as 11% say that they find it hard to decorate with their partner, stating that they have differing styles and opinions on interior design.

What are our interior design preferences?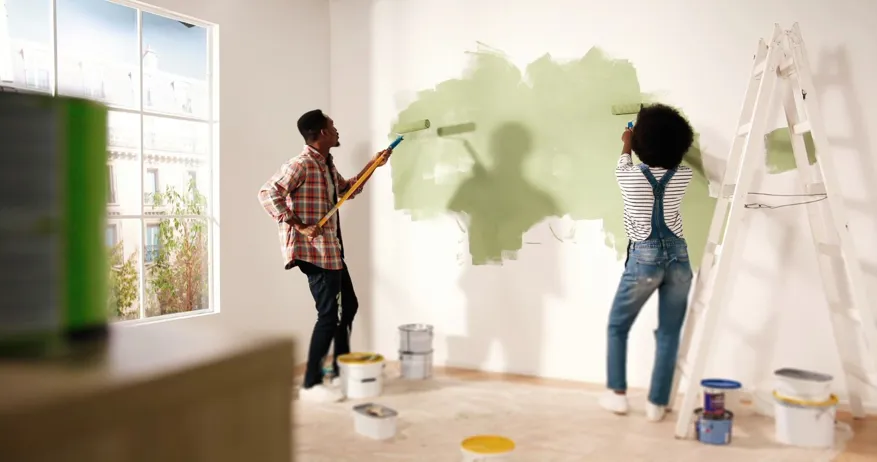 In regard to our decorating preferences, over a third of UK adults (37%) say that minimalism is their chosen interior design style making it the most popular aesthetic with Brits.
One in ten (11%) said they would choose a Scandinavian interior for their home, known for its neutral colour palette and simple furnishings. And just 7% of Brits would choose a maximalist design style, while another 7% say cottagecore is their favourite interior option.
However, more than a third (39%) of those surveyed opted for another style, meaning that many may have to compromise with their partner on their home's chosen aesthetic.
As it's clear not everyone finds it easy to decide on decorating choices with their partner, we spoke to Allan Reid, a founder of Art Windows & Doors to find out what people can do if they have differing interior preferences.
"Minimalism is a wonderful, versatile trend that can be blended with many others. As the style revolves around simplicity, you can easily incorporate other aesthetics (such as cottage core) by making subtle nods to trends in your choices.
For example, while minimalism is about prioritising the essential, you can still choose flower prints in neutral colours and make your space, lighting and objects gravitate towards themes found in cottage core.  
The cottage core trend is similarly compatible with maximalism, the polar opposite of minimalism. As the design style incorporates a 'more-is-more' style, this is a space in which you can go over the top and fill your home with anything cottage core, from beautiful plants to vintage furniture, botanical prints, rugs, baskets and anything that emulates the 'rustic' feel of the trend."
However, any minimalists who are partnered with maximalists may struggle, according to Allan:
"Whenever you attempt a new design for your home or space, we advise beginning with minimalism or maximalism in mind. As one trend relates to the 'less-is-more' mentality while the other involves a plethora of objects in aesthetic harmony, you can easily incorporate other appearances from this starting point.
And, with cottage core, mid-century modern and Bauhaus appearances all trending in 2022, each of these fads will perfectly complement a minimalist or maximalist room - but contrast against one another. As such, you should focus on one theme in any space to avoid clashing or clutter." 

How can people resolve home decorating disagreements?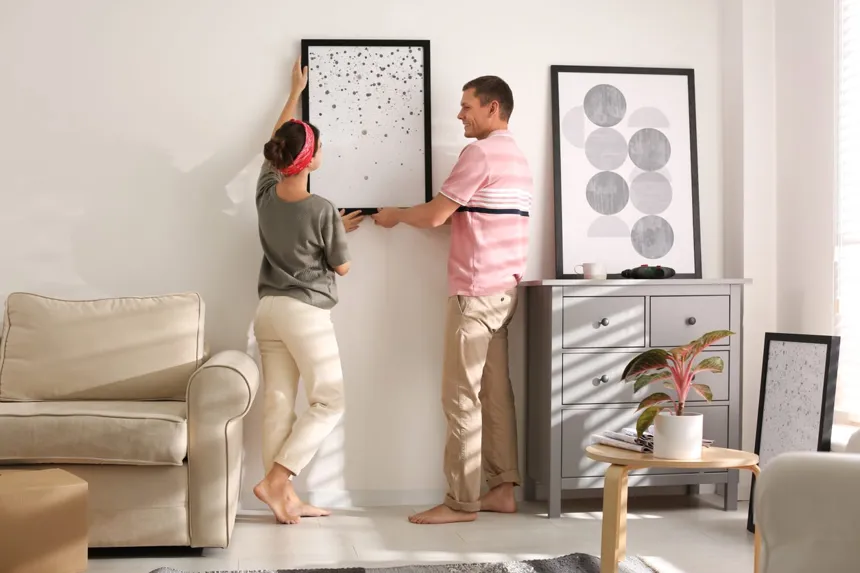 For couples that are struggling to find a middle ground, Mairead Molloy, Relationship Expert and Global Director at Berkeley International advised on what couples can do to reduce conflict over home decisions.
"Communication is the key to not having an argument in the first place. Couples often get into argument cycles where they are always arguing about the same thing. These argument cycles are usually caused by negative communication patterns that restrict understanding and respect in a relationship.
Tips to avoid this:
Try to stay calm.
Try to put emotions aside.
Don't interrupt the other person while they are speaking.
Actively listen to what they are saying and what they mean.
Check that you understand them by asking questions.
Communicate your side of the story clearly and honestly.

Solve clutter problems by increasing your storage space
Moving in together should be a fun and exciting time for couples, but no two partners can agree on everything, all of the time. Our survey shows that having a relaxing living space what reflects our style is important to many British couples.  
Feeling 'at home' means different things to different people, so creating a space you're both comfortable in can be tricky, but as we've seen there can be ways around this to ensure that you can mix interior styles together to create something that is totally unique to you as a couple.
Once you've got over the hurdle of decorating choices, unfortunately, clutter is still the biggest source of stress for many couples, with others conflicting over how they will be splitting their storage space. Investing in ample storage will make sure you have plenty of space to tidy things away, and you can avoid struggling over where to put each person's individual items. 
If you're struggling for space, fitted storage can help you make use of nooks and corners in your home, maximising your storage options and allowing you to hide away as much clutter as possible.
You bring the space, we bring the inspiration
Whether you have an exact vision in tow, or are just at the beginning stage of your home renovation, we have heaps of inspiration for you to get stuck into. 
Find a wealth of design tips, trends and inspiration in the pages of our brochure, magazine and on our blog. Our experts are always ready to help you create dream home, pop in store or book your free design visit for experts to help on bringing your vision to life.