When "Nothing to Wear" syndrome strikes by Jules Langford
| Bedroom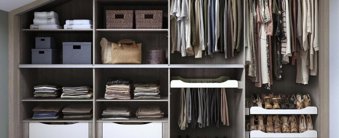 When "Nothing to Wear" syndrome strikes by Jules Langford
Professional Organiser and APDO member, Jules Langford from Cluttered To Cleared, gives us her declutter tips and tricks to help with "Nothing To Wear" syndrome.

If your wardrobe's bulging but you have to dig so deep to find a wearable outfit you're practically in Narnia, then you're officially suffering from Nothing To Wear syndrome. 

The cure:  a healthy five-step prescription of wardrobe editing. 
The aim:  a wardrobe filled with only clothes that fit, go with other items and that you love. 

Ready to get started with your bedroom declutter?
Step 1: Analyse: Are you and your clothes leading separate lives?
Your clothes should reflect the life your lead, not the fantasy life you wish you led. Focus on your work, home-life, and hobbies. If not, you never have the clothes for the occasion. Always bear this in mind when buying or decluttering your wardrobe. 
Step 2: Declutter: It's time to get tough!
Empty your wardrobe, putting clothes into like-with-like categories, e.g. all worktops together. 
This can be an eye-opener... 16 pairs of black trousers – who knew?  
Work through each category and remove if it doesn't fit. How long have you tried to lose/gain weight?
You don't like it.  Yes, even if it cost a fortune -  the money's gone. 
It needs mending/altering/laundering. Put the clothes aside and the date you'll do it in the diary.  
It doesn't go with anything.  That navy blouse may be smart, but your wardrobe's black so got to go.  Put it down to a moment of madness - we all have them– and move it on. 
It's tatty.  We've all got that one garment we wear until it dies on its feet, but you need to know when to say goodbye. 
Step 3: Assess: Mind the gap!
Keep a notebook and jot down any gaps in your wardrobe as you work.  
Maybe you have a great suit but no top to go with it– so put that on the list.  
Use this as a basis for a shopping list. (Yes, you can buy more, but keep Step 1 in mind)
Step 4: Remove:  Move it on
Take the items you're not keeping to the charity shop or recycling.
And let someone else benefit from your hard work.
Step 5: Organise: Refill your wardrobe.
Put "keeps" back in the wardrobe. 
Put "like with like" so you can see at a glance what you have. e.g. hang work trousers together. 
And within that, sort by colour, so all the black work trousers are together, then the grey ones, and so on. Discover Hammonds fitted wardrobes storage solutions to make this that little bit easier. With a variety of styles, all made to order to suit your room, you'll be sure to find a range for you. 
Congratulations! Your wardrobe's looking so much better and getting dressed will be a breeze. Not only that, a clutter-free bedroom makes you feel more relaxed and is proven to help with a better night's sleep, read our blog on this to discover more.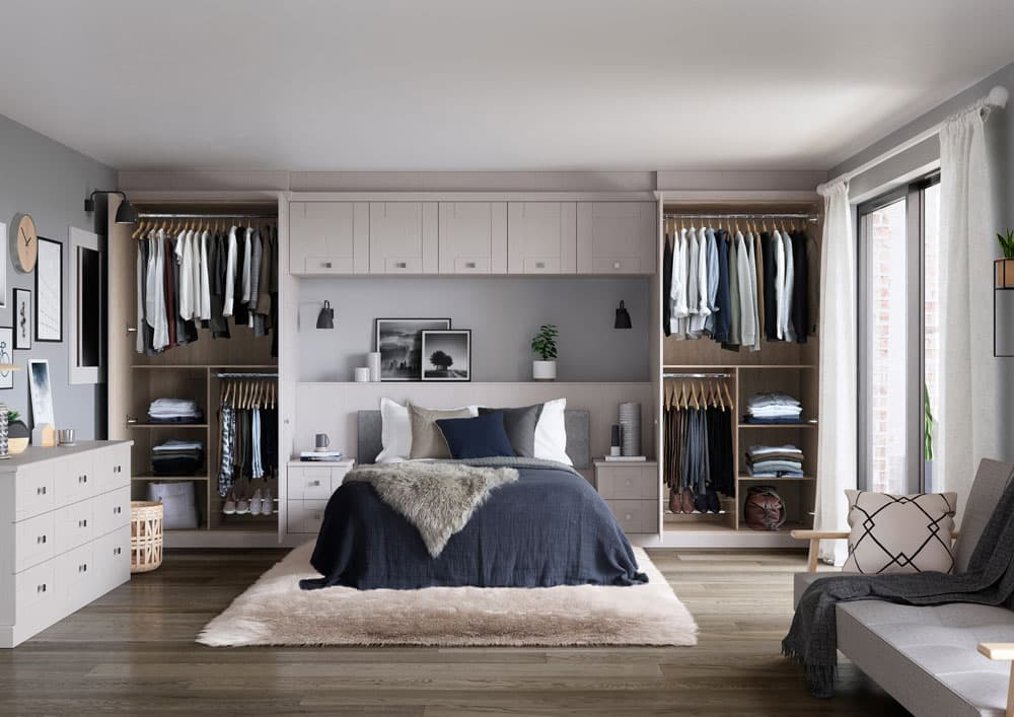 For more helpful decluttering advice, why not visit Jules' blog and read some great tips to help stay organised; like recognising the items that create clutter and some great tricks to start the morning as calmly as possible.
Be sure to always catch the latest inspirational pieces by following our social channels. We have a great Pinterest board with examples of storage solutions to help, just click here to see.
You bring the space, we bring the inspiration
Whether you have an exact vision in tow, or are just at the beginning stage of your home renovation, we have heaps of inspiration for you to get stuck into. 
Find a wealth of design tips, trends and inspiration in the pages of our brochure, magazine and on our blog. Our experts are always ready to help you create dream home, pop in store or book your free design visit for experts to help on bringing your vision to life.