Why choose hardwood flooring for your bedroom
| Bedroom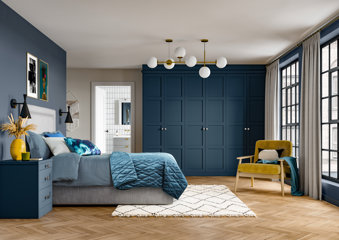 Why should you choose hardwood flooring for your bedroom?
Bedrooms with wooden floors represent an ideal for many homeowners. Hardwood flooring boasts warm, natural tones and practical benefits, making for a stylish and functional option when choosing which floor type you'd prefer in your sleeping space.
With so many options available to complement a variety of interior styles and décors, we completely understand why you'd want your bedroom to have wooden flooring. In this article, we'll be discussing why this premium flooring option should never be overlooked.
Easy to clean
If you have a carpeted bedroom, one spilt drink could lead to stubborn stains. Over time, these stains and marks on the carpet can reduce the overall aesthetic appeal of your bedroom – and might even call for a costly replacement.
Wooden flooring is so much easier to keep clean, simply by sweeping or wiping with a mop or damp cloth. Plus, regular cleaning will help the flooring maintain its shine, making your bedroom look fresh at all times.
Non-allergenic qualities
Whether you're a hay-fever sufferer or simply sensitive to dust, thick and woolly carpets can often become problematic. Carpet fibres attract and trap dust, pollen and other irritating particles, which may fall deeper than your vacuum cleaner can reach.
Wooden floors are naturally non-allergenic. Their hard surface qualities ensure that they are easy to keep free of dust and debris.
Naturally versatile
Hardwood floors can be adapted and customised according to your décor preferences. Why not consider dressing your wooden flooring with a stylish rug? Perfect for providing a soft touch underfoot, rugs are also a great way to make the room that little bit more cosy. You can also easily change them out depending on the season and the latest trends as you see fit.
When it comes to storage solutions, wooden floors make it easier to frame your bedroom around fitted wardrobes. At Hammonds, our custom-made furniture is designed and crafted with you in mind. We'll help you keep your space organised and clutter-free so that you can easily show off your brand-new wooden flooring.
Neutral colours
Wood is an incredibly versatile material which pairs beautifully with a variety of fabrics and textures. Whether you choose solid unfinished planks or prefinished and top-coated hardwood, wooden flooring is typically available in an array of charming neutral colours.
From light ash brown and soothing grey to deep mahogany and rustic tones, wooden floors can easily complement your existing bedroom décor. There are also many designs from which to choose, including standard horizontal strips to contemporary chevron parquet.
Long-lasting quality
Hardwood floors make a brilliant long-term solution. Since they're less susceptible to dirt and dust buildup, they make a viable option to keep in your home for years to come. This, in turn, means your flooring is more environmentally friendly, as hardwood is made out of natural renewable resources.
Carpet typically needs to be replaced once every 10 years but hardwood floors can last a lifetime if they're properly maintained. What's more, you can actually increase your home's resale value by choosing to install hardwood flooring.
Purchase seamless storage solutions from Hammonds
If you're considering bedroom ideas with wooden floors, our fitted wardrobes will certainly help to enhance the look and feel of your modern and polished new room. Book a free design visit today to speak to one of our experts about creating bespoke storage solutions that are unique to you and your home. We'll take the time to explore the specifics of the space with which you're working and turn your dreams into reality.
You bring the space, we bring the inspiration
Whether you have an exact vision in tow, or are just at the beginning stage of your home renovation, we have heaps of inspiration for you to get stuck into. 
Find a wealth of design tips, trends and inspiration in the pages of our brochure, magazine and on our blog. Our experts are always ready to help you create dream home, pop in store or book your free design visit for experts to help on bringing your vision to life.