Your bedroom cleaning checklist
| Inspiration, Bedroom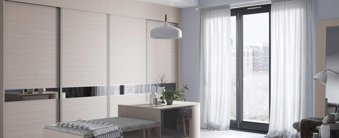 Enjoy a clean and clutter-free space by following the steps on our bedroom cleaning checklist.
Get organised with our bedroom cleaning checklist
It's fair to say that your bedroom is one of the most important spaces in your home. It's the place you retreat to after a long and busy day to get the rest you need, so it's important that it feels like a relaxing and peaceful environment. However, if it's messy, dirty or full of clutter, it will feel far from a tranquil oasis.
If you're keen to make your room spotless, our handy bedroom cleaning checklist may be just what you need. Check out our tips below on how to get a sparkling clean bedroom from top to bottom.
Clear away clutter
The first thing you need to do is clear any clutter lurking around the room - as it'll be hard to deep clean with items in the way! For instance, if you have products or ornaments lined up on top of your bedside tables or chest of drawers, take them off before cleaning so that you don't damage anything. Put any dirty laundry in the basket ready to be washed, hang clean clothes in your wardrobe and make sure any doors or drawers can be closed completely. If your space is constantly cluttered, it may be worth upgrading to a more efficient storage solution.
Check for cobwebs
The next step in achieving a beautifully clean bedroom is to check the room for pesky cobwebs. Walk around the room and look at your ceilings, paying close attention to corners as this is often where they'll be. It's also worth checking your walls and behind big pieces of furniture. If you spot any cobwebs, simply wipe them away with a brush or cloth, or use the long attachment on your hoover if they are too high to reach.
Dust your furniture
Dust can build up fairly quickly, so this is one of the most important steps towards a sparkling clean bedroom. Using a microfibre cloth, dust all surfaces, such as your bedside tables, chest of drawers, skirting boards and windowsill. It's easy to forget spots that are out of sight, but this can lead to a build-up of dust – so remember to target those hard-to-reach spaces like the tops of your wardrobes. It's also worth dusting your bed frame by removing bedding, pillows and your mattress every once in a while.
Clean light fixtures
Your lampshades, bulbs and other light fixtures all need to be cleaned. Microfibre dusters are a really useful tool for this job, particularly ones with extendable poles as they can be easily adjusted to reach ceiling lights. If your lighting has been neglected for a while and it's a tad grimy – fear not! There are quick and easy ways to get it gleaming again. Remove dirty bulbs from the light fitting and wipe with a cloth, use a damp sponge to clean lamp bases, and remove any hanging pendants to pop in soapy water. Remember – always turn your lights off at the mains before you get to work.
Wash the windows and coverings
Windows can pick up dirt, smudges and marks, so it's worth giving these a thorough clean fairly regularly. If you have blinds, dust and wipe these down to get rid of any grime that's sat on their surface. Then, use a high-quality window cleaner to make your windows free from marks. Spray the cleaner directly onto the window's surface and wipe over using a dry, clean cloth. Don't forget to open the window to clean the areas around the closing.
Clean the mirrors
Mirrors can quickly become dirty thanks to finger marks and products getting splashed on them. Not only does this make them unclean, it's irritating when you want to properly check your reflection! Make sure your mirrors are smudge and dirt-free by cleaning them with an appropriate product and cloth. In a similar way to your windows, spray directly onto the mirror's surface and wipe over, paying particular attention to areas where there's marks or products.
If you want a truly clean bedroom, don't forget about the flooring! The first thing you'll need to do is hoover up any debris. Don't forget hidden areas like under the bed and behind furniture, such as your bedside tables. Then, if you have wooden or laminate flooring, fill a bucket with cleaning solution and warm water to mop throughout. Start at the point furthest away from the door and work your way out of the room, so you can let it dry without walking across the wet floor.
Don't forget the finishing touches
Once you've completed these steps, strip the bed and replace with fresh bed linen. After all, there's nothing better than getting snuggled up in fresh sheets after a busy day. You could also light a scented candle to fill the room with relaxing fragrance or pop some lavender spray on your pillow. This should help you to feel calm and relaxed before bed.
After following the steps of this bedroom cleaning checklist, you can retreat to a sparkling clean and clutter-free space. If your room still looks a little worse for wear, it might be time to give your space a makeover. Our design experts can help you create a functional and stylish space with integrated storage, like our beautiful fitted wardrobes. Book a free design visit today or request one of our brochures to explore more.
You can also find further guides and inspiration on the Hammonds blog.
You bring the space, we bring the inspiration
Whether you have an exact vision in tow, or are just at the beginning stage of your home renovation, we have heaps of inspiration for you to get stuck into. 
Find a wealth of design tips, trends and inspiration in the pages of our brochure, magazine and on our blog. Our experts are always ready to help you create dream home, pop in store or book your free design visit for experts to help on bringing your vision to life.